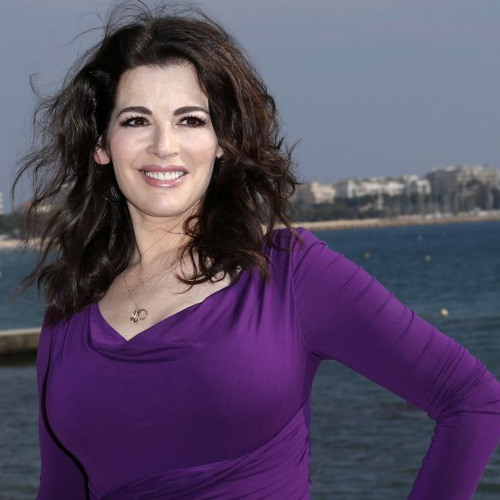 Nigella Lawson told a court on Thursday she would never risk making her children "orphans" by becoming addicted to cocaine. Lawson, who has admitted using the class A drug, said she would never "sabotage" her health and also denied keeping a stash of cocaine in a box with her late husband's wedding ring.
As she came to the end of her two-day testimony in the fraud trial of two former aides, the television cook, 53, rejected an allegation that she lied to police about her drug use, saying she would rather be "honest, if ashamed" than "bullied" by her former husband Charles Saatchi. the children Karin Arden, defending Francesca Grillo, who is accused of fraudulently spending 580,000 pounds on a company credit card, suggested to Lawson that she had been a habitual user of cocaine, often seen with a "runny nose" and "white powder" around her nostrils.
Lawson grabbed the sides of the witness box at Isleworth Crown Court in west London and said: "I don't know what quantity of drugs you think I get through. I am in no sense a drug addict or habitual user. "If I was taking drugs to the extent you say, I wouldn't be standing here today. You know as well as I do that regular cocaine users don't look like this. They are scrawny and unhealthy. I value my health and my children have only me as a family. If you think I am going to sabotage my health and leave my children orphans, you are very wrong." 'put me on trial' Lawson became increasingly emotional and told Arden: "If you want to put me on trial, put me on trial, but I cannot think that it's right to have me here as a witness for the Crown and treat me like this."
Arden suggested to Lawson that her drug use was a "dark, guilty secret" in her marriage. She replied: "In respect of the cocaine use when my first husband died, Saatchi knew about it." Saatchi earlier told the court he found out this year. Lawson had a jewellery box in the shape of a book, in which she kept jewellery inherited from her grandmothers and mother and the wedding rings from her first marriage, to John Diamond, who died in 2001. Miss Arden suggested she also kept cocaine in the box.
Lawson said: "I did not." She also denied that cannabis dealers turned up at her house to sell her drugs. Arden asked: "Do you agree that you received a Mother's Day card in 2011 or 2012 with a spliff taped to the card saying, 'To enjoy later'?" Judge Robin Johnson stepped in and told Arden: "That ends your cross-examination. I'm not having any more. You have exhausted my patience." He told Lawson not to answer the question. the restaurant row Arden asked Lawson why her admission to have taken drugs did not appear in a police statement she gave in October, when she had briefly said she no longer wanted to give evidence. She told police Saatchi was "peddling … false claims" about drug-taking, and Arden said: "You were not frank with police officers. You told a lie because it's not correct to say stories about drugs were untrue."
Lawson said: "It was true in that what my ex-husband had been saying, he was getting cocaine out of my nose at Scott's and I had been completely off my head for 10 years. "Saatchi was not examining me for cocaine. That was a story he made up afterwards because I would not go back and clear his name." 'honest, if ashamed' Arden suggested Lawson had used the case "as a vehicle" to settle scores with Saatchi in front of the press. She replied: "I didn't want to come to court, I would prefer not to because I had been menaced."
Arden said: "The simple fact is that yesterday was the first time you have publicly said you have taken cocaine and cannabis, and I suggest that, on your part, was a case of damage limitation." Lawson said: "I was asked a question and I responded … I would rather be honest, if ashamed, and explain about the drug usage but I wanted to make sure that I wasn't going to be bullied by lies told about a humiliating incident in a public place … I'm not proud of the fact that I have taken drugs but that does not make me a drug addict."
Lawson described the case as her "last connection" with Saatchi, whom, she said, regards "litigation as a form of conversation". A lack of dinner parties He may have been married to a "domestic goddess", but Saatchi only allowed Lawson to throw dinner parties once every two years, because, she said: "Saatchi likes to take people out to Scott's restaurant."
Arden suggested her client worked long hours, which included clearing up after dinner parties. Lawson said: "I would say I had dinner parties once on a two-year basis. I was not happy about that. "I can hardly remember a dinner party at Eaton Square [the marital home in central London]." Lawson said Saatchi was particular about the way his house was kept. "He would go round and point at marks he wanted removed. He is a person with a tremendous eye for detail." Eggs, Frappuccino and burnt toast Saatchi was particular about his food. The weekly shopping came from Waitrose, while Grillo was "very involved in the purchasing of Saatchi's eggs" and would also be sent out for his Frappuccino coffees, Lawson said. Her former husband had a "regular routine" in the morning, always having "weak tea and burnt toast" for breakfast.
Lawson admitted to telephoning Grillo when the aide was on holiday in Spain to ask her if she knew where the television remote control was. "That would have made Saatchi incredibly irritable," she said. The court also heard the couple had a 12ft x12ft "silver room" full of tea and coffee services and candlesticks. Lawson said she was "very glad to see that back of it", although she added: "I like cleaning silver and I like cleaning shoes. I find it very therapeutic." Francesca and Elisabetta Grillo deny fraud. The case continues.