As police continued to fight battles with protesters around Tahrir Square in Cairo, Mursi issued a statement stressing that the power seizure was 'temporary'.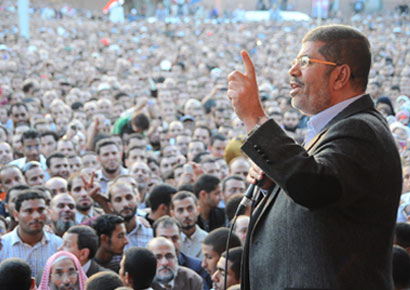 Egypt's president, Mohammed Mursi, insisted on Sunday that he would not be another dictator as he tried to calm violent opposition to a decree that grants him absolute powers.
As police continued to fight battles with protesters around Tahrir Square in Cairo, Mursi issued a statement stressing that the power seizure was "temporary" and calling for political dialogue. He also agreed to meet Egypt's judges on Monday to negotiate a solution to the crisis.
"The presidency reiterates the temporary nature of those measures, which are not intended to concentrate power," the statement said. "The presidency stresses its firm commitment to engage all political forces in the inclusive democratic dialogue to reach a common ground."
Mursi outraged opponents on Thursday, less than 24 hours after winning international praise for negotiating a ceasefire between Israel and Hamas, by announcing that henceforth all his decisions would be beyond legal challenge.
He also unilaterally cancelled legal challenges to the committee drawing up a new constitution as well as to the upper house of parliament, both dominated by his Muslim Brotherhood backers. With no lower house of parliament until the new constitution is formed, this decree gave him stronger powers than those of his predecessor, Hosni Mubarak.
Mursi was condemned as a "new pharoah" and yesterday, protesters, led by liberal and Left-wing secular forces, continued a sit-in in Tahrir Square. Police drove them back from side roads with tear gas.
Opposition figures including Mohammed ElBaradei, the former head of the UN International Atomic Energy Agency, Amr Moussa, the former head of the Arab League, and Abdelmoneim Aboul Fotouh, a moderate Islamist who challenged Mursi for the presidency, announced the formation of a "National Salvation Front" to fight the decision.
At one stage, Egypt's judges seemed ready to force a confrontation, by declaring a national strike against the declaration. The highest constitutional court also threatened to defy the president by pressing ahead with a ruling on the constitutional committee next month.
A lawyer, Shawki al-Said, posted a legal challenge to the president's decree itself. But by last night, Egypt's supreme judicial council, which oversees the courts, called on Egypt's judges to hold off from a strike. It met the justice minister, Ahmed Mekki, who had expressed opposition to Mursi's statement saying he had not been consulted. But he also urged an end to the strike threat.
On Sunday night, the state news agency said the council would meet Mursi himself. Opponents fear there will be clashes tomorrow when the Muslim Brotherhood organises a counter-rally to support the president against the Tahrir Square protesters. Some even fear the military, which have taken a back seat since Mursi became president in June, may use the confrontation as a excuse to step back in.
But Adel Soleiman, of Cairo's International Centre for Future and Strategic Studies and a retired general, said he believed Mursi would get his way. "He is the elected president and he is the only elected authority in the country," he said. "The political role of the military is over."