Chavez said US was targeting his revolutionary rule over top South American crude producer Venezuela, which remains a leading US oil supplier.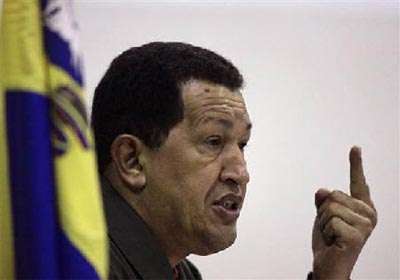 Venezuelan president Hugo Chavez on Friday dismissed Colombian charges that he harboured leftist Colombian rebels 'a hoax' and a pretext for a possible US-backed invasion of his oil-producing country.
A day after abruptly severing relations with US ally
Colombia
over the accusations, the socialist Venezuelan leader condemned the government of outgoing Colombian president Alvaro Uribe as 'an instrument of (US) imperialism'.
Addressing a meeting in Caracas of trade unionists from the Americas, Chavez said the United States was targeting his revolutionary rule over top South American crude producer Venezuela, which remains a leading US oil supplier.
"Now Colombia is a great big Yankee base," he said, referring to a deal last year that allows US forces the use of Colombian military bases, a pact Chavez says poses a direct threat to his country.
He survived a brief coup in 2002 and frequently denounces assassination plots he says are hatched by domestic enemies and supported by the US government.
The Venezuelan leader repeated his government's rejection of photos, videos and maps presented by Colombia to the Organization of American States to back its charges that Colombian guerrillas operate from camps inside Venezuela.
"We want peace in Colombia, we want peace between us," Chavez said. He even suggested that the more than four-decades-old Marxist insurgency in Colombia should 'reconsider its armed strategy'.
"I don't think there are conditions in Colombia for them (the guerrillas) to take power in a foreseeable period of time," he said, noting that other former leftist rebels in Latin America had turned politicians and won elections.
State department spokesman PJ Crowley said it was unfortunate that
Venezuela
would not allow an international commission to verify the Colombian charges, as requested by Bogota at the OAS.
Crowley told reporters the US government hoped for a more 'constructive' reply from Caracas.
Despite the heated Venezuelan government rhetoric, the border with Colombia remained calm on Friday and Latin American governments sought to defuse the rift between the two Andean neighbours, which have often sparred and squabbled in the past over border security and guerrillas.
Most analysts believe a military clash is unlikely.
Colombian foreign minister Jaime Bermudez said that his country wanted better cooperation from Venezuela to dismantle illegal armed groups battling Colombia's government.

"What is clear is that there needs to be a specific instrument or mechanism so that this subject is resolved and there is effective cooperation in the fight against terrorism," Bermudez told reporters in Bogota.
Uribe, who will be succeeded by the newly-elected president Juan Manuel Santos on Aug. 7, has ramped up charges that Caracas tolerates rebels in Venezuelan territory.