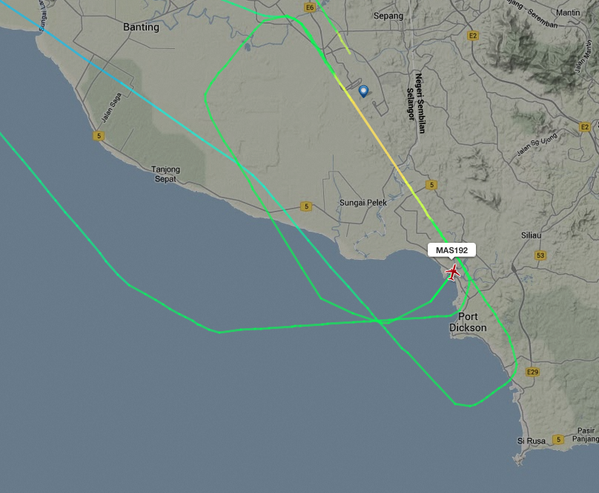 Social media has become a great tool for dissemination of information and when news about the landing gear on Malaysian Airlines flight MH192 malfunction broke, twitter users went wild over the news.
This minor incident took place on the backdrop of Malaysian airlines MH370 which is still untraceable.
Twitter users shared messages and prayed for the safe recovery of MH192 and were joyous when the flight landed safely.
Malaysian Airlines flight MH 192 had departed from Kuala Lampur at 10.09 pm (local time) on Sunday evening bound for Bangalore in India and was forced to return back towards Kuala Lumpur after the landing gear on the aircraft apparently malfunctioned moments after taking off.
Below are some reactions:
Lots of reports saying #MH192 has landed safely.Whew.Excellent.

— José Covaco (@HoeZaay) April 20, 2014
How I wish it was my father's flight that has gone missing for almost two months now and safely arrived like flight MH192.

— Maira E. (@Gorgxous_) April 20, 2014
A thought for the MH192 captain who landed the plane safely despite EVERYTHING going wrong. Well done! Hoping everyone on board is safe.

— Sachin Kalbag (@SachinKalbag) April 20, 2014
Can you imagine the agony of the passengers aboard #MH192 ?! The pilot and crews anxiety? Uff!

— kaveri (@ikaveri) April 20, 2014
Looks like MH192 has landed safely after landing gear malfunctioned. Social media is good to find breaking news but not commentary.

— Rajat Agrawal (@rajatagr) April 20, 2014
What's the delay on flight trackers? #mh192 route so far and it's still in the air. Pilots trying to land. pic.twitter.com/1EHLZGtaO9

— oculus (@daddy_san) April 20, 2014
Hope all is well!! MT @MAS: Flight MH192 that departed from KUL at 10.09pm bound for Bangalore has made an air turn back towards KUL.

— Arvind Gupta (@buzzindelhi) April 20, 2014
Malaysia Airlines flight MH192 from Kuala Lumpur to Bangalore is holding after take off http://t.co/DWFYSHvGzQ pic.twitter.com/2eILTlBvYK

— Flightradar24.com (@flightradar24) April 20, 2014
It is going to be okay for MH192, inshaAllah. Just keep praying for them.

— AIZAT AMIRUL (@AizatAbd) April 20, 2014
MH192 made air turnback. Reportedly, tyres burst upon take-off, now in holding pattern to burn fuel before attempt emergency landing at KLIA

— Aisehman ™ Official (@Aisehman) April 20, 2014
Bloody hell, that few minutes was horrible. So pleased #MH192 landed safely and passengers okay. Well played that captain. Top work.

— Matt Bellotti (@MCMattSally) April 20, 2014
Thank you God for hearing our prayers into blessing MH192 to land safely...

— Sunny Peh (@espeh_sunny) April 20, 2014
A good news just came from MH192..how we malaysians hope that there is still a good news from MH370

— Haziq Ismail (@haziq_0102) April 20, 2014
Malaysia Airlines flight MH192 lands safely in Kuala Lumpur after gear malfunction

— Ugbe Felix Agioliwhu (@Ogafash) April 20, 2014