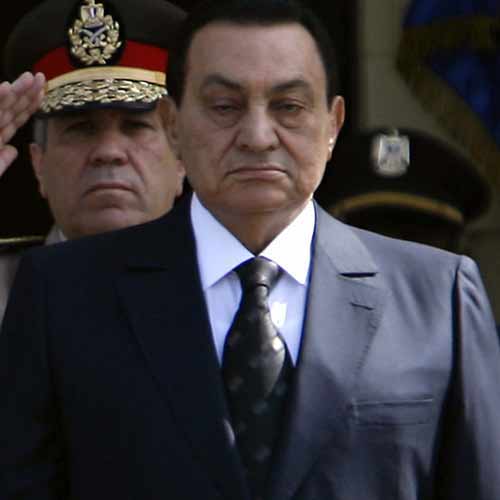 Hosni Mubarak on Wednesday defended his 30-year rule and denied charges of ordering the killing of protesters as the wheelchair-bound former dictator appeared before a court here for a retrial over the deaths of 850 demonstrators during the 2011 uprising against his regime.
Mubarak, 86, recounted what he perceived as the achievements of his rule, picking up from when his predecessor Anwar Sadat was assassinated.
Mubarak said he has suffered "offense, defamation and allegations" since stepping down. He added that he ruled Egypt with "dedication, honour and honesty," and that history would judge him.
Mubarak during the hearing, which lasted nearly 25 minutes, told the Cairo Criminal Court he never handed down orders to kill protesters. "I, Mohammed Hosni Mubarak, who is standing before you today, never handed down orders for the killing of protesters. I never handed down orders for the killing of Egyptians," he said in his first speech to the court.
"I exhausted my life fighting against enemies of the homeland. I would never hand down orders for the killing of a single Egyptian citizen under any circumstances. Or hand down orders to wreak chaos of which I had been warning. I would never hand down orders to cause anarchy or a political vacuum."
"As a son (one of) of the Egyptian Military Forces I'm not a traitor. I was and will always be keen on my country's future," he said.
"I trust the judge's verdict whatever it is and I will accept it. I also trust that Egypt will regain its strength."
The verdict is scheduled to be issued on September 27.
Mubarak, his former interior minister Habib al-Adly and several other high-ranking officials are facing charges for complicity in the killing of around 850 unarmed demonstrators during the 18-day popular revolt in 2011.
Adly, who has already taken the stand, told the court he made security decisions on the day to limit the number of protesters in Tahrir Square and still believed he was "100 per cent correct".
Mubarak also faces trial alongside his sons on corruption charges.
Mubarak was sentenced to life in prison in 2012 for complicity in the deaths of demonstrators, but an appeals court subsequently ordered a retrial.
In May this year, Mubarak was sentenced to three years in prison after a court found him guilty of embezzling public funds. His sons Alaa and Gamal were also convicted, and received four-year terms.