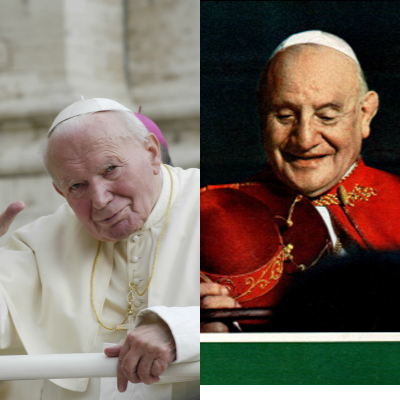 Pope John Paul II and Pope John XXIII were canonised in a ceremony at St Peters Basilica in Vatican City on Sunday. They were proclaimed Saints jointly.
This day marks a historic day in Catholic history. The ceremony which was conducted in Latin and attended by the current Pope, Pope Francis along with his predecessor Pope Benedict XVI.
93 of official delegates and 24 heads of state and royals around the World attended the event.
There were also 19 screens across the Vatican which displayed the ceremony and a Google+ Hangout to air the ceremony in real time.
This was the first time, that Pope Benedict XVI and Pope Francis came together for a ceremony after the former's resignation last year.
A candidate may be considered for canonisation, only if he/she is dead for at least 5 years. Other than than this, there are three more conditions which are kept in mind before the canonisation. The candidate should be declared as having 'heroic' virtues, there should be proof that he/she performed at least one miracle in his life, and another miracle must be performed after death.
This is how people reacted to the news on Twitter:
Thrilled that #PopeJohnPaul, who I was honoured to meet, declared SAINT today, along with #Pope John XXIII. pic.twitter.com/5XzFUI2kbW

— KABIR BEDI (@iKabirBedi) April 27, 2014
History in the making. From #Pope to #Saint.

— Syed Saud Aidrus (@syedsaudaidrus) April 27, 2014
It's canonisation day. Just wondering what happened to the miracles? #pope #hmm

— Phil Lurie (@LuriePhil) April 27, 2014
So John Paul II gets sainthood. Was it for the miracle of knowing about child abuse crimes and doing nothing? #Pope #Francis

— Anil Salick (@AnilSalick) April 27, 2014
How can you be a Saint if you were a raging homophobe? #pope

— Moi (@Kelsblells) April 27, 2014
Canonization of Pope John Paul II and Pope John XXIII tomorrow and a majority of the Catholics seem unaware #excited #NewSaints

— josephine john (@josephinejohn23) April 27, 2014