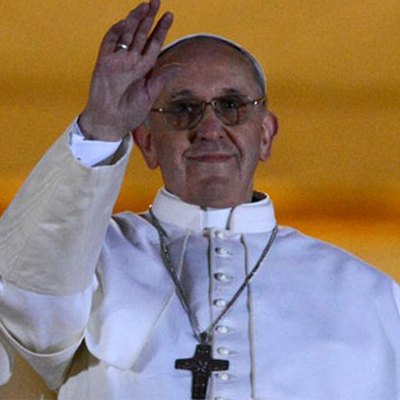 Pope Francis declared his two predecessors John XXIII and John Paul II saints on Sunday before hundreds of thousands of people in St Peter's Square, an unprecedented ceremony made even more historic by the presence of retired Pope Benedict XVI.
Never before has a reigning and retired pope celebrated Mass together in public, much less at an event honouring two of their most famous predecessors. Benedict's presence was a reflection of the balancing act that Francis envisioned when he decided to canonise John and John Paul together, showing the unity of the Catholic Church by honouring popes beloved to conservatives and progressives alike.
Francis took a deep breath and paused for a moment before reciting the saint-making formula in Latin, as if moved by the history he was about to make. He said that after deliberating, consulting and praying for divine assistance "we declare and define Blessed John XXIII and John Paul II be saints and we enroll them among the saints, decreeing that they are to be venerated as such by the whole church."
Applause broke out from a crowd that stretched from St. Peter's to the Tiber River and beyond. Benedict was sitting off to the side of the altar with other cardinals. He had arrived in the square on his own to cheers and applause, wearing white vestments and white bishops' miter.
He stood to greet Italy's president and later Francis when he arrived, and sang along during the hymns that followed the canonisation rite. Italy's interior ministry predicted 1 million people would watch the Mass from the square, the streets surrounding it and nearby piazzas where giant TV screens were set up to accommodate the crowds eager to follow along.