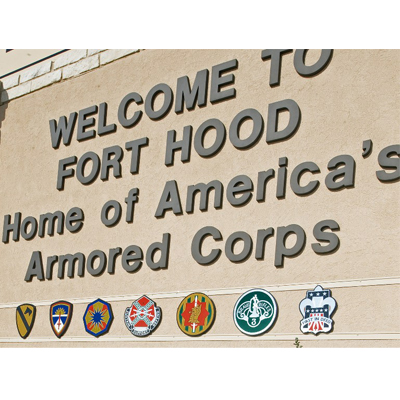 A soldier opened fire at Fort Hood, an army base in Texas and scene of a massacre in 2009, killing three people and wounding at least 16 others before taking his own life. Four patients ranging from stable to critical condition were transported to a Texas hospital following a shooting at the US Army base in Fort Hood.
The violence Wednesday apparently stemmed from some sort of soldier dispute, CBS News said citing law enforcement sources. The shooter had been identified as 34-year-old soldier Ivan Lopez, it said.
Meanwhile AFP reported, "There is no indication that this incident is related to terrorism," Lieutenant General Mark Milley told reporters, adding that 16 people were wounded in the incident at Fort Hood, scene of a deadly shooting rampage in 2009. The shooter took his own life, Milley said. The shooter -- who was not identified pending notification of his next of kin --- took his own life, Milley said.
All of the dead and wounded were military personnel.
The assailant used a .45-caliber Smith and Wesson semi-automatic pistol that he had bought recently in the area, the general said. The shooter had spent four months in Iraq in 2011 and was currently undergoing a "diagnosis process" to determine if he was suffering from post-traumatic stress disorder (PTSD), Milley told reporters.
The sprawling military site was on lockdown for several hours as the incident unfolded, but the all-clear was given late Wednesday. The Federal Bureau of Investigation, the Bureau of Alcohol, Tobacco, Firearms and Explosives, state police, local law enforcement and military police were all working on the investigation.
In latest press statement, officials denied any terrorist links to the incident, "In regard to the investigation, there is no indication at this time that this incident is related to terrorism. An investigation by law enforcement is ongoing and no further details are releasable at this time."
President Barack Obama who was in Chicago was briefed about the incident. Speaking to reporters at a hastily arranged briefing at Chicago Cut Steakhouse, he said: "The situation is fluid right now." The President said his national security team was in close contact with the Defence Department and FBI and "working with folks on the ground to determine exactly what happened to make sure that everybody is secure". "And I want to just assure all of us that we're going to get to the bottom of exactly what happened, he said. "Any shooting is troubling. Obviously this reopens the pain of what happened at Fort Hood five years ago," Obama said recalling the 2009 shooting. "We're heartbroken that something like this might have happened again." Read more
Defence Secretary Chuck Hagel said on Wednesday that people had been killed and wounded in a "terrible tragedy" at Fort Hood in Texas, which was the scene of a mass shooting in 2009. Read more.
Warning sirens went off around 4.25 pm. and all personnel were urged to shelter in place as the base went on lockdown, according to CBS.
An "all clear" siren rang at Fort Hood in Texas, signaling an end to a lockdown that lasted about four hours at the massive US Army base after a shooting there, a Reuters witness reported. A man, who said he was a witness, told CBS affiliate KWTX that about 20 shots were fired at a post motor pool. The man said he saw a soldier jumping over a fence and running away, but it was not clear whether that solider may have been the shooter. Emergency crews from several surrounding communities headed to the base, home of the Army's 1st Cavalry Division.
Ford Hood near Killeen in central Texas was the site of a mass shooting Nov 5, 2009, when Major Nidal Malik Hasan, an Army psychiatrist, opened fire at a soldier readiness centre on the base. He shot 13 people dead and wounded more than 30 others in what was the worst shooting ever to take place on an American military base. Hasan, 43, who who said he was driven by a hatred of the wars in Iraq and Afghanistan, was left paralysed when he was shot by police responding to the shooting spree. He has been sentenced to death for the rampage.
Also read: Fort Hood Shootings frustrate US military efforts to secure bases
Inputs from agencies