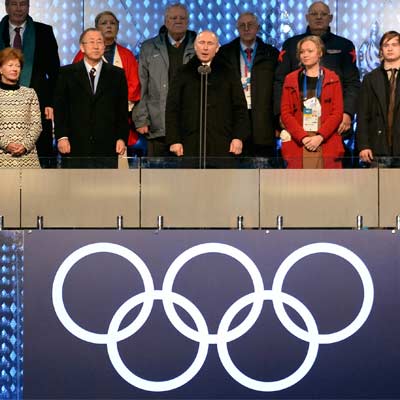 Key Western leaders may have stayed away from Sochi in protest against Russia's anti-gay laws, but the heads of 55 other countries attended last night's lavish opening ceremony to the Winter Olympic Games.
Xi Jinping, the Chinese president, Recip Tayipp Erdogan of Turkey, and Japan's Shinzo Abe were among those watching the three-hour spectacular hosted by Vladimir Putin. David Cameron, Barack Obama, the US president, and Angela Merkel, the German chancellor, were noticeable only by their absence.
The Russian authorities claimed that it was a record number of heads of government and state to attend a winter Olympics.
The pounds 31?billion Games, the most expensive ever staged, have been regarded as a test of the president's leadership as much as Russia's ability to stage a major sporting event.
The decision by some leaders not to attend was ignored by the Scandinavian giants of winter sport, who sent five leaders between them. The Dutch sent King Willem-Alexander and Mark Rutte, the prime minister.
Mr Putin's near neighbours from the former Soviet states of Central Asia, were all in attendance. His domestic allies, however, were not entirely impressed. Dmitry Medvedev, the prime minister, was pictured falling asleep in the ceremony stands.