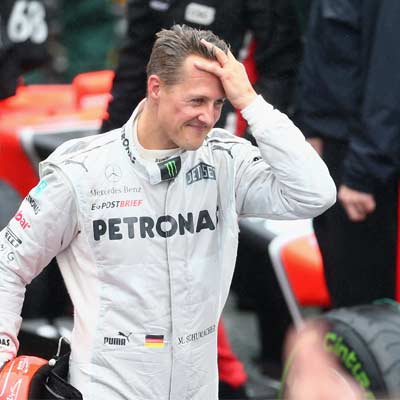 Former Formula One Champion Michael Schumacher has woken up from his coma, a spokeswoman said. Reports suggest that the Grand Prix ace has left hospital in France.
Schumacher's manager says the Formula One great is no longer in a coma and has left a French hospital where he had been receiving treatment since a skiing accident in December. Manager Sabine Kehm says in a statement that Schumacher has left the hospital in Grenoble "to continue his long phase of rehabilitation."
The statement did not say where the seven-time F1 champion was taken or give any details of his condition. Kehm adds: "For the future we ask for understanding that his further rehabilitation will take place away from the public eye."
The 44-year-old German F1 world champion suffered a cerebral haemorrhage and was in a "severe head coma" when he was transferred to the University Hospital Center of Grenoble. The hospital said in a statement that the German driver "required an immediate neurosurgical operation".
The tragedy occurred on December 29, 2013, when Schumacher was skiing on a helmet in Meribel resort, he fell sharply and hit a rock with his head. He was immediately transported by helicopter to hospital in Moutiers, Savoie, before being moved to the hospital in Grenoble. He was then put into an induced coma.
Before being placed in the coma, he had surgery to reduce bleeding and bruising. His family announced on January 30 that the drugs used to keep him in a coma were being reduced with a view to bringing him back to consciousness.