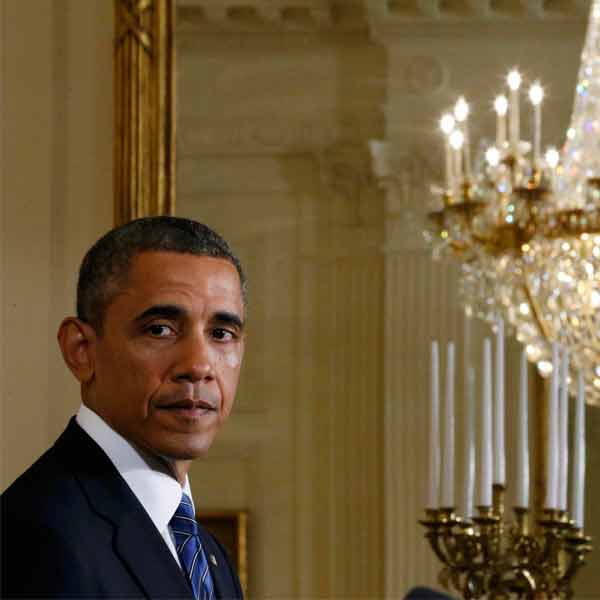 US President Barack Obama said Monday that his administration is examining "a whole series of" economic and diplomatic steps to "isolate" Russia over its refusal to withdraw military forces from the Ukrainian republic of Crimea.
While acknowledging Russia's "strong" historic and commercial ties to Ukraine, Obama declared "what cannot be done is for Russia, with impunity, to put its soldiers on the ground and violate basic principles that are recognized around the world," Xinhua reported.
"And I think the strong condemnation that it's received from countries around the world indicates the degree to which Russia is on the wrong side of history on this," he told reporters at the White House prior to his meeting with visiting Israeli Prime Minister Benjamin Netanyahu.
Obama said Washington is examining "a whole series of steps", both economic and diplomatic, "that will isolate Russia and will have a negative impact on Russia's economy and its status in the world".
He again suggested sending in international monitors to Ukraine, or setting up an international mediation, to address Russia's alleged concerns about treatment of Russian speakers and nationals inside the East European country.
Crimea is now under control of Russian forces following the dismissal of pro-Russian Ukrainian President Viktor Yanukovych Feb 22 by a parliament controlled by West-leaning opposition, who favour integration with the European Union instead of closer ties with Russia.
Russian President Vladimir Putin told Obama over the phone Saturday that Russia retains the right to protect its interests and Russian speakers living in Ukraine if violence spreads in eastern Ukrainian regions and Crimea, where Russia has its Black Sea Fleet based.