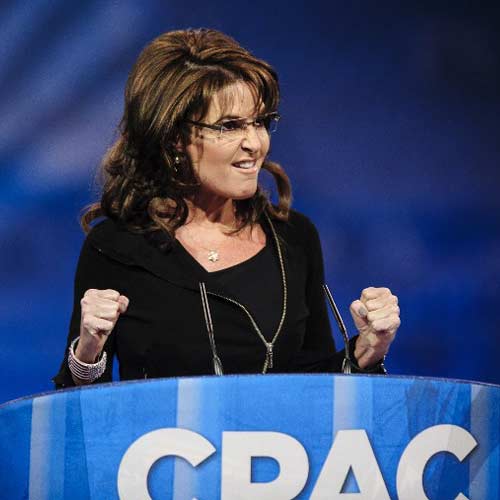 Former governor of Alaska Sarah Palin seems to believe that she predicted, what she refers to as the Russian invasion of Ukraine.
A convoy of Russian troops headed towards the capital of Ukraine's Crimea region, a day after Vladimir Putin said that he had a duty to protect ethnic Russians in Crimea and southeastern swathes of Ukraine which have ancient ties to Moscow.
The US politician is besides herself with finally having the opportunity to say "Told-Ya-So" for a one of her many gaffes from 2008 when she was running for vice-president along with the Republican presidential candidate John McCain.
Here's the video to the campaign speech, where she 'predicted' that the Obama Administration on coming to power would embolden Putin to invade Ukraine:
Of course, the lady, who is frequently criticised and mocked for her comments, wasted no time in pointing out how Russia's most recent move in Ukraine proved her right. "Yes, I could see this one from Alaska," she quipped about it in a Facebook post, obviously referring to another popular jibe from the past made at her expense, when she said she could "see" Russia from her home state Alaska.
Yes, I could see this one from Alaska. I'm usually not one to Told-Ya-So, but I did, despite my accurate... http://t.co/H3H8t6d8hi

— Sarah Palin (@SarahPalinUSA) February 28, 2014
Publications across the world were in a frenzy with comments and blogs when the comment was originally made in 2009, such as this blogpost from Foreign Policy.
Twitter, of course, reacted with its usual zeal of humour and sarcasm:
That strange moment when you realize that Sarah Palin's prediction that Russia will invade Ukraine might actually come true. ??

— Zari Malbacias (@ZariMalbacias) March 2, 2014
2008: Sarah Palin warned if Obama is elected president, Putin would "invade Ukraine." Well... #tcot #tlot #lnyhbt pic.twitter.com/IjAGyTo1BT

— Michael A Nöthem (@mikandynothem) March 2, 2014
It's times like these that I'm very glad Sarah Palin didn't become President of the USA

— Alexander crossley (@Crossley_Alex) March 2, 2014
Sarah Palin should have seen this coming from her house...

— James Miller (@MillerMENA) March 2, 2014
Could somebody call Sarah Palin? We need fresh intel on what's happening over in Russia...

— Justin (@Atheistican) March 2, 2014
Here's Sarah Palin keeping an eye on the situation in Crimea. pic.twitter.com/nCD9V6NCaC

— Luke Brinker (@LukeBrinker) March 2, 2014
Yes, Twitter, Sarah Palin totally called this exact Ukraine scenario 6 years ago….

— Blake Hounshell (@blakehounshell) February 28, 2014
Let's see, Sarah Palin predicted the Death Panels, now Russia invading Ukraine? She's freaking Nostradamus!

— Matt Dawson (@SaintRPh) February 28, 2014
But with Palin's prediction coming true, it does make one question the state of modern political history.