A museum is a place that conserves artifacts and other objects of scientific, artistic, cultural, or historical importance. Well that's all about to change. Uniqueness in all its forms has always astounded humans. When you hear or see something you have never heard or seen before, you are either taken by surprise or left flabbergasted. What we do not realise is that we humans are always unique or "special" in different ways.
So, it is not surprising that New Delhi's Sulabh International Museum of Toilets is among the top weirdest museums in the world.
Here's the list:
Sulabh International Museum of Toilets, New Delhi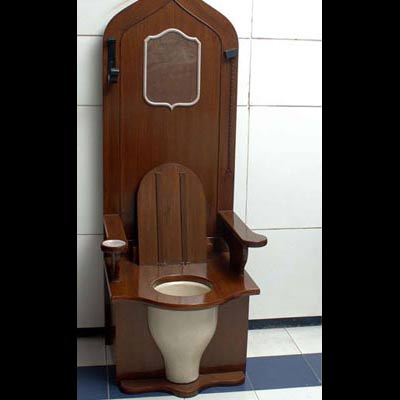 As odd and funny as it sounds, this museum established in 1992 and inaugurated on March 19, 1994 is a museum solely dedicated to the evolution of various toilets and their designs as well as the sanitation systems throughout history. Bindeshwar Pathak, the founder of the museum, says it is "the only one of its kind in the world", and adds that "India faces a big challenge in the sanitation sector. So our museum helps policy makers understand the efforts that were made in this field in the past".
The museum documents toilets such as chamber pots used since ancient Greece ​to ornately carved and painted urinals and commodes​ in Britain. Apart from that, the museum has a rare collection of facts, pictures and presents a chronology of developments relating to technology, toilet related social customs, toilet etiquettes, sanitary conditions, as well as an extensive display of toilet furniture, bidets and water closets.
There's even a toilet disguised as a bookcase. A highlight of the museum is the replica of the throne of King Louis the XIV. The king is believed to have used this to "relieve himself" while conducting court sessions.
Icelandic Phallological Museum, Reykjavik, Iceland​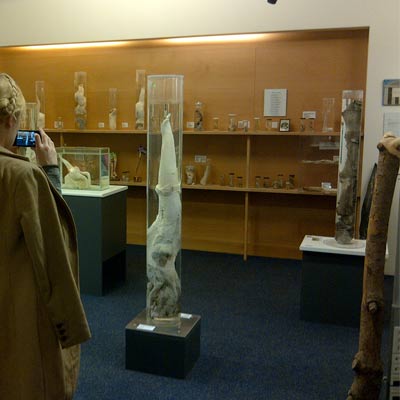 Image credit: The Icelandic Phallological Museum
The Icelandic Phallological Museum is dedicated to um... well, exactly what the name says. For those clueless, this museum in it's full seriousness houses the world's largest display of penises and penile parts (Stop laughing). Pass under the penis-shaped sign and you enter the world of phallology – the study of the penis, and of its place in history, art, and society.
Founded in 1997 by retired teacher Sigurôur Hjartarson, this exhibition contains a collection of over more than 250 penises and penile parts ranging from the tiniest hamster member (two millimeters) to the colossal private parts of a sperm whale (1.7m). The museum also has a section on folklore with examples it claims are from elves, trolls and sea monsters, though as Icelandic folklore portrays such creatures as being invisible, they cannot be seen. If you are thinking that the museum is one member short, you would be right. But a 92-year-old volunteer has given the museum a legally-certified gift token for a future specimen belonging to homo sapiens.
The museum has become a popular tourist attraction with thousands of visitors and has received international media attention, including a Canadian documentary which covers the museum's quest to obtain a human penis. According to the museum's statement, it aims to enable "individuals to undertake serious study into the field of Phallology in an organised, scientific fashion".
Museum of Bad Art, Massachusetts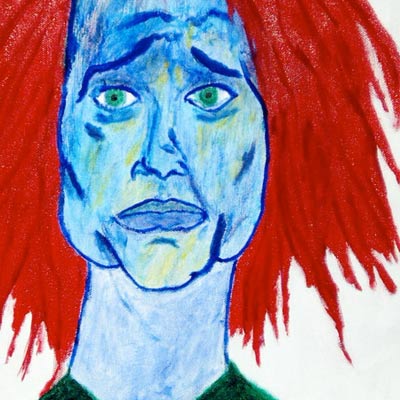 Image credit: The Museum of Bad Art (MOBA)
You think you're bad at art? Think again, for you are in for one hell of a surprise. Enter the Museum of Bad Art (MOBA), the world's only museum dedicated to the collection, preservation, exhibition and celebration of bad art in all its forms. Started in the basement of a private home in Boston, US, this museum has a collection of nearly 600 pieces of the best of the worst artworks from all over the world. This collection of art that is too bad to be ignored has an online presence with a virtual gallery and three permanent locations at the Dedham Community Theater, Somerville Theatre and Brookline Access Television. Think you've got what it takes to be the Picasso or Van Gogh of this museum? ​MOBA accepts donations of hideous artwork as long as they are original and undeniably bad.
The exhibits feature themes such as 'blue people', 'poor traits' and 'unlikely landscapes, seascapes and still lifes'. From clueless renderings of famous pieces, to awkward sculptures, clashing colours and a general lack of talent, it's all about misguided passion that will have even the grumpiest of visitors chuckling as they stroll down the halls.
The museum states that it displays "the work of talented artists that have gone awry to works of exuberant, although crude, execution by artists barely in control of the brush. What they all have in common is a special quality that sets them apart in one way or another from the merely incompetent".
Avanos Hair Museum, Turkey
If you thought toilets, penises and bad artwork were strange, then this museum defines a whole new "creepy". Welcome to the world's largest collection of hair. Avanos, a tiny town in central Turkey, has gained fame for a more unusual sight: the caves of the bizarre Hair Museum, created by potter Chez Galip. And if that doesn't sound creepy enough for you, it's situated in a small, dark cave.The walls of this freaky museum are covered with the world's largest collection of hair from more than 16,000 women, along with their names and addresses.
According to the story narrated by locals, a potter asked for some gift from his departing friend. She cut off a lock of her hair and gave it to him as a reminder. He hung the hair in his shop and told this story to everyone who visited him. Female visitors to the town started gifting him pieces of their hair after hearing his story. The museum now holds 16,000 samples of hair and has also been listed in the Guinness Book of World Records.
Museum of Broken Relationships , Zagreb, Croatia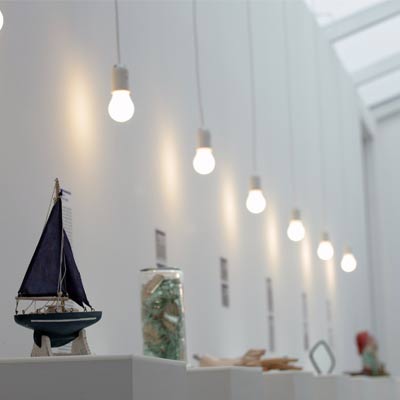 Image credit: The Museum of Broken Relationships
Heartbroken after a relationship with someone you're too attached to let go of? The Museum of Broken Relationships feels your pain and can help you. Contribute artifacts from your own broken relationships as "a chance to overcome an emotional collapse to the museum's collection. Nearly 100 exhibits are displayed, with sections devoted to the type and length of the relationships. Some of it is happy, though most of it is gloomy. In 2011, the museum was named the 'most innovative' at the European Museum Awards." You'll see artifacts like rings, clothing, Valentine's Day gifts, pink fuzzy handcuffs, an axe, a cellphone etc.
Created by Olinka Vištica and Dražen Grubišic who, after the end of their four-year relationship in 2003, joked about setting up a museum to house their left-over personal items. Three years later, they started asking their friends to donate objects left behind from their break-ups, and the collection was born. It became public for the first time in 2006, in Zagreb, Croatia. As of now, the museum attracts 40,000 visitors a year and remains the only privately funded museum in the city.
The Museum of Broken Relationships dicusses and reflects not only on human relationships but also on the political, social, and cultural circumstances surrounding the stories being told.
Momofuku Ando Instant Ramen Museum, Osaka, Japan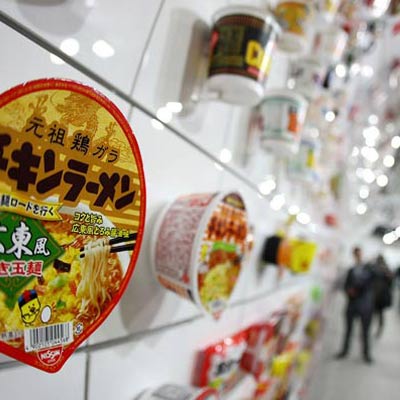 Warning! If you're hungry and reading this, you might want to skip this. This museum honours dedicated to instant noodles and Cup Noodles, as well as its creator and founder, Momofuku Ando, who struggled to create an inexpensive food for the impoverished survivors of World War II. The museum itself has a kitchen where visitors can make their own instant chicken substitute meal in a bowl, a gourmet snack for people who can't really cook for themselves.
Don't miss the entire catalogue of every Nissin instant noodle product ever. If you've been unemployed for some period of time, you'll feel right at home.
There is also a CupNoodles Museum located in Yokohama, which features four storeys of fun-filled exhibitions and attractions. This location includes various exhibits to display the history of instant ramen and Momofuku Ando's story – A ticket to Japan please!
International Cryptozoology Museum, Portland, Maine, USA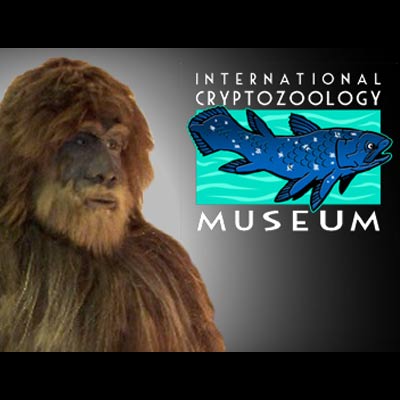 Image credit: International Cryptozoology Museum
If you are a believer in the Bigfoot, take a trip to Portland's International Cryptozoology Museum in the US. Cryptozoology is the study of unverified animals, mystical creatures only rumored to exist by legend or belief, such as the Yeti or the Loch Ness Monster or Bigfoot.
Loren Coleman, one the world's leading experts on creatures that may not exist, has created a museum boasting a collection of specimens, relics and artifacts dealing with mythical creatures, including a life-size coelacanth and PT Barnum's Feejee Mermaid, as well as a wealth of hair samples, faecal matter and foot casts of animals that probably have never walked the face of the earth.​
Highlights: A 2.5-meter, 130-kilo "Crookston Bigfoot."
The Torture Museum, Amsterdam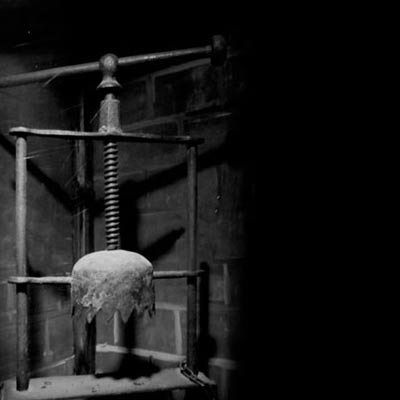 Image credit: The Torture Museum
If you think horror movies don't scare you, visit the Torture museum in Amsterdam. With its darkened rooms and uncomfortable ambiance, the exhibit aims to 'document reality as it existed less than two centuries ago.' Public Authorities demon­strated their right to do as they pleased with the lives and bodies of their subjects by setting gruesome examples. Everywhere you look, the museum displays detailed explanations and old paintings showing how some of the equipment or devices were used to inflict maximum pain – scary enough to give you goosebumps.
Horrid displays including a rusty guillotine, masks, skull crackers, stretching tables, screws to crush your fingers, your head and any other body part, and a chair of nails – just some of the instruments leaving you grateful that you live in the 21st century. ​
Meguro Parasitological Museum, Tokyo, Japan
Some parasites are a good host to Earth's resources, while some probably the worst guests. This grotesque museum was built by four scientists specialising in parasites. Learn about tapeworms, head lice and plenty of other parasites you've probably never heard of. Their collection houses around 300 varieties of parasites, including a 20-foot tapeworm drawn out of an unsuspicious woman who picked it up eating sushi – yeah, the Ramen was a better option.
That's not it. The museum is also a research facility, and has pictures alongside some creatures showing the adverse affect they have on their hosts.
The Kansas Barbed Wire Museum, La Crosse, Kansas, USA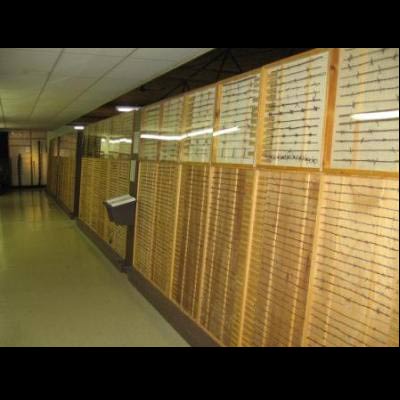 Image credit: The Kansas Barbed Wire Museum
The Kansas Barbed Wire Museum is located in La Crosse, Kansas, US, known as the "Barbed Wire Capital of the World." The museum focuses on barbed wire and its history, displaying over 2,000 different forms of the wire. Barbed wire played a significant role in the history of the settlement of the United States.
The museum was established in 1970 in a small storefront on Main Street in downtown La Crosse, Kansas. The Antique Barbed Wire Society is an international organisation "committed to collecting, preserving, exhibiting, and interpreting the historical heritage of barb wire and barbed wire related items – probably something you might not want to touch.