So much for those humble roots as fresh research into Duchess's family tree reveals her links to nobility and a former prime minister.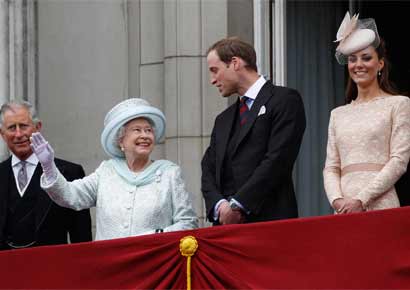 Since the Duchess of Cambridge married into the Royal family, much has been made of her "humble" roots, with coal miners, a road sweeper and even a prisoner among her ancestors.
But when her first child is born next year, the third in line to the throne's royal pedigree will not be the only blue blood in the newborn's family tree.
New research has revealed that the Duchess is related to one of Britain's grandest families and can count a prime minister, earls and countesses among her kin. The disclosure has been welcomed by the Duchess, who was informed of her aristocratic heritage during the first few weeks of her pregnancy.
A previously unpublished side of the Duchess's family tree shows her link to William Petty FitzMaurice, the 1st Marquess of Lansdowne, who served as prime minister from 1782 to 1783 and is best remembered by historians for negotiating the end of the American War of Independence.
His link to the Duchess was discovered by Michael Reed, a history teacher from Melbourne, Australia, after he asked his class to choose one of three well-known figures - David Beckham, the footballer, 50 Cent, the American rapper, or the Duchess - and to look at their ancestry using an online family tree programme.
While assisting one of his pupils, Reed discovered a link from the Middletons to Lady Bullock, nee Barbara Lupton, whom he identified as the Duchess of Cambridge's second cousin three times removed.
Reed, 47, said, "Everyone has always made it clear Kate's a commoner so when I saw one of her cousins had a title, I was surprised and intrigued."
Further research found that in 1917, Barbara Lupton had married Sir Christopher Bullock, a Cambridge scholar and descendant of William Petty FitzMaurice. Sir Christopher served as Winston Churchill's principal private secretary in 1919, and later became permanent under-secretary at the British Air Ministry from 1931 to 1936.
Previous research, which uncovered the Duchess's links to a family of miners in County Durham, a west London road sweeper and an inmate of Holloway Prison, had established her connection to the Luptons, a family of textile merchants and property developers from Leeds, but their connection with the Bullocks had not been recognised.
The Duchess's great-great-grandfather was Francis Martineau Lupton, a wealthy mill owner, who with his three brothers ran the family's successful textile manufacturing business, William Lupton & Company.
Upon discovering the link between the two families, Reed contacted Sir Christopher and Lady Bullock's surviving son, Edward, who confirmed his connection with the Middletons and the Duchess.
Reed then spent several weeks tracing the Duchess's family tree back five generations to the Marquess of Lansdowne and his brother, the Hon Thomas FitzMaurice, also an MP, who during the late 18th century lived at Cliveden, the stately home in Buckinghamshire with his wife, Mary, the 4th Countess of Orkney. William Petty FitzMaurice was originally titled the 2nd Earl of Shelburne, but was created the Marquess of Lansdowne for negotiating peace with America and ending the War of Independence. However, the terms of the peace treaty were considered by many to be excessively generous to the former colonies and led to the fall of his government.
A keen patron of the arts, his ancestral seat, Bowood House in Wiltshire, is considered one of the country's finest stately homes and is still furnished with his eminent art collection.
Reed sent his findings to the Duchess at St James's Palace, together with a photograph of Barbara Lupton. On October 19, when it is believed she was in the first few weeks of her pregnancy, the Duchess asked Rebecca Deacon, her assistant private secretary, to write to Reed, thanking him for his discovery.
She wrote, "Thank you for your letter in connection with your research on the Duchess of Cambridge's background. It was kind of you to take the trouble to write as you did and thank you for bringing this to our attention. Her Royal Highness would have me send you her best wishes, and thanks for thinking of her in this way."
Reed said, "It is a good feeling to know that I've unearthed something that may be of interest to the Duchess, her family and the Royal family."
William Bortrick, the chairman of Burke's Peerage, added, "Given what a fuss people have made about Catherine's humble background, this will certainly make an interesting inclusion to the next edition of Burke's Peerage, which we hope to publish after the birth of the Duke and Duchess's first child."