Army deployed after 30 persons are killed in the past three days of violent protests following the death sentencing of the accused in stadium disaster. This, even as Cairo soccer fans cheer Port Said court ruling.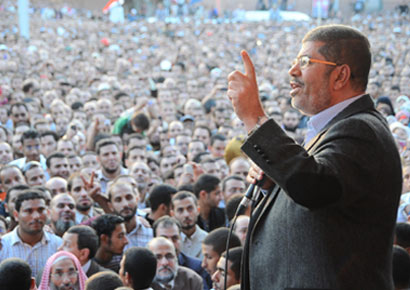 At least 30 people died on Saturday when Egyptians rampaged in protest at the sentencing of 21 people to death over a soccer stadium disaster, adding to bloody street turmoil confronting Islamist president Mohamed Mursi.
Armoured vehicles and military police fanned through the streets of Port Said after the violence. The state news agency quoted a general as saying the military aimed to "establish calm and stability in Port Said and to protect public institutions".
The unrest began with nationwide rallies on Friday to mark the second anniversary of the overthrow of autocrat Hosni Mubarak, a democratic uprising that protesters now accuse Mursi of betraying by ramming through an Islamist-hued constitution.
While anniversary-related violence subsided, a new flare-up hit Port Said after a court sentenced 21 men to die for involvement in the deaths of 74 people after a local soccer match on Feb. 1, 2012, many of them fans of the visiting team. Residents ran wildly through the streets of Port Said in rage that men from their city had been blamed for the stadium disaster, and gunshots were reported near the prison where most of the defendants were being held. State television, citing the health ministry, said 22 people were killed and more than 200 wounded. Security sources said at least two of the dead were policemen.
A witness said some men stormed a police station in Port Said, where protesters lit tyres in the street, sending black smoke funnelling into the air. At least nine people were killed in clashes with police on Friday, mainly in the port of Suez where the army has also deployed. Hundreds were injured as police rained down tear gas on protesters armed with stones and some with petrol bombs.
The schism between Islamists and secular Egyptians is hurting efforts by Mursi, freely elected in June, to revive an economy in crisis and reverse a slide in Egypt's currency. The political strife and lack of security that has blighted the Arab world's most populous country over much of the post-Mubarak era is casting a chilling shadow over a parliamentary election expected to start in April. Highlighting tensions, the opposition National Salvation Front coalition called for a government of national unity and an early presidential vote among other demands. It said it would call for more protests next Friday and could boycott the parliamentary election if its demands are not met. Mursi's opponents say he has failed to deliver on economic pledges or be a president representing the full political and communal diversity of Egyptians, as he pledged. His supporters say his critics do not respect the democracy that has given Egypt its first freely elected leader.
Victims' Relatives Cheer
At the Port Said soccer stadium a year ago, many spectators were crushed and witnesses saw some thrown off balconies after the match between Cairo's Al Ahly and local team al-Masri. Families of victims in court cheered and wept for joy when Judge Sobhy Abdel Maguid read a list of 21 names "referred to the Mufti", a phrase used to denote execution, as all death sentences must be reviewed by Egypt's top religious authority.
A total of 73 people have been standing trial. Other rulings will be issued on March 9, the judge said.
Relatives of the victims as well as Cairo soccer fans cheered. They had threatened more violence unless the death penalty was meted out. Thousands took to the streets of Cairo, Alexandria and other cities on Friday to protest against what they call the authoritarianism of Mursi's rule.
In a statement in response to Friday's violence, Mursi said the state would not hesitate in "pursuing the criminals and delivering them to justice". Urging Egyptians to respect the principles of the revolution by expressing views peacefully, the president met on Saturday with the National Defence Council, which includes senior ministers and security officials, to discuss the spate of violence.
"Egypt will not regain its balance except by a political solution that is transparent and credible, by a government of national salvation to restore order and heal the economy and with a constitution for all Egyptians," prominent opposition politician Mohamed ElBaradei wrote on his Twitter account.