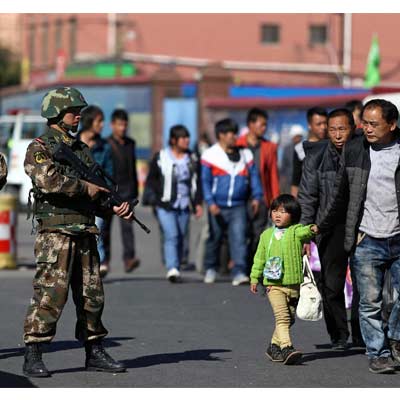 China today blamed Islamic militants from the volatile Xinjiang province for an unprecedented mass knife attack by "terrorists" at a railway station in Kunming city that left at least 33 people dead and over 130 injured.
A group of knife and sword-wielding attackers, dressed in black, burst into the station in Kunming, the tranquil capital of south-west China's Yunnan province last night and began stabbing and slashing people at random.
Images from the scene posted online showed bodies lying in pools of blood at the railway station. "It was an organised, premeditated violent terrorist attack," state-run Xinhua news agency reported, adding that police shot at least four suspects dead. Over 10 "terrorist suspects" were involved in the attack and police are hunting for the rest, it said.
A female suspect was arrested and is being treated in hospital for unspecified injuries while a search continues for others who fled the scene, another report said. Evidence at the crime scene showed that the attack was orchestrated by Xinjiang separatist forces, the municipal government of Kunming said today. TV footage showed police recovering swords carried by some of the members of the group.
It is the first time militants from the banned East Turkistan Islamic Movement (ETIM) from Xinjiang have been blamed for carrying out such a large-scale attack so far from their remote homeland. It follows an incident in Beijing's iconic Tiananmen Square in October which shook the country's Communist leadership, forcing them to establish a state committee to ensure national security.
ETIM is fighting for the independence of Muslim Uygur majority Xinjiang province, which is endowed with natural resources, including oil.
Last year three members of a family including two men tried to carry out an attack at the Forbidden city near the Tiananmen square here. Four people were killed in that attack. Xinjiang, which borders Pakistan-occupied Kashmir (POK) and Afghanistan, witnessed several violent attacks by the militants stated to be from ETIM, an al-Qaeda linked group fighting for independent Xinjiang.
For several years the province experienced ethnic unrest between native Muslim Uygurs and the Han national from the Chinese mainland for the past few years over the increasing settlements of Hans in the region. The authorities vowed to crack down on violent terrorist activities in all forms and guarantee the safety of people's lives and property, Xinhua said.
Chinese President Xi Jinping has asked authorities to probe the case with all-out efforts and punish the terrorists in accordance with the law.
Kunming resident Yang Haifei said that he was buying a ticket when he saw a group of people, mostly wearing black, rush into the station and start attacking people. "I saw a person come straight at me with a long knife and I ran away with everyone," he said, adding that the attackers caught those who were slower. "They just fell on the ground." "At first I thought it was just someone fighting, but then I saw blood and heard people scream, and I just ran," said Liu Chen, a 19-year-old student from Wuhan City of central China's Hubei Province, who was visiting Yunnan.
Liu and her friend were at the station for tickets to the tourism city of Lijiang when the attack suddenly happened.
Chen Guizhen, a 50-year-old woman, said that her husband Xiong Wenguang, 59, was killed in the attack. Xinhua news agency, in a commentary, said the attacks in Beijing and Kunming have clearly indicated a despicable trend that separatists are targeting civilians out of Xinjiang.
Xinjiang is home of Muslim Uygurs, a Turkik speaking community which was up in arms for the last several years over increasing settlements of Han Chinese nationals from other provinces.
It witnessed several riots in recent years prompting Chinese authorities mounting massive security in the sprawling province rich with minerals and natural resources.
For its part, China's ruling Communist Party responded by stepping up security in the province deploying large number of military forces including special commando troops to eliminate the ETIM besides stepping up development of the area.
Observers say that the manifold increase in the attacks in the province targeting police stations and security forces showed that mere security response alone was not working while it ended up alienating the conservative Muslim population in general. "Nothing justifies such a carnage against innocent civilians", the Xinhua commentary said. "This was a random attack, with the sole purpose of causing the greatest casualties and impact within the shortest period of time leaving the whole nation in terror," it said.
"It also showed a shift in their attack strategies from targeting symbols of the government, such as public security stations and police vehicles, to roadside civilians," it said. If the proliferation of their terrorist attack is not reined in, more innocent people will fall victim, the commentary added.