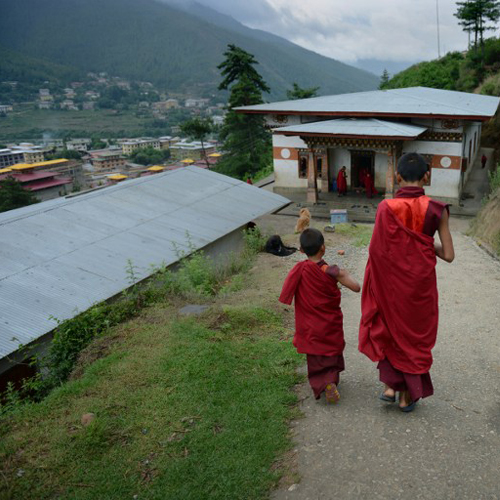 How do you report on a country that really doesn't have much to complain about? It is just not in their DNA, it seems. The Bhutanese are a happy people and they are quite delighted that the Indian Prime Minister chose to visit Thimphu as his maiden foreign visit.
The official photograph of the Indian Prime Minister all across the capital is also the one in which he has a broad grin. Narendra Modi is the first non-Congress prime minister to visit Bhutan. Before him, Indian prime ministers who came here were Jawaharlal Nehru, Indira Gandhi, Rajiv Gandhi, Narasimha Rao and Manmohan Singh.
Narendra Modi's reputation precedes him. People in the capital know about the story of the son of tea seller who made it to the Prime Minister's Office (PMO). But, they are not amazed. They expect these wonderous things from India, the neighbour they admire and appreciate, but not one that they would like to emulate.
They are quite content the way they are. They have a gentle democracy, a benevolent monarchy and an easy pace of life. At least, the older generation is not keen for disruptive change. The younger generation wants more. But would they like to swap their way of life at the alter of ambition?
Perhaps that is why they have found the key to happiness. A goal that eludes most of the world. Bhutanese are supposedly the happiest people in the world. The Himalayan country is sandwiched between the two Asian giants, sharing a 605-kilometer-long border with India and a 470-kilometer-long border with China. And yet, it is happy. It has a territorial dispute with China, and has its foreign policy dictated by India. So be it.
India is Bhutan's largest trading partner and accounts for 98% of its exports and 90% of its imports, which leads many to believe that the Himalayan country should be firmly in India's pocket and never stray towards China.
Political ties are strong, but never unbreakable. It did get frayed in 2012 and 2013, when India cancelled fuel subsidies to Bhutan as punishment for an unscheduled meeting that Bhutan's former PM Jigme Thinley had had with the Chinese Premier in Rio and the import of 20 buses from China. The green buses ply on Thimphu's roads, which annoy many Bhutanese.
One local tells me, "This is so wrong, taking money from India and buying from China. India would have given us the buses free." If only things were that simple!
Former Chinese deputy minister of foreign affairs, Fu Ying, visited Thimphu to discuss the establishment of diplomatic ties with Bhutan in 2012. That did not fructify, but, it was enough to raise alarm bells back in New Delhi.
India wagged the 1949 Treaty at Bhutan. Under the ten articles, Bhutan agrees to be guided by the advise of the Indian Government in regard to its external relations.
Narendra Modi's visit is a strong message to China that it will not blink in the North East, that defense of its borders is paramount to India, that the Chinese aggression into the Chumbi Valley and Doklam Plateau will not be ignored by this Indian administration.
China, which is preoccupied with territorial disputes in the South China Sea and the East China Sea, can ill afford to stir another crisis with Bhutan and India.
For India, the reinforcement of ties with Bhutan is important. Modi has a packed day of engagements today, which include ceremonial receptions and inauguration ceremonies, but top on the agenda, is India's uneasiness about China wanting to increase its activities in Bhutan. This will figure in the talks today and in the months ahead in engagements with the Himalayan country.