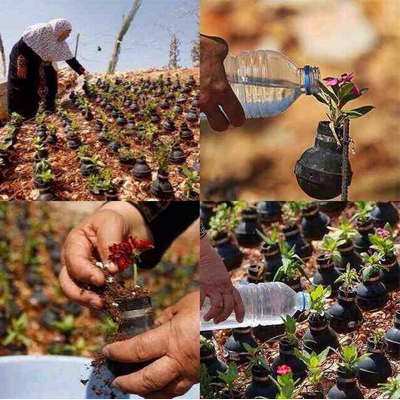 In a stark contrast to how Israelis bombed a village called Bilin in Palestine, a woman in the same village has been giving birth to new life in the same tear gas cannisters. She has planted flowers in those cannisters.
Much of the territory of the West Bank city of Ramallah including Bilin is a disputed territory. These flowers with their bizzare pots mark the land that Palestinians were able to reclaim after a long battle in court which was regarding Israel's security barrier which is very controversial. This wall which is still under construction, will stretch for 430 miles and will cover the entire West Bank area.
According to many critics this wall has extensively deviated from the agreed international boundaries.But, in Israel's defence, this wall helps them protect their people from Palestinian terrorism. The critics have also come to believe that Israel is masking their illegal attempt to take over Palestine's land with security concerns.