United Nations general secretary Ban Ki-Moon sent out condolences to victims of MH370 missing plane en route Beijing from Malaysia. Meanwhile, there were many heart-breaking tweets about people praying, exchanging hope and hoping in finality that some good news will come eventually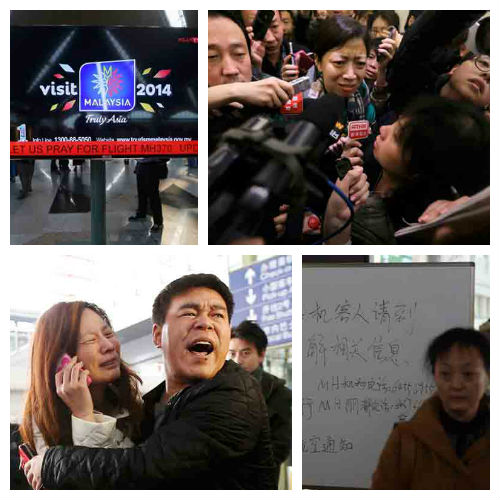 While the missing Malaysian plane has sent a shockwave through countries and regions across the globe, people have started praying for the safe return of the passengers. Social media site Twitter is buzzing with hashtags such as #PrayForMH370, #MalaysianAirlines and #MH370, where updates consoling messages and pictures are being shared.
The Secretary General of the United Nations, Ban Ki-Moon, sent out a tweet for the on-board passengers on Sunday morning.
#UNSG Ban Ki-moon deeply saddened by death of so many ppl in #MalaysianAirlines crash. He sends condolences to all bereaved families.

— UN Spokesperson (@UN_Spokesperson) March 9, 2014
[#MASalert] As the hours turn into days, we truly appreciate the patience, support & prayers from everyone - http://t.co/xGT1P7SsHM
— Malaysia Airlines (@MAS) March 9, 2014
[#MASalert] We will set up a cmd center at Kota Bharu or Ho Chi Minh as soon as aircraft location established – http://t.co/xGT1P7SsHM

— Malaysia Airlines (@MAS) March 9, 2014
[#MASalert] We would like to humbly ask all Malaysians and people around the world to pray for flight MH370 – http://t.co/xGT1P7SsHM

— Malaysia Airlines (@MAS) March 8, 2014
An international SAR mission was mobilized and efforts are being intensified with team from Singapore, Vietnam & others participating.

— Malaysia Airlines (@MAS) March 8, 2014
It's amazing to see people from different races, religions, and countries are all trying to help finding #MH370. That's just amazing.

— Shahrin Najmi (@shahrincool) March 9, 2014
Sister. It's almost 40 hours. When will you be back home? I'll be waiting, all of us are. #MH370 #PrayerForMH370

— Jebat Foo (@nanrahimee) March 9, 2014
Pilot & Co-pilot in MH370 is the braver ever. Everyones in the flight was panic. But them calming their self to save people. #PrayerForMH370

— 10 March (@shekenziezan) March 9, 2014
Even though we come from drifferent places and we speak the different tongue. Our hearts since yesterday beat as one #PrayerForMH370 #MH370

— Saran Raj Pillay ✌ (@10Srp) March 9, 2014
Please come back :'( #PrayerForMH370

— Aien (@AienNoraien) March 9, 2014
:-( #PrayerForMH370 pic.twitter.com/eZdnqQtwfF

— Noreen (@NoreenHadzim) March 9, 2014
They are not missing, they just went to some place beautiful than where we are. #PrayerForMH370

— Merican (@AdussaZamani) March 9, 2014
I do know some of the crew on #MH370 and I hope that we will receive some news about this. #PrayerForMH370 #MalaysiaAirlines #sad #tears

— Asyraf Zakaria (@asyrafzakaria) March 8, 2014
My tears only in my heart, Very Sad talking to families #MH370 #PrayerForMH370 #MalaysianAirlines

— Nazrul Azizi (@Nazrulazizi) March 8, 2014
Meanwhile, Instagram users reacted with pictures:
On the Twitter account of the alleged daughter of crew member Andrew Nari, there were posts about her father and how much she hopes he will be back soon:
Daddy. You're all over the news and papers. Come home fast, so you could read them! Don't you feel excited? :'D pic.twitter.com/Jc4TzMSKym

— . (@Gorgxous_) March 9, 2014
Daddy. It's almost 24 hours. When will you be back home? I'll be waiting, all of us are. Goodnight, daddy. :')

— . (@Gorgxous_) March 8, 2014
@gorgxous_ We might don't know each other, but all I want to say is stay strong, keep praying, be positive. Hoping for a good outcome.

— Rafizal (@RafizalMUFC) March 8, 2014