The Avenger's assembled to do what they do best, show the world that heroes, indeed, exist.
Using the immense reach of social media platforms, Robert Downey Jr, Mark Ruffalo, Tom Hiddleson and other cast members from The Avengers and the Marvel Cinematic Universe (MCU) joined the campaign to get a copy of Captain America: The Winter Soldier to Stratford Caldecott, a terminally ill cancer patient and avid comic-book fan. Caldecott was too sick to watch the movie in a theater, and is sadly not expected to live long enough for it to release on Blu-ray.
His daughter Sophie Caldecott, who is a freelance journalist, started the #CapForStrat initiative, posting about it on her blog early this week. The mission statement of the campaign is to get Disney, that owns the MCU, to make a copy of the film and send it to the UK residence, where her father has sadly been given less than three months in his battle with prostate cancer.
She went straight to the actors, and wow did they respond. Due to her efforts, people have been flooding Twitter and other social media with pictures of themselves appealing to the cast of The Avengers and Marvel's Agents of S.H.I.E.L.D. by holding up placards which have the hashtag #CapforStrat.
Sophie later wrote:
When we started out on Monday evening, all we wanted to do was to make it possible for my father to see 'The Winter Soldier' and maybe to get a few superhero selfies to make him chuckle. In under 48 hours our mission was accomplished, and then … we kind of went viral.
Mark Ruffalo was the first to respond and participate in the campaign.
@becmackinnon Hang Tough Strat! We are pulling for you. pic.twitter.com/1EPCWsWLsH

— Mark Ruffalo (@MarkRuffalo) May 14, 2014
The rest of the Avengers soon followed suit
Thor and Iron Man got your back, Strat. #CapForStrat pic.twitter.com/hNp033KOSe

— Robert Downey Jr (@RobertDowneyJr) May 16, 2014
Thanks @MarkRuffalo !!!! pic.twitter.com/zihcHNEofd

— Chris Evans (@ChrisEvans) May 15, 2014
And Loki decided that this was worth sharing twice
We're all cheering for you, Strat. Sending lots of love. #CapForStrat pic.twitter.com/eX6bpffQ9t

— Tom Hiddleston (@twhiddleston) May 16, 2014
We're all rooting for you, Strat. Sending lots of love. #CapForStrat pic.twitter.com/2YzkI748GC

— Tom Hiddleston (@twhiddleston) May 16, 2014
Sending out love... @Marvel #CapForStrat pic.twitter.com/qZYWTpRlHt

— Cobie Smulders (@CobieSmulders) May 15, 2014
"@rahulricky: http://t.co/CQpg7Yi80z #capforstrat #avengersassemble" Salutations, Strat! Some have gone ahead and others will follow.

— Alexis Denisof (@AlexisDenisof) May 13, 2014
And then the Agents of S.H.I.E.L.D also joined the bandwagon
Thank you so much to @clarkgregg for being a real life hero! #CapForStrat #AgentsofSHIELD #fightingcancer pic.twitter.com/TeyrLr3VuL

— Sophie Caldecott (@SophieCaldecott) May 15, 2014
More #AgentsofSHIELD for #capforstrat. Even if he's Hydra! @imbrettdalton pic.twitter.com/AldQ129G6a

— Ming-Na Wen (@MingNa) May 16, 2014
Rebuilding #AgentsofSHIELD for you, S.T.R.A.T.! #marvel #CapforStrat pic.twitter.com/ClcCWq6Znx

— Ming-Na Wen (@MingNa) May 16, 2014
Much love to you and your family... @SophieCaldecott #CapForStrat @Marvel pic.twitter.com/4mgfGW5tbc

— J. August Richards (@jaugustrichards) May 18, 2014
Nick Fury joined in as well
@SamuelLJackson: Keep fighting and Stay Strong Strat! You can do it! http://t.co/OI8yRZlE0V #CapForStrat pic.twitter.com/trjwdj4zDh

— Samuel L. Jackson (@SamuelLJackson) May 14, 2014
Apart from the cast tweeting to spread awareness, the campaign itself got a lot of traction on Twitter and went viral, with millions of responses
Congrats to @SophieCaldecott for creating global awareness for #prostatecancer through #CapforStrat - you are heroes :)

— Rebecca Mackinnon (@becmackinnon) May 18, 2014
Happy to support #CAPFORSTRAT and @SophieCaldecott great campaign! @Marvel @Avengers pic.twitter.com/bqVuTcahGK

— One For The Boys (@One4theBoys) May 16, 2014
@SophieCaldecott @Marvel #CapForStrat #FansForStrat #cancerawareness pic.twitter.com/EJu7OPOF63

— A.L. Baroza (@ALBaroza) May 17, 2014
@SophieCaldecott Im so happy your dads story came my way cause tweetin the last couple days for him has Really inspired me to help others

— MyHeroIsPaulWalker (@Catie_bear_1) May 16, 2014
Hi @Marvel. Here's ur chance to grant a dying wish to a HUGE fan of yours. Please help http://t.co/SMw6R7l2Qe #capforstrat

— Emma Corbett (@scouseemma) May 13, 2014
Gonna tweet & retweet til we make this thing happen: http://t.co/zu7nlS2jdk C'mon @Marvel, grant the wish of a real life hero. #CapForStrat

— Madeleine Lawson (@MH_Lawson) May 13, 2014
If you do one thing today please read this and retweet @RobertDowneyJr @ChrisEvans http://t.co/uzFhrLdRvp #CapForStrat

— Leonora Owens (@LeonoraOwens) May 12, 2014
#CapForStrat Go Marvel. Much love.

— Dee (@aaach000) May 19, 2014
Best thing about #CapforStrat? Sharing love & solidarity with total strangers. We're all one family after all, & the stories we tell matter.

— Tessa Caldecott (@TessaCaldecott) May 15, 2014
After seeing the overwhelmingly positive response by fans and the actors, Sophie posted this on her blog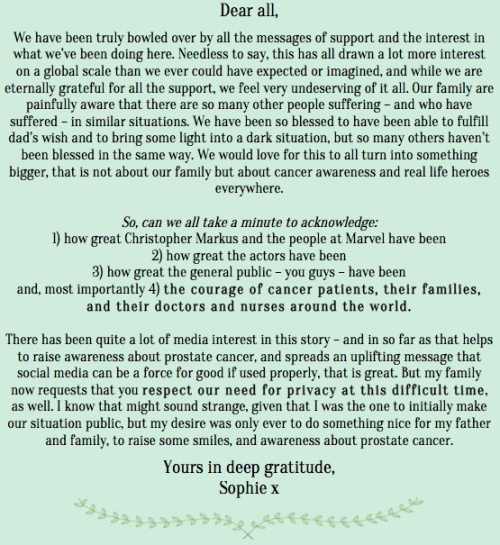 Image courtesy of http://sophiecaldecott.wordpress.com/