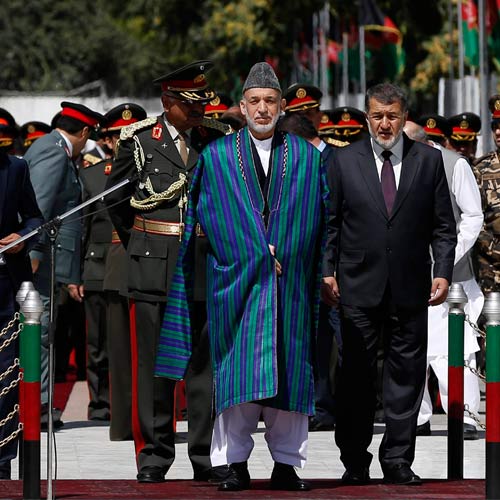 Afghan President Hamid Karzai has reacted bitterly to the United States military's handing over of Pakistani insurgents to Islamabad officials after being captured on Afghan battlefields.
American military officials on Saturday, August 23, "repatriated nine detainees" to Pakistan from US custody on Afghan soil. These detainees were arrested during combat operations while fighting against Afghan and NATO forces in various areas across Afghanistan.
During Sunday's National Security Council Meeting, President Karzai asked for clarification on this issue from the US forces present in Afghanistan. "This decision, with the current situation ongoing in [the] country where Pakistani citizens practically fight alongside the Taliban is extremely worrisome," Karzai asserted.
But US officials in Kabul give a different perspective of the case, arguing that the Afghan government "was informed of this repatriation before it took place". An official communique from the US Embassy Kabul sent to dna said that "the nine detainees met the US criteria for internment under the law of armed conflict".
Sayed Abass Kamwand, US Embassy Spokesperson in Kabul, later told dna "a thorough case-by-case review was conducted to ensure each detainee was safely and humanely transferred".
The Afghan government has been battling with Islamabad over what they call evidence of Pakistani citizens fighting alongside Afghan Taliban on Afghan territory. The Afghan National Security Council also discussed the "widespread" presence of Pakistani citizens at leadership levels of insurgency in the war on terror in Afghanistan.
Despite the US Embassy claiming that the Afghan government was already made aware of this prisoner transfer, the Afghan President called on US officials to "shed light" about this matter.
Earlier last week, New York Times correspondent in Afghanistan Matthew Rosenberg was forced to leave the country over a report on the recent election deadlock in the country. Rosenberg was summoned to the attorney general's office for questioning after the newspaper ran a story about officials discussing plans to form an interim government and "seize power".
The country's next president was scheduled to be announced on Monday. However, the deadline has now been extended to September 2 as rival candidates Abdullah Abdullah and Ashraf Ghani remain deadlocked over the country's first democratic transfer of power.
The US, on its part, has brokered a deal, with US Secretary of State John Kerry having visited the country twice since the run off. An audit of the eight million votes cast, supervised by the United Nations, will decide Afghanistan's next president.