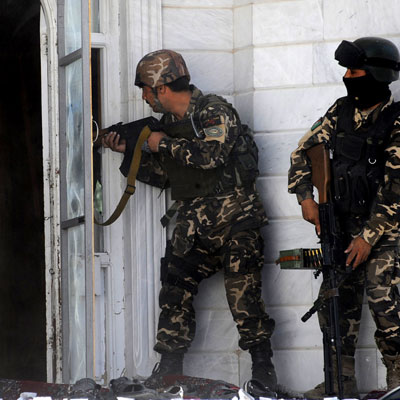 All the four gunmen, who had stormed the Indian consulate in Afghanistan's Herat province early today, have been gunned down, Indo-Tibetan Border Police (ITBP) chief Subhas Goswami said. "One terrorist was killed by ITBP personnel while three have been killed by Afghan forces. The attack has been successfully repulsed," he said.
The Director General also said that security at the Indian Embassy in Kabul and consulates in Jalalabad, Mazar-e-Sharif and Khandhar besides Herat has been beefed up and a high alert sounded to all Indian assets based across Afghanistan.
Prime Minister elect Narendra Modi called Afghanistan President Hamid Karzai thanking the efforts of Afghan forces in thwarting attack on India's Consulate. Karzai assured Modi that Afghanistan will do all to protect India's Missions there.
President Karzai & I talked about Consulate attack in Herat. He assured me he will do everything to protect India's Missions in Afghanistan.

— Narendra Modi (@narendramodi) May 23, 2014
President Karzai & I talked about Consulate attack in Herat. He assured me he will do everything to protect India's Missions in Afghanistan.

— Narendra Modi (@narendramodi) May 23, 2014
I salute the Consulate staff for their indomitable spirit & high morale throughout the difficult circumstances http://t.co/ZY3y2ANqtR

— Narendra Modi (@narendramodi) May 23, 2014
Four heavily armed attackers, who were carrying rocket-propelled grenades, attacked the Indian Consulate in Afghanistan's Herat province early today. Top Indian officials have confirmed that everyone was safe.
Following exchange of fire that went on for hours, the four gunment were killed, official spokesperson of Ministry of External Affairs Syed Akbaruddin, confirmed on Twitter.
Update! 4 attackers killed. Staff at r Consulate in Herat #Afghanistan safe. Morale high. #India monitoring situation. 1305 IST

— Syed Akbaruddin (@MEAIndia) May 23, 2014
Earlier, he had informed that ITBP personnel and Afghan soldiers were present at the situation and had rebutted the attackers. Akbaruddin also added that Foreign Secretary Sujatha Singh was monitoring the situation.
#India's Consulate in Herat, #Afghanistan attacked. Brave ITBP personnel and Afghan soldiers rebut attackers. All safe. Operation underway.

— Syed Akbaruddin (@MEAIndia) May 23, 2014
#India-#Afghanistan officials in touch on attack on India's Consulate in Herat. Foreign Secy Sujatha Singh monitoring situation. All safe

— Syed Akbaruddin (@MEAIndia) May 23, 2014
Herat police chief General Samihullah Qatra told Reuters four attackers, including suicide bombers, had entered houses close to the consulate before dawn and began shooting into the compound. "Police have already evacuated civilians from houses and now fighting is ongoing," he said.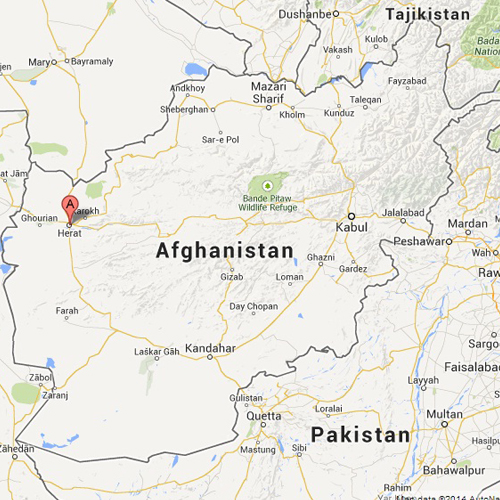 Update! Firing continuing. Situation remains uncertain. Staff at r Consulate in Herat #Afghanistan safe #India monitoring situation 1240 IST

— Syed Akbaruddin (@MEAIndia) May 23, 2014
Indian staff at the mission escaped soon after the shooting began at around 3 am. Police said Afghan security forces had killed the attackers, who were holed up in buildings overlooking the consulate, following a firefight that lasted several hours. "They fired a couple of RPG shots. It was dark and they couldn't verify where it was coming from," India's ambassador to Kabul Amar Sinha told Reuters by telephone. He said there had been around 10 staff resident at the consulate in Herat, which stands close to the border with Iran and is Afghanistan's third largest city.
Indian Embassy in Kabul also confirmed that one of attackers has been killed.
Indian Consulate in Heart is attacked by unidentified gunmen. One of the attacker killed by ITBP. Other two are surrounded.

— Indian Embassy Kabul (@IndianEmbKabul) May 23, 2014
Prime minister Narendra Modi called the Ambassador Sujatha Sinha to bolsters morale of all staff in India's missions in Afghanistan, the MEA spokesperson informed. He condemned the attack on Twitter.
PM designate @narendramodi following events related to attack on #India's consulate in Herat. Speaks to Amb. Sinha in Afghanistan.

— Syed Akbaruddin (@MEAIndia) May 23, 2014
PM designate @narendramodi calls up #India's Amb in #Afghanistan. Bolsters morale. Assures all support to brave staff at Consulate in Herat

— Syed Akbaruddin (@MEAIndia) May 23, 2014
I condemn the attack on our consulate in Herat, Afghanistan. Closely monitoring the situation. I have spoken to the Ambassador as well.

— Narendra Modi (@narendramodi) May 23, 2014
ALSO READ: Congress condemns attack on Indian consulate in Afghanistan
President of India Pranab Mukherjee has strongly condemned the terrorist attack on the Indian Consulate in Herat this morning.
Outgoing Prime Minister Manmohan Singh also condemned attack on Herat, Afghanistan consulate
United Nations condemns attack on Indian Consulate
India today said the terror attack on its Consulate in Herat underscores that the main threat to stability and security of Afghanistan stems from terrorism beyond its borders and asserted that the incident will not dilute its commitment to assist the war-torn country.
The Spokesperson in the External Affairs Ministry said the government was assessing and examining the situation along with the Afghan government.
"Our diplomatic premises have repeatedly been attacked by elements who clearly do not support Afghan people's effort to rebuild and redevelop the country...," he said, asserting that the attack of this nature will not dilute India's commitment to assist Afghanistan in its reconstruction and development efforts. Read More
Repeated attacks
Militants have repeatedly attacked Indian targets in Afghanistan. Last August, an assault on the Indian consulate in the eastern city of Jalalabad killed at least nine people, and earlier this year a suicide bomber was gunned down near the consulate in the southern city of Kandahar.
In 2008, suicide bombers attacked the Indian embassy in the capital, Kabul, killing about 50 people and wounding scores. There was another attack on the embassy in 2009.
Security officials in India believe that previous attacks on Indian missions in Afghanistan have been carried out by the Haqqani network, a Taliban and al Qaeda-linked group that has also long had ties with Pakistani intelligence. US officials and India had also accused Pakistan's Inter-Services Intelligence of organising the 2008 attack in Kabul.
Pakistan has long complained about the number of Indian consulates in Afghan cities, fearful that friendship between India and Afghanistan could leave it isolated, and NATO prepares to withdraw the competition for influence in Kabul is expected to become fiercer.
On this occasion, however, Pakistan's Foreign Ministry was quick to issue a condemnation of the attack on the Indian consulate. "No cause justifies targeting of diplomatic missions. It is a matter of relief that no one from the Consulate staff was hurt," the ministry said in a statement issued in Islamabad.
This is second attack in the last year on Indian Consulate in Afghanistan. In August 2013, 9 killed, 24 injured in explosion near Indian Consulate in Afghanistan's Jalalabad.
"I can confirm that the Indian consulate in Herat was attacked this morning, we have a deployment of ITBP personnel there and these brave personnel were able to thwart the initial attack. They were subsequently joined by officials and personnels of afghan national forces and the operation is still under way," said Akbaruddin. "What I can confirm to you is that all Indians at the consulate in Herat are safe. Our senior diplomats including foreign secretary Sujata Singh are monitoring the situation and are in regular touch with their Afghan Counterparts. Since the situation is still an evolving one I do not want to get into further details on this," he added.
He further said: "I think it's premature to talk about these things. When a situation is still under way, but our consulates and our diplomatic presence in Afghanistan has been under threats, you are aware of this. We will provide more details once the situation evolves and we have further information on this."
Even as motives remain unknown, no terrorist groups have claimed responsibility for the violence.
Incidently, this attack come just a day after Afghanistan's head of state Hamid Karzai confirmed his presence at the swearing in ceremony of India's Prime Minister elect Narendra Modi.
Only recently, India bolstered the Afghan army with financial aide. In light of the recent withdrawal of US-led forces from Afghanistan by the end of 2014, New Delhi has decided to provide 'financial assistance' to Afghanistan to fulfil its military requirements. The Congress-led UPA which took the crucial decision before it was voted out of power felt that arming Afghanistan is a strategic necessity for India. Read more here.
India has invested in some major infrastructure projects in Afghanistan like Salma hydroelectric dam in Herat province and the Afghan parliament building in Kabul.
India's development assistance programme for Afghanistan currently stands at USD two billion, making it the leading donor nation among all regional countries. Afghanistan has experienced a rise in the Taliban attacks as foreign troops plan to withdraw from the war-torn country by the end of the year.
Even as operations are underway, more details are awaited.
(With agency inputs)