Militants launched a brazen attack on Karachi international airport Sunday night. Clashes at Pakistan's largest and busiest airport in left more than 20 people dead after militants armed with grenades stormed into a cargo area. Zee Research Group (ZRG) profiles recent major incidents of bomb blast in Pakistan with fatalities in terrorist violence in past decade. The data shows, while there have been a dip in overall terrorist fatalities in Pakistan but number of civilians causalities is on the rise.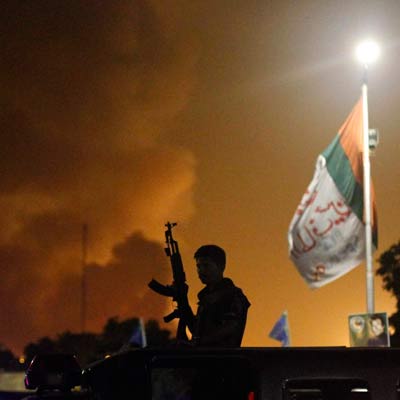 January 1: At least three people were killed and 30 injured in a suicide attack targeting Shia pilgrims in Akhtarabad area of the provincial capital Quetta.
January 17: Four people were killed and 65 others were injured when Khushaal Khan Khattak Express passenger train carrying around 400 passengers derailed following a bomb explosion on its tracks in Omar Kot area of Rojhan sub-district in Rajanpur District of Punjab.
January 21: At least 24 Shia pilgrims returning from Iran were killed and 40 others were injured in a bomb attack targeting their bus in the Khusak area of Kanak in Mastung District.
February 2: At least five persons were killed and 30 others injured in the night when unidentified attackers hurled two grenades at Picture House cinema on Cinema Road near Qissa Khwani Bazaar in Peshawar (Peshawar District), the provincial capital of KP.
February 4: At least nine people were killed and over 40, including children and women, were injured when a suicide bomber blew himself up at a restaurant in the Koocha Risaldar area of Qissa Khawani Bazaar in Peshawar of KP.
February 13: At least 13 Policemen were killed and 58 others were injured in a suicide blast targeting a bus carrying 50 Police officers near the gate of Razzakabad Police Training Center in Shah Latif Town of Karachi.
February 16: At least six people, including four children, were killed and more than 35 were injured when two coaches of the Peshawar-bound Khushal Khan Khattak Express derailed after a bomb attack on the tracks near a canal in Thull town of Jacobabad District in Sindh.
March 12: At least 19 civilians, including 10 women and four children, were killed and more than 50 others were injured in gang war clashes among rival gangsters, Uzair Baloch, Ghaffar Zikri and Baba Ladla in Gahribshah locality of Lyari Town in Karachi of Sindh.
March 14: At least 11 persons were killed and 45 others injured in a suicide attack targeting Police in Sarband area of Peshawar (Peshawar District), the provincial capital of Khyber Pakhtunkhwa.
April 8: At least 17 people, including a woman and five children, were killed and 44 others were wounded when a passenger train, Jaffar Express was bombed at Sibi Railway Station in Sibi District of Balochistan.
Source: News Reports
Exhibit: Fatalities in Terrorist Violence in Pakistan 2003-2014
| | | | | |
| --- | --- | --- | --- | --- |
| Year | Civilians | Security Force Personnel | Terrorists/Insurgents | Total |
| 2003 | 140 | 24 | 25 | 189 |
| 2004 | 435 | 184 | 244 | 863 |
| 2005 | 430 | 81 | 137 | 648 |
| 2006 | 608 | 325 | 538 | 1471 |
| 2007 | 1522 | 597 | 1479 | 3598 |
| 2008 | 2155 | 654 | 3906 | 6715 |
| 2009 | 2324 | 991 | 8389 | 11704 |
| 2010 | 1796 | 469 | 5170 | 7435 |
| 2011 | 2738 | 765 | 2800 | 6303 |
| 2012 | 3007 | 732 | 2472 | 6211 |
| 2013 | 3001 | 676 | 1702 | 5379 |
| 2014 | 790 | 253 | 675 | 1718 |
| Total | 18946 | 5751 | 27537 | 52234 |
Source: News Reports (Data updated till June 1, 2014)