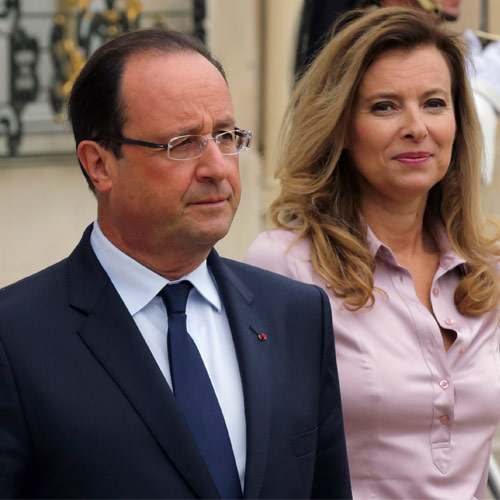 Valerie Trierweiler, France's former first lady, on Tuesday blamed "low blows", "back-stabbing" and "betrayals" at the Elysee Palace for hastening her break-up with the president.
In her fullest public comments since Francois Hollande's affair with the actress Julie Gayet was revealed, Trierweiler, 48, claimed that power had destroyed their relationship and insisted that the pair would not have parted if her ex-partner had not won France's highest office.
"We would still be together had he not become president," she told French journalists at an informal briefing in Mumbai during a charity trip to India, without elaborating on the link between Mr Hollande's presidential victory and his long-standing affair with Gayet, 41.
Despite the wistful take on their nine-year relationship, to which Hollande officially announced he had "put an end" on Saturday after two weeks of confusion, Trierweiler added that she now "feels liberated not to have the compunctions" of life at the centre of power.
She also argued that the role of first lady, although unofficial, serves a purpose in France and should not disappear, despite public scepticism over a president's partner being given an Elysee office, staff and perks.
"I don't mind being called 'ex-first lady'. It's important there is one at the Elysee," she said, adding that she was happy no longer to be playing that role.
"You cannot measure just how much betrayal and hypocrisy there is. You are struck by low blows without asking for anything. That's not my way of doing things," said Trierweiler.
She had never had any ambitions for the trappings of political power. "I would have been with him even if he had not become president. The ambition was his alone," she said.
They had spoken on the telephone every day since Hollande announced last weekend that he had decided to end their "shared life together". He had called her in Mumbai where she arrived late on Sunday for a charity event in defiance of Elysee Palace staff. "We are not at war," she insisted. "You don't cut off ties from one day to the next."
Responding to criticism in France that Mr Hollande's announcement of their separation sounded like a "letter of dismissal", she said: "[Our] separation was a split, not a dismissal. There was no advance notice." Presidential aides had opposed her plans to fly to India but she decided to proceed because she had promised she would launch the Fight Hunger Foundation to tackle child malnutrition months before Mr Hollande's affair was disclosed in Closer magazine.
Trierweiler stressed that her relationship with Hollande would not be rekindled in the future and indicated that she was looking forward to moving on.
She said she intended to make a new career as a humanitarian campaigner and was no longer interested in the "cynicism" of political journalism, her former career. "It's an inhuman world full of betrayal," said Trierweiler who started an affair with Mr Hollande in 2005 while he was still with Segolene Royal.