07:43 am
The Republican Party will retain control of the House of Representatives, CNN projects.
07:51 am
Earlier, CNN projected that Republican Mitt Romney won Kentucky in Tuesday's presidential election. Kentucky has eight electoral votes and was considered to be a likely Romney victory.
CNN also projected that Democratic President Barack Obama won Vermont in Tuesday's presidential election. Vermont has three electoral votes and was considered to be firmly in Obama's camp.
07:54 am
Romney wins Mississippi, according to AP. Obama wins Pennsylvania, projects Bloomberg, Fox News, and NBC.
08:01 am
Romney leads, in CNN projections. He gets 152 electoral votes as opposed to Obama with 123. Romney needs 270 electoral votes to become the next president of America.
08:13 am
Obama will win Pennsylvania, CNN projects. Pennsylvania has 20 electoral votes. Though Romney still has a slight advantage at 152 electoral votes, Obama gets a boost with 143 electoral votes.
08:26 am
In the race for US Senate, democratic candidates Elizabeth Warren and Joe Donnelly win in Massachusetts and in Indiana (beating Republicans Scott Brown and Richard Mourdock, who made controversial comments on rape), projects CNN.
08:36 am
Obama will win important swing state New Hampshire and its 4 electoral votes, CNN projects.
It was also projected that Romney would win Utah's 6 electoral votes.
Romney leads the President 158 electoral votes to 147 electoral votes.
09:20 am
Obama to get Minnesota, Romney Arizona, projects CNN.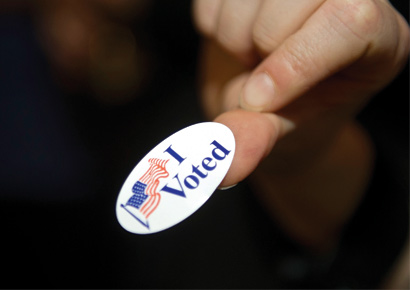 09:35 am
Obama wins California, Wisconsin and his home state of Hawaii, CNN projects.
This gives Obama a lead at 238 electoral votes. Romney stands at 191.
09:40 am
Obama wins Iowa, CNN projects.
09:43 am
The president wins New Mexico, CNN projects. This takes Obama's total to 249. He needs 270 electoral votes to retain his office.
09:50 am
CNN predicts that Obama would get another 4 years in office.
10:33 am
ABC News has also projected that Obama will be re-elected, emerging victorious in what had been a deadlocked race into the final hours of the campaign
10:34 am
"We're all in this together. That's how we campaigned, and that's who we are. Thank you. Four more years," Obama, who will speak shortly, Tweets.
11:11 am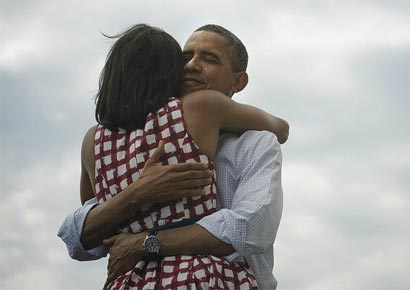 Obama hugging Michelle after win most popular tweet of all time

The photograph has become the most popular tweet of all time just 22 minutes after it was posted, Buzzfeed reports.
11:28 am
'America has chosen another leader'
Governor Mitt Romney concedes defeat. Here's what he's speaking at the Boston Headquarter:
I just called President Obama to congratulate him and his wife and daughters.
I pray that the president will be successful
I want to thank Paul Ryan for all that he has done for our campaign, and his hard work. Besides Anne, Paul is the best choice I've ever made
I also want to thank Ann, the love of my life. She would've been a wonderful first lady.
I thank my sons for their hard work
Paul and I have given our all to this campaign

I believe in America and the people of America

I so wish I'd have been able to fulfill your hopes

, but America has chosen another leader
The nation leads in the other direction
With true grace, Romney accepts his defeat.
11:32 am
Mr and Mrs Romney stand on the stage and are being greeted by his sons and their families.
11:35 am
In a few minutes, we will see Obama making his victory speech.
11:43 am
Barack Obama is yet to leave his hotel for the Headquarter.
11:46 am
The vice president and the president are now on their way to the Obama HQ
11:49 am
Only one state remains undecided yet amd that is the state of Florida.
12:05 pm
India congratulates Obama
India, is reportedly among the first nations to congratulate Obama.
Here's what the External Affairs Ministry said:
The Government and people of India send their congratulations to President Obama on his winning a second mandate from the people of the USA who have expressed their will in the great tradition of democracy in their country.
12:06 pm
The best is yet to come: Obama's victory speech
Barack Obama walks in to loud cheers and to the tune of Stevie Wonder's Signed, Sealed Delivered, I'm Yours. with his family. As his family walks to their seats, Obama takes the mike.
The cheers get louder. Here's what he said:
Thank you so much.The task of perfecting our union moves forward.
It moves forward because of you
We are an American family and we rise and fall together as one nation
Tonight, in this election, you reminded us that our journey has been long, but we've picked ourselves up
For United States of America, the best is yet to come.
I want to thank every American who voted in this election.
Whether you voted for the very first time or waited in line for a very, very long time - by the way we have to fix that - whether you pounded the pavement... or whether you held an Obama sign or a Romney sign, you made a difference
I just spoke to Governor

Romney

and congratulated him and Paul Ryan on a hard-fought campaign
I look forward to working with Governor Romney to see the country forward
I want to thank the best vice president anybody could hope for — Joe

Biden

Democracy in a nation of 300 million can be messy and noisy and complicated. It stirs controversy. That won't change tonight and it shouldn't
12:15 pm
'I would't be the man I am today without the woman who got married to me 20 years ago'

I wouldn't be the man I am today without the woman who got married to me 20 years ago
Michelle, I have never loved you more. I have never been prouder to watch the rest of America fall in love with you too.
Sasha and Malia, you are growing to become strong, smart women just like your mother
To the best campaign team
I know that political campaigns can seem small, and sometimes, silly
12:25 pm
'A decade of war has ended'

A decade of war has ended
A long campaign is now over
Whether I earned your vote or not, I have listened to you and learned from you. You have made me a better president
I will return to the White House more determined than ever
You elected us to focus on your jobs not ours
We've got more work to do, but that doesn't mean your work is done
America is not about what can be done for us, it is about what can be done by us
This country has more wealth than any other, but that's not what makes us rich
I believe we can see the future together
We are, and will be, the United States of America
12:33 pm
With hoards of people congratulating him amid grand celebrations, the president looks calm and composed.
12:36 pm
As they wave to the crowd, the president, the first lady, the vice president and his wife walk off the stage.
12:40 pm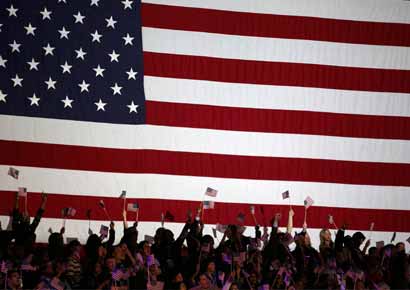 Attendees celebrate during US President Barack Obama's election night rally in Chicago
Photo courtesy: Reuters
02:10 pm
Indian Prime Minister Manmohan Singh congratulated US President Barack Obama on his re-election, saying that he looks forward to continue working with him.