03:17 pm
CNN reports:
The quake struck about 430 kilometers from Banda Aceh, the capital of Indonesia's Aceh province, and had a magnitude of 8.7, the U.S. Geological Survey said. It took place at a depth of 33 kilometers.
The Pacific Tsunami Warning Center said it had issued a tsunami watch for the entire Indian Ocean, and the Indonesian Meteorology, Climatology and Geophysics Agency said it had put up a tsunami warning.
The power has gone out in Banda Aceh and residents are moving to higher ground, said Sutopo Purwo Nugroho, a spokesman for the Indonesian National Disaster Management Agency.
03:27 pm
The BBC, quoting Thai officials, has said the west coast of the Andamans is at high risk of a tsunami:
The Thai office of disaster management said people along the west coast of Andaman province should heed warnings and evacuate.
03:49 pm
The Pacific Tsunami Warning Centre has put out the likely tsunami arrival times for Indian cities:
LITTLE_ANDAMAN 1546 IST
PORT_BLAIR 1602 IST
NORTH_ANDAMAN 1622 IST
CHENNAI 1657 IST
KAKINADA 1735 IST
TRIVANDRUM 1738 IST
MANGALORE 1906 IST
BOMBAY 2138 IST
GULF_OF_KUTCH 2204 IST
03:52 pm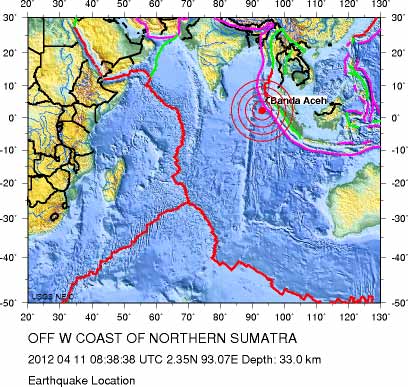 03:54 pm
Reuters has a fact box of the largest earthquakes in the last century. Today's is sure to rank high up in that list. The report will be up on dnaindia.com soon.
04:01 pm
There are reports that the water is receding along Phuket's coast. The water usually recedes before tidal waves hit the shores, and this is a definite cause for worry.
The Phuket airport has been shut.
The Malaysian met department has adviced people along the coastal areas to evacuate and get to higher ground.
04:05 pm
TV reports quoting the US Geologicla Survey are saying that the likelihood of a tsunami following the Indonesia quake is low, since the waves seem to have travelled hoprizontally.
India's National Disaster Management Authority, which was set up following the 2004 Asian tsunami devastated India's east coast, has also put out a bulletin saying there is no likelihood of a tsunami along India's coast.
04:11 pm
The Pacific Tsunami Warning Centre has said that sea level readings indicate a tsunami was generated. It may have already been destructive along some coasts.
04:15 pm
As often happens at such times, there are conflicting reports from different agencies.
The US Geological Survey is saying a destructive tsunami is unlikely, while the Pacific Tsunami Warning Centre says that sea level readings indicate that a tsunami has been generated and it may have already caused destruction along some coast lines in the Indian Ocean.
The situation should get clearer very soon.
04:28 pm
Rediff.com, quoting Mahesh Bhatt on Twitter, who is in turn quoting Pooja Bhatt, who is in Phuket scouting locations for Jism 2, saying that the tsunami is about to hit Phuket. The Ocean is receding
04:30 pm
Indonesia officials report aftershocks in Aceh include a 8.8-magnitude tremor; a new tsunami warning is issued.
04:35 pm
We had earlier reported how the US Geological Survey and the Pacific Tsunami Warning Centre were giving contradicting bulletins.
Now, here's what the Indian authorities are saying.
And from what we can understand from the colours and wording on the bulletin is that the Andamans is at a high risk, while the rest of the Indian coast seems to be fine.
The coastal states, however, are not taking any chances, and are evacuating their coastal areas.
04:44 pm
@AlertNet on Twitter has posted:
Sea water at Simeulue Island near epicentre of Aceh quake seen receding by about 10 metres - Reuters witness
So the tsunami threat in that region around Aceh remains high, as also Phuket.
04:48 pm
Here's more on the 'will it, will it not' debate:
News agency AFP, quoting British Geological Survey Seismologist, Susanne Sargeant, said the risk of a tsunami being generated by the earthquake off Sumatra on Wednesday is low.
"We've had two blocks rubbing together, it's called a strike-slip earthquake ... That means there hasn't been any displacement of the sea floor. Although an earthquake of this magnitude has the potential to cause a large tsunami, the fact that we haven't seen any drop of the sea floor, which is what generates the wave, it looks like the possibility of a tsunami being generated is low".
04:57 pm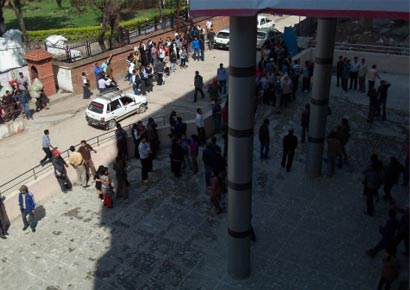 People gather outside an office in Kathmandu after the earthquake.
Photograph courtesy: @UjjwalAcharya (twitter)
05:01 pm
NDMA Vice President Sashidhar Reddy:
"There is no specific threat. It was a watch and alert. There is no likelihood of any tsunami in the Indian Ocean region.
"It is the kind of strike and slip earthquake which does not trigger tsunami. There was no vertical displacement of water under the sea. Tsunami possibility is virtually ruled out," he said, adding that the Andaman and Nicobar Islands administration and the Army stationed there had informed the NDMA that so far no waves have been noticed in the island.
05:02 pm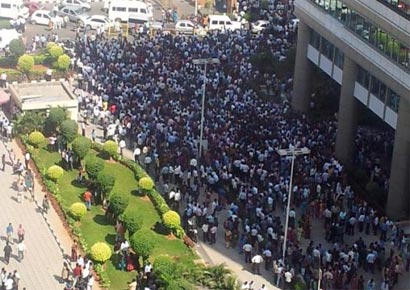 Photograph courtesy: @ndtv (twitter)
05:08 pm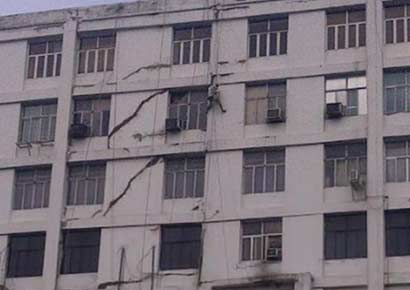 A photograph from Kolkata
Photo courtesy: @Aagan86
05:10 pm
NDTV'S Nitin Gokhale tweets: 2 C-130-Js heavy lift IAF aircraft leaving for Port Blair with NDRF teams, 10 tonnes of relief material. IL-76 leaving Chandigarh for Chennai.
05:12 pm
Union Home Secretary RK Singh on Wednesday said that there is no cause for panic along India's coastline.
"As of now there are no signs of Tsunami. The Centre is in constant touch with Andhra Pradesh, Tamil Nadu and Odisha govts," he said.
05:26 pm
The early reports following the Aceh aftershocks are not encouraging.
Read the report here
05:26 pm
The early reports following the Aceh aftershocks are not encouraging.
Read the report here
05:28 pm
A small tsunami measuring 10 centimetres (four inches) has reached Thailand's Andaman Coast.
"A 10-centimetre tsunami wave generated by the first earthquake hit Koh Miang off Phang Nga," the director of Thailand's National Disaster Warning Centre, Somsak Khaosuwan, said on Thai television.
"But we cannot be complacent," he added, noting there had been several powerful aftershocks. "So we are maintaining the warning."
The centre earlier advised people on the Andaman coast, a magnet for foreign tourists, to move to higher places and stay as far away as possible from the sea.
The area was battered by an Indian Ocean tsunami in 2004 that killed an estimated 5,400 people in Thailand alone.
Since then, Thailand has installed a high-tech warning system designed to reassure tourists and businesses that the country's beaches are safe.
The latest Thai alert, triggered by an 8.6-magnitude quake off Sumatra island, covers six southern Andaman coastal provinces.
Flights to Phuket were diverted to other airports as passengers and staff were evacuated to higher ground, officials said.
The tremor was felt as far afield as Thailand and southern India.
05:32 pm
Reuters has put out a report where it says:
Authorities in Indonesia said there were reports of sea-levels rising off Aceh, but by less than a metre (3.3 feet).
But authorities in India's Andaman and Nicobar islands, to the north of where the quakes struck, said waves of up to 3.9 metres (13 feet) could hit there.