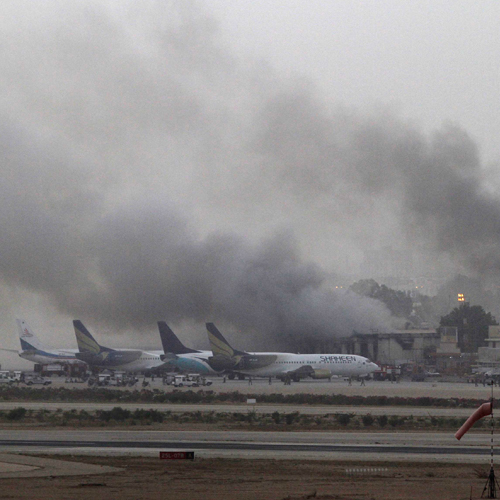 On Tuesday, a security checkpost outside Pakistan's Karachi airport was attacked by unidentified gunmen, an official spokesman told AFP, a day after an all-night siege by the Taliban left more than 30 people dead, including 10 Taliban militants.
Heavy firing was reported at the Airport Security Force (ASF) camp number 2, situated near the Karachi's Jinnah International Airport, Dawn News reported. About four to five terrorists attacked the camp from Pehlwan Goth side, TV channels reported.​ Read More
Pakistan's army has deployed troops to reinforce security forces trying to protect an airport academy which has come under attack from militants in the port city of Karachi. "Army troops (have been) moved to reinforce security forces to counter (the) terrorist attack on ASF (Airport Security Forces)," the army's press wing said.
Flight Operations were suspended at Karachi's Jinnah International Airport on Tuesday, following a fresh attack by terrorists on a checkpost of the Airport Security Force (ASF). Read More
It has now been reported that 5 were killed in the attack and the terrorists have fled the airport. Flights have now resumed.
Pakistani forces cordoned off the area around a Karachi airport academy and searched the neighbourhood for militants after the building came under gunfire earlier in the day, a Reuters reporter at the scene said. "The shooting came from a nearby shanty settlement towards the ASF (Airport Security Force) academy," said a senior police officer. "Police are launching a search operation now."
Flight operations at #Jinnah International Airport are SUSPENDED until further notice.

— CAA Pakistan (@AirportPakistan) June 10, 2014
#EK606 DXB-KHI bound to arrive at #Jinnah Airport at 1250 PST has now returned back to #Dubai.

— CAA Pakistan (@AirportPakistan) June 10, 2014
Monday, June 9, 2014
Over 700 civilians, including passengers stranded at Karachi's Jinnah International Airport were rescued even as two explosions in the airport's old terminal set a cargo area on fire.
Fresh firing was reported at Karachi airport which was attacked by heavily armed terrorists late on Sunday night. According to sources, the two explosions because the terrorists, on being confronted by security forces, detonated themselves, leading to a cargo area catching fire. The Pakistan military is yet to declare the area as safe and clear. ​
Earlier reports said 10 terrorists were among 23 killed overnight as the Pakistan army wrested control from the militants early on Monday morning. Although later reports show that at least 27 people were killed in a night-long battle at one of the country's most high-profile targets.
Despite these reports and an earlier claim made by a spokesman of the Inter Services Pubic Relations (ISPR) that all the terrorists had been killed, fresh reports have emerged saying that at least two or three terrorists might still be lurking within the airport as firing sounds were heard again from the workshop area.
It has now been confirmed by DG ISPR Asim Bajwa that final clearance of the airport has been completed.
#Kci Update:Final Clearance of entire Airport completed.Airport handed over to CAA/ASF, likely to open at 1400hrs

— AsimBajwaISPR (@AsimBajwaISPR) June 9, 2014
The Tehreek-e-Taliban Pakistan (TTP) claimed responsibility for the attack. "We carried out this attack on the Karachi airport and it is a message to the Pakistani government that we are still alive to react over the killings of innocent people in bomb attacks on their villages," TTP spokesman Shahidullah Shahid said in a statement to the media. He said that the attack was also carried out to avenge the killing of former Taliban chief Hakimullah Mehsud in a US drone strike. Read More
Massive search operation being carried out by security officials at #Jinnah International after #KarachiAirportAttack.

— CAA Pakistan (@AirportPakistan) June 9, 2014
Gun battles went on for several hours during the night of June 8-9, and television pictures showed fire raging at the airport as ambulances ferried casualties away, but by dawn on Monday, the army said the airport had been secured. The terrorists were cornered and killed after they attacked the old airport terminal building late on Sunday night, posing as Airport Security Force (ASF) personnel.
Sophisticated machine guns and rocket launchers were recovered from the terrorists who were being identified, a spokesman of the Inter Services Pubic Relations (ISPR) said.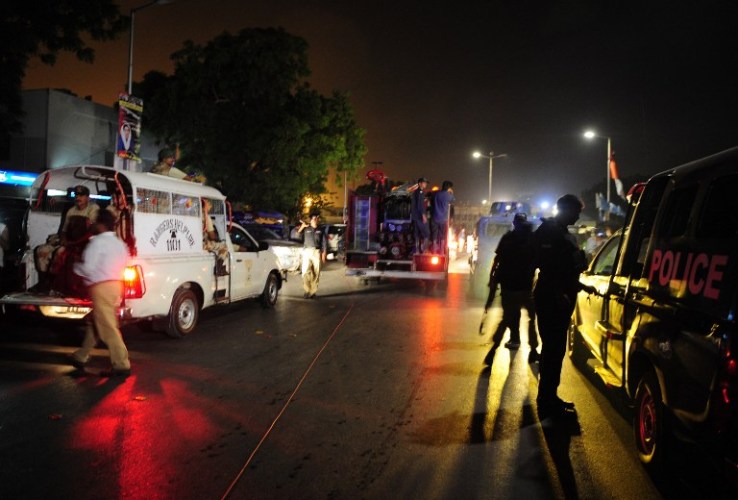 Earlier, Maryam Nawaz Sharif, daughter of Pakistan Prime Minister Nawaz Sharif tweeted information from the national leader, confirming the death if 3 terrorists involved.
3 terrorists killed and 7 surrounded by security forces : PM

— Maryam Nawaz Sharif (@MaryamNSharif) June 8, 2014
#Kci Update:All passengers in planes evacuated to safer places. Hunt for terrorists on.3 terrorist bodies lying,ident in progress.at 0212

— AsimBajwaISPR (@AsimBajwaISPR) June 8, 2014
ISPR informed that all passengers in the airport have been successfully evacuated. Says that the operation is in its "final stages" and Jinnah Terminal has been completely secured. The terrorists are still active, but contained to a specific area
Around five to eight men armed with explosives and ammunition dressed in airport security personnel uniforms entered the Fokker building at the old airport terminal late last night, police sources said. "Four personnel of the Airport Security Force (ASF) have been killed and one militant gunned down," one police source told PTI.
Heavy contingents of paramilitary rangers and police have been called in and had surrounded the Fokker building where the attackers were holed up. All flight operations at Jinnah Terminal have been suspended and all routes to the airport have been sealed. "Heavy firing is going on near a building located just next to the Pakistan International Airlines head office," one eye witness said. Television channels gave conflicting reports about the daring attack with some quoting seven casualties including the five ASF personnel and two of the suspected terrorists.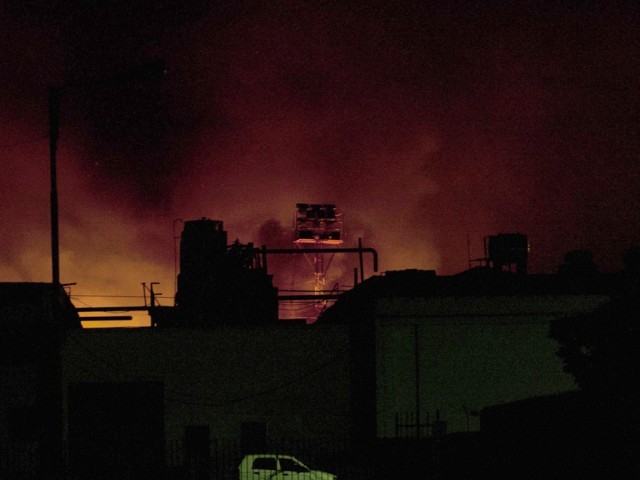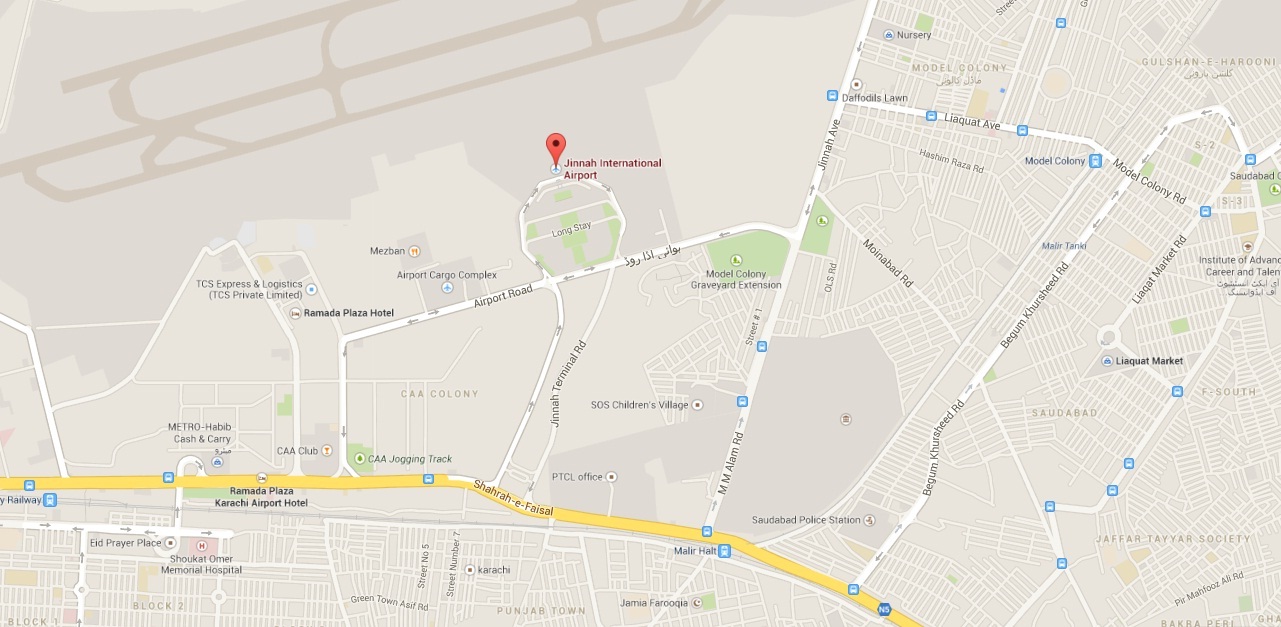 Dr Seemi Jamali at the Jinnah hospital said that they had received five dead bodies of the ASF personnel. "We have got five bodies of the airport security force personnel," she told reporters at the state owned hospital. However,Civil Aviation Authority (CAA) spokesperson Abid Qaimkhani declined to confirm or deny the casualties or details of the attack. "Nor can I confirm the extent of the damage to the airport facilities or how many people have been injured or killed in the attack," he said. The old airport area houses the PIA engineering and other departments and also offices of civil aviation and ASF.
A source said the militants had also carried out hand grenade attack on the Isphani Hanger. The attackers are said to have forged fake ID cards of ASF and entered the area.
Staff is being rescued by the security personnel and moved to safer areas, reports said, adding that rescue teams are being allowed after being checked throughly. The militants are said to have entered from the Fokker gate which is used by engineering staff to go to the runaway and hangers.
Scores of people have been injured in the attack. Pakistan Army contingents were called in from the nearby Malir cantonment to tackle the situation as Prime Minister Nawaz Sharif directed authorities to end the attack as soon as possible. Flights at the Jinnah international airports had been diverted to Nawabshah and Quetta. "Security high alert has also been sounded off at the other airports of the country," one police official said.
A senior police official said the number of the attackers was not confirmed as yet but some of them had managed to enter the runaway from the old terminal building and had fired and thrown explosives at the aircrafts parked there. "It appears they want to damage the aircrafts on the runaway," he said.
A reliable source in the CAA told PTI that contrary to television reports about the attackers damaging the aircraft parked on the runaway of the main airport, the attackers had been confined to the Isphani hanger next to the old terminal building. "Their number is not known but they are heavily armed and they are holed up there and have been surrounded by over 100 military and ASF men and heavy exchange of firing is taking place now," he said.
A few channels reported that some of the attackers had damaged three aircraft and also entered and taken over another commercial aircraft but it is not known whether they are passengers on board or not.
The old airport terminal is surrounded from one side by the Gulistan-e-Jauhar area and sources said some of the attackers had also entered the runaway directly from the Pehalwan Goth residential area by cutting the fences while others came in from the Fokker gate. The attack is reminiscent of the deadly attack carried out by some 15 militants of the Tehreek-e-Taliban in May, 2011 on the Mehran naval airbase here in which the attackers killed some 18 personnel and damaged aircraft before being killed in a counter attack.
CAA Pakistan reports that one of the terrorist has been caught.
One of the terrorist has been apprehended by law enforcement agencies a while ago. #KarachiAirport

— CAA Pakistan (@AirportPakistan) June 8, 2014
According to news reports coming in from Pakistan, seven gunmen have entered the terminal via Fokergate (old terminal) following Gunfire and explosions.
Reports suggest that assailants entered a plane and set it on fire.
BREAKING: Terrorists have entered an airplane... One of them is on fire in #Karachi Airport! Exclusive picture! pic.twitter.com/ZHlfGffoJ4

— Wajahat Kazmi (@kazmiwajahat) June 8, 2014
Although, CAA Pakistan has confirmed that no planes were damaged.
@PierreMonegier No planes damaged as of yet.

— CAA Pakistan (@AirportPakistan) June 8, 2014
More details expected soon.
LIVE UPDATE here:
I am on PK 319. We were scheduled to land at midnight in Karachi. Plane landed at Nawabshah. All well here. Prayers for Karachi airport.

— Mosharraf Zaidi (@mosharrafzaidi) June 8, 2014
Pic sent by a friend who's inside. DG rangers entering the airport! #KarachiAirportAttack pic.twitter.com/lZISFNwJPz

— DON (@ALiMusarat) June 8, 2014
Airport in complete lockdown. Situation still not under control, more security personnel moving in: Express News #KarachiAirportAttack

— Newsweek Pakistan (@NewsweekPak) June 8, 2014
At least three security personnel have been killed, reports ARY News.

— Newsweek Pakistan (@NewsweekPak) June 8, 2014
UPDATE: @AirportPakistan had diverted all flights coming into Karachi to Sukkar & Multan Airport.

— Breaking911 (@Breaking911) June 8, 2014
BREAKING: Gunmen have attacked Karachi Airport.

— Newsweek Pakistan (@NewsweekPak) June 8, 2014
Number of gunmen said to be seven, grenades also used, reports Express News.

— Newsweek Pakistan (@NewsweekPak) June 8, 2014
ARY has shots of thick smoke rising from the under-attack terminal. #KarachiAirportAttack

— Newsweek Pakistan (@NewsweekPak) June 8, 2014
Between two and four Airport Security Force personnel reported to be injured, according to cable news channels.

— Newsweek Pakistan (@NewsweekPak) June 8, 2014
Number of terrorists now said to be between 10 and 15, reports ARY News, some have entered an empty aircraft.

— Newsweek Pakistan (@NewsweekPak) June 8, 2014
10 Major incidents of bomb blast in Pakistan during 2014, where casualties were high
January 1: At least three people were killed and 30 injured in a suicide attack targeting Shia pilgrims in Akhtarabad area of the provincial capital Quetta.
January 17: Four people were killed and 65 others were injured when Khushaal Khan Khattak Express passenger train carrying around 400 passengers derailed following a bomb explosion on its tracks in Omar Kot area of Rojhan sub-district in Rajanpur District of Punjab.
January 21: At least 24 Shia pilgrims returning from Iran were killed and 40 others were injured in a bomb attack targeting their bus in the Khusak area of Kanak in Mastung District.
February 2: At least five persons were killed and 30 others injured in the night when unidentified attackers hurled two grenades at Picture House cinema on Cinema Road near Qissa Khwani Bazaar in Peshawar (Peshawar District), the provincial capital of KP.
February 4: At least nine people were killed and over 40, including children and women, were injured when a suicide bomber blew himself up at a restaurant in the Koocha Risaldar area of Qissa Khawani Bazaar in Peshawar of KP.
February 13: At least 13 Policemen were killed and 58 others were injured in a suicide blast targeting a bus carrying 50 Police officers near the gate of Razzakabad Police Training Center in Shah Latif Town of Karachi.
February 16: At least six people, including four children, were killed and more than 35 were injured when two coaches of the Peshawar-bound Khushal Khan Khattak Express derailed after a bomb attack on the tracks near a canal in Thull town of Jacobabad District in Sindh.
March 12: At least 19 civilians, including 10 women and four children, were killed and more than 50 others were injured in gang war clashes among rival gangsters, Uzair Baloch, Ghaffar Zikri and Baba Ladla in Gahribshah locality of Lyari Town in Karachi of Sindh.
March 14: At least 11 persons were killed and 45 others injured in a suicide attack targeting Police in Sarband area of Peshawar (Peshawar District), the provincial capital of Khyber Pakhtunkhwa.
April 8: At least 17 people, including a woman and five children, were killed and 44 others were wounded when a passenger train, Jaffar Express was bombed at Sibi Railway Station in Sibi District of Balochistan.
Source: News Reports