The mystery surrounding the death of Tony Scott, the British film director, has deepened after his wife reportedly denied he had any health problems.

Scott, 68, committed suicide by leaping from a bridge in Los Angeles on Sunday. His death shocked fellow Hollywood film-makers.

A source close to Scott told ABC News the director had been diagnosed with terminal brain cancer. But his widow, the actress Donna Wilson, later told the coroner's office her husband had no major medical issues.

An initial post mortem examination has been performed but results will take weeks.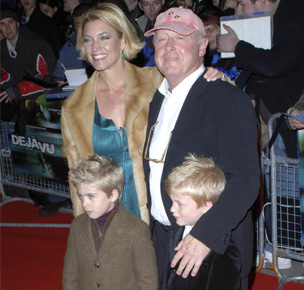 Director Tony Scott and family arrive for the Premiere of 'Deja Vu' at the Odeon Kensington on December 07, 2006 in London, England. (Photo by Stuart Wilson/Getty Images)

In the days before his death the director was working as usual. Less than 48 hours earlier he was with Tom Cruise at a military base in Nevada researching their forthcoming sequel to Scott's most famous film, Top Gun.

They were due to start filming early next year and the movie was to focus on the use of drones in modern warfare. Scott was in high demand in Hollywood, and was also expected to direct Narco Sub, a film about underwater drug smuggling.

Those working with him said he had shown no signs of depression nor behaved unusually in recent weeks.

Tom Rothman, the chairman of 20th Century Fox, the studio producing Narco Sub, said: "We had a meeting just two weeks ago and he was burning with the excitement of creating stuff."

Scott was also associated with two other film projects: Lucky Strike, about a drug enforcement agent, and a remake of 1969 western The Wild Bunch.

It also emerged that Scott had wanted to use the bridge he jumped off in a film. In an interview three years ago the director said he planned to remake a 1979 gang film called The Warriors, and had conducted research about creating a large crowd scene on the soaring Vincent Thomas Bridge.

He told a film website: "I'm hoping to get a hundred thousand real gang members standing on the Vincent Thomas Bridge for one shot.

"I've been meeting the various gangs as part of the research. I never meet the gang leader, always his second-in-command. I have to do this little tap-dance and sell the film to them.

"I've met them all, Crips, Bloods, The 18th Street Gang, The Vietnamese and so on. They all love The Warriors."

The film was never made.