Pace spearhead is back to lead Mumbai for Ranji Trophy quarterfinal, expected to boost sagging morale of defending champions.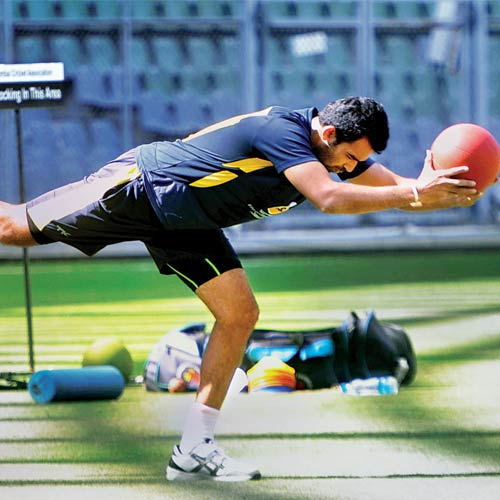 When Mumbai, who were lucky to have entered the quarterfinals after an indifferent show this season, were in the midst of a rigorous net session on Monday morning, two days prior to their last-eight match against Maharashtra, their captain Zaheer Khan was going through a different routine.
While the rest of the batsmen and bowlers were practising with the regular red cherry, Zaheer was seen working out with a ball, though red in colour, much bigger in size. This ball could possible be the reason for his recent success.
It's called medicine ball, and weighs three kilograms. Zaheer worked out with it for an hour and wound up his session with the thera band, or the fitness resistance bands, with trainer Amogh Pandit keeping an eye on him.
A lot is riding on Zaheer's fitness for Mumbai. His return is expected to lift their sagging morale.
Starting the season with Zaheer as captain, Mumbai won three out of their four matches. Apart from his deadly bowling, what proved invaluable in these matches is the guidance he offered the youngsters in the team. Much the same way he helped Indian bowlers in South Africa recently.
After Zaheer left the Mumbai team for India's tour of South Africa, the defending champions seem to have lost their way. They struggled against lesser-known teams like Vidharbha, Jharkhand and Orissa at home before losing to Karnataka for the first time ever in the tournament's history.
Now, Zaheer will be available for Mumbai till semis (if they qualify) . This could prove to be a big boost that the team needs ahead of the crucial knockout tie. After going through his sprints, Zaheer focussed on the medicine ball doing various routines that, as the trainer revealed, help provide stability to the body that in turn help the bowler gain power while delivering the ball.
Working out with the med ball is not new for Zak. "I have been doing these routines for quite some time now" he told this scribe.
It was Zaheer's first training stint with the Mumbai team since returning last week from South Africa, where he picked up his 300th Test wicket. He was cautious and concentrated on his fitness and did not bowl in the nets.
Pandit was also careful in putting Zaheer through his fitness routine. "I want to do three sessions with the medicine ball in a week with Zak when he is here, or at least two so that I can ensure his body alignment is correct while doing these exercises. These routines are done when he is with the Indian team and the same are being continued here. It helps with his stability and gaining force while delivering the ball. It also makes his approach to the wicket easier, with confidence, and bowl quicker," said Pandit.
Besides balancing the med ball and going about the routines, he was also slamming the ball on the turf using his bowling action. "This gives more power while he is delivering the ball," said Pandit.