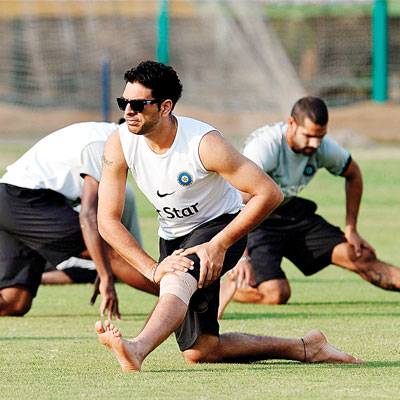 A barefoot football session on Tuesday could prove costly for Team India if one of their top players fails to recover from a minor fall before the ICC World Twenty20 semifinal against South Africa to be played on Friday.
Yuvraj Singh, the man who returned to form by smashing a brilliant 60 against Australia in India's last league game on Sunday, was seen limping towards the team bus after falling while playing football during India's practice at the Dhaka academy.
The southpaw was enjoying the football session. As it was coming to an end, Yuvraj slipped while running on the lush green outfield and followed it with a loud scream that was an indication of how bad the fall was.
Yuvraj seemed to have twisted his left ankle. He was on the ground for a couple of minutes before getting up and going into the makeshift tent.
Team physio Nitin Patel, however, chose not to comment on the seriousness of the injury. "You know I won't comment," he said when asked about the nature of injury.
The body language of the team suggested that it was nothing serious. India's media manager Dr RN Baba said later that there was nothing serious about the fall and that Yuvraj will be fine for the Friday semifinal.
Yuvraj has had a history of ankle injuries. During the 2006 Champions Trophy, the Punjab batsman had suffered a similar injury while playing kho-kho with his India teammates. Following his ankle injury, the sport was banned in India's practice sessions.
When questioned of India's barefoot football session, Baba said it was team trainer Sudarshan's call.
Whatever it was, Yuvraj's fall might give India an injury scare ahead of the crucial game. Or was it a mind game the Indians were using against South Africa? Or, for all you know, it may have just been an April Fool's joke by Team India that is known for playing pranks.