Fast bowling is not an easy job, especially if you have someone like Tendulkar batting against you. Who knows better than Tait.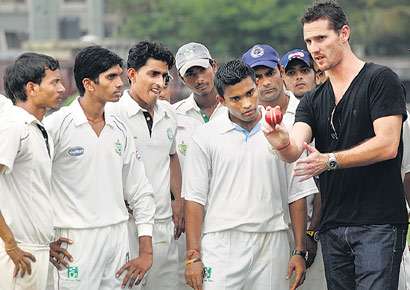 Fast bowling is not an easy job, especially if you have someone like Sachin Tendulkar batting against you. Who knows better than Shaun Tait. In the 2008 Border-Gavaskar series at Perth, Australia skipper Ricky Ponting had tried to use Tait as a surprise weapon against Tendulkar on the fast WACA Stadium wicket. Needless to say, the plan backfired against Australia as the maestro got 71 and India went on to win their first-ever Test at Australia's bastion.
That was the last Test for the 27-year-old fast bowler as he went into oblivion. He came back later in the year, but now, the fast bowler doesn't feature in Test cricket and restricts himself to bowling short and blistering spells in the ODIs and Twenty20s.
Tait, in Mumbai for a cricket clinic at the Payyade Sports Club in Kandivali, kept singing praises of Tendulkar, who had the Australians on the mat with his classical batting in the recent two-Test series. "He has been the best player for a long time.
Australia has struggled to overcome him and you don't know where to bowl to him. I don't think anyone can bowl to him. The only way to get him out these days is by running him out," Tait said.
"I have played against him only a couple of times. And he had the better of me most of the times. I bowled to him in the Champions League T20 for only two overs. I did okay, but I didn't get him out," added the Royals player.
The Adelaide-born seamer said the Indians have had the edge over the Aussies in the last few years. "The Indian team in the last few years has been doing well against Australia. They have a good mix of bowling and solid top order batting."
Tait, who played for Rajasthan Royals in the last Indian Premier League, is disappointed at the controversy surrounding the tournament and is hopeful it would be resolved soon. He, however, is ready to play for any franchise. "I think most of the players are ready to participate. It's up to the franchise to play their hand and decide who they want. Most players are happy to play anywhere. However, it is disappointing at what is happening and hopefully it will be resolved soon."
The South Australian, who had surgery on his right elbow recently, said he would be fit for the World Cup.
Tait, who clocked the second fastest delivery ever bowled — 161.1kmph against England at Lord's recently, said he focuses on bowling his best rather than thinking about bowling the fastest delivery. "I have always tried to bowl fast but one cannot think and bowl fast... I just to bowl at my best," said the seamer.