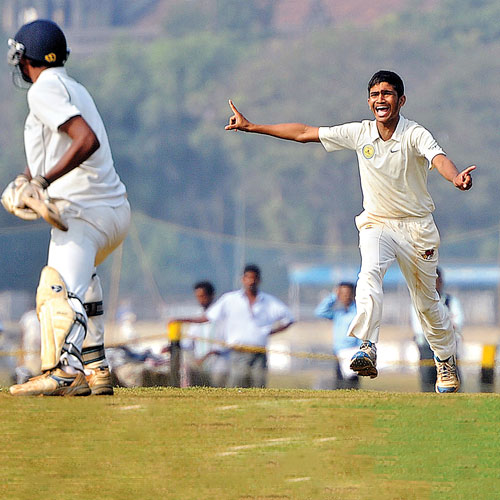 The rain may have abandoned the first day's play of the Harris Shield Elite final between IES VN Sule (Matunga) and Rizvi Springfield (Bandra) at Bombay Gymkhana but it played a huge role on Wednesday. In order to take advantage of early moisture, IES skipper Yash Bhojane won the toss, chose to field and single-handedly left Rizvi reeling at 140 for the loss of five wickets.
The 15-year-old left-arm seamer opened the bowling and pocketed three wickets, including that of opener Prithvi Shaw (18). "Prithvi's wicket was crucial, for we know how hard it is to get him out once he's set. Having played with him in the Mumbai side helped a lot as we train at the nets together," said Bhojane.
Rizvi coach Raju Pathak felt the wicket of Shaw set the tone for IES. "Prithvi's wicket came at a crucial time for both sides but we can't expect him to do well in all occasions," said Pathak. However, Bhojane cannot rest on his laurels as he also opens the batting. He has scored 346 runs so far in the season.
Brief Scores: Rizvi Springfield (Bandra) 140/5 (V Kalamkar 48, W Shaikh 30; Y Bhojane 3/47) vs IES VN Sule Guruji Eng. (Dadar)