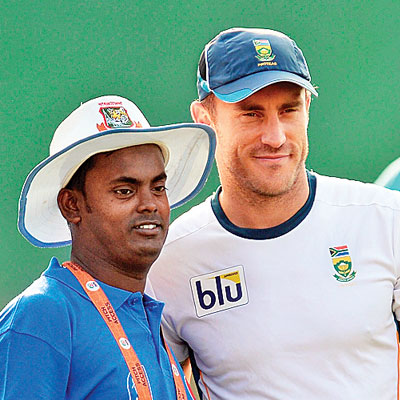 South Africa will go all out to get rid of the choker's tag that has been associated with them for a long time.
The Faf du Plessis-led South African team has notched up some exciting wins in Group 1 of the Super 10 stage and will take that confidence in the knock outs beginning with their semifinal match against the all-conquering Indians here on Friday.
South Africa scraped past their opponents in three games out of four. After losing to Sri Lanka, they survived the scare from New Zealand, The Netherlands and England to win by narrow margins. South Africa had entered the tournament losing the two-match T20 series against Australia in the first half of March.
Their middle-order batsman JP Duminy, one of the key figures in the South African line-up, said the victories have given them a lot of confidence.
"We will take a lot of confidence from those games that we came on top. We were not meant to win two of those games. The way to win a game out of nothing is definitely something we will take confidence from. But again, it (semifinal vs India) is a new game. We are up for the challenge," Duminy said after the team's first practice session in Dhaka.
South Africa will be up against the dominant Indian spinners, particularly Ravichandran Ashwin and Amit Mishra, both winning two man of the match awards in the four league matches. Duminy is confident of putting up a good show against the Indians.
"We know it's going to be a big challenge for us. The spinners have bowled exceptionally well against us. We want to put up a big performance against their spinners. We have played them a number of times.
It's a big game, semifinal of a World Cup. It doesn't get bigger than this," he said.
When asked whether Mishra, with whom he has shared the dressing room for Deccan Chargers in IPL, will be a factor, Duminy said they knew what to expect. "It's not only me who has played against him but all the others guys have also played against him. You know what to expect. He has been in top form for India in this tournament. We will definitely not take them lightly. We will do our homework and see that our gameplan is in order," he said.
Duminy is glad that dew will not play a major factor in Dhaka unlike in Chittagong, where Group 1 matches were played. "Obviously it (dew) was challenging for us. We have had to deal with them in two games.
But I guess we were trying to find a way to get around it as there's no need to complain about it or look for excuses. We have to find a way. I thought we did an exceptional job to defend that total (196/5) against England. It was a big high for us. We know that we will play pre-dominantly spin against India. Our preparation is in order. We are pretty happy to be in Dhaka and to be playing in different conditions."