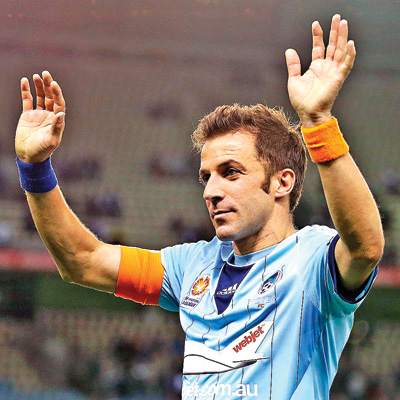 Delhi Dynamos have confirmed the signing of Italian legend Alessandro del Piero as their marquee player.
Del Piero, whose CV boasts the FIFA World Cup title in 2006, the UEFA Champions League with Juventus in 1996 and eight Serie A titles, will join the team in the Capital on September 12.
"It's really exciting to be coming to India and playing for the capital of the country. I am thoroughly looking forward to training with my teammates and work together with the coach and the club and I hope to encourage the people of Delhi to follow our games," Del Piero said in a statement.
The talismanic striker left Australian club Sydney FC earlier this year after a two-year stint that helped lift the A-League's profile. He will be expected to play a similar role in India. "I've always looked for something different, I see myself as a 'traveller on the roads of football', for me, the pitch isn't the only thing that counts, that what surrounds the game counts just as much," he said on his official website (www.alessandrodelpiero.com).
"This is the reason why I went to Australia. Also why I'm happy with the results obtained with Australian football (soccer!), in the two years I was there, and with everything that country has given me. This is the reason why I'm going to India. Another stopover during this fantastic journey."
Delhi Dynamos CEO Sameer Manchanda said it was tough to convince a player of Del Piero's status to join the team. "We were tracking him (Del Piero) two months ago during the World Cup. Big players have hesitation. We had to sell India to him, had to sell the passion of the fans. I'm sure that he will inspire the team and be a delight for fans."
The Del Piero cabinet
FIFA World Cup in 2006
UEFA Champions League in 1995–96
Serie A (1994-1995, 1996-1998, 2001-2003, 2004-2006, 2011-2012)
UEFA Super Cup in 1996