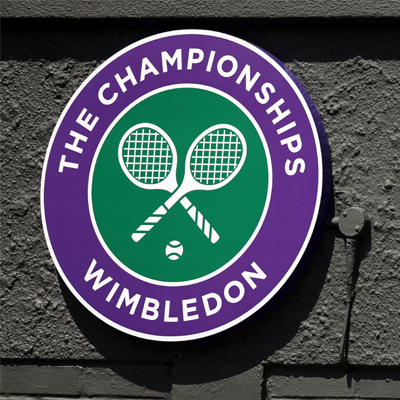 LIVE UPDATE: Gentlemen's Singles Final
#Federer emotional as #Djokovic delivers his victory speach. #FederervsDjokovic #Wimbledon pic.twitter.com/EQWMrsl035

— Wimbledon (@Wimbledon) July 6, 2014
WATCH: The Centre Court crowd show their appreciation for seven-time #Wimbledon champion Roger Federer https://t.co/KXGm7mBpPJ

— Wimbledon (@Wimbledon) July 6, 2014
#Djokovic "He's a great role model and a great champion & I thank him for letting me win today." #FederervsDjokovic

— Wimbledon (@Wimbledon) July 6, 2014
Novak Djokovic is #Wimbledon champion for the second time after beating Roger Federer 6-7, 6-4, 7-6, 5-7, 6-4. pic.twitter.com/50je8UN6th

— Wimbledon (@Wimbledon) July 6, 2014
Djokovic wins the men's singles title at Wimbledon 2014 to overcome stiff resistance from Fedex, beats him 6-4 in the final set.
Djokovic goes up 5-4 as he tries to build pressure on Fedex
Easy service game for #Djokovic to take a 5-4 lead vs #Federer in the 5th. #FederervsDjokovic #Wimbledon pic.twitter.com/gkGxmJowpw

— Wimbledon (@Wimbledon) July 6, 2014
Djoker leads 4-3, but Federer pushes him to a deuce equalizing 4-4
After watching a match point go by at the end of the 4th, Djokovic has responded impressively & he holds to go 4-3 up pic.twitter.com/4uFo2bbs0D

— Wimbledon (@Wimbledon) July 6, 2014
Djokovic exults as he claims a point.
The support for Federer is evident as fans display their loyalty on a social media platform.
Roger pulling this back beautifully... And honestly, neither deserve to lose. But Roger deserves to win this more #Wimbledon2014

— Aadarsh Balakrishna (@AadarshBKrishna) July 6, 2014
The gentlemen are now tied at 2-2
Enthralled crowds break into a mexican wave.
STATS: After 3 hours and 12 minutes, here's a look at the numbers so far... #Wimbledon pic.twitter.com/yyU0NUDmba

— Wimbledon (@Wimbledon) July 6, 2014
Watch: Electric atmosphere inside Centre Court as #Federer forces a fifth #Wimbledon https://t.co/eIbsqg0oiC

— Wimbledon (@Wimbledon) July 6, 2014
This is just awesome to watch .... Two legends

— andyroddick (@andyroddick) July 6, 2014
Federer refuses to lie down with history on the line, reeling off 5 games in a row to take the 4th set 7-5 #Wimbledon pic.twitter.com/cjsoVcgTNt

— Wimbledon (@Wimbledon) July 6, 2014
Federer displays remarkable display to win this set from a set and a game down. Takes it to a decisive 5th set.
Djoker under pressure as Fedex stretches it to 5-5
Spectators of the royal box feel the heat too.
WATCH: It's a tense one. Even the Beckhams are feeling it. #FederervsDjokovic #Wimbledon http://t.co/Gesu91QQrr

— Wimbledon (@Wimbledon) July 6, 2014
DEUCE
The Swiss ace is closing down heavily on Djoker's lead
Federer still in the fray, despite trailing 3-5. He goes charging at his opponent with intensity, not giving the Serb to recover or settle down.
Watch: Centre Court explodes as #Federer breaks #Djokovic #Wimbledon https://t.co/eSjZ2Wc5dT

— Wimbledon (@Wimbledon) July 6, 2014
Djokovic goes up 5-2 but that does not bother a resolute Federer, as Fed smashes a powerful forehand that caught Djoker unaware.
#Djokovic gets the break back as #Federer slices a tame forehand into the net. The Djoker leads 6-7 6-4 7-6 4-2 #FederervsDjokovic

— Wimbledon (@Wimbledon) July 6, 2014
Not a comon sight, Fedex exults after claiming a point; keen to stage a comeback after a set and a game down. Djokovic leads 3-2 in the fourth set.
Federer not willing to give up as he smashes one through the center of the court from the net.
Federer fends off 3 BPs but Djokovic can't be denied as he grabs a crucial break to lead 3-1 in the 4th #Wimbledon pic.twitter.com/iRyte0TS6P

— Wimbledon (@Wimbledon) July 6, 2014
#FederervsDjokovic stats after three sets... Follow the stats as they happen http://t.co/eEabt12nPk #Wimbledon pic.twitter.com/v3GAFcEUfP

— Wimbledon (@Wimbledon) July 6, 2014
However, he proves that he has got a lot still left in him as he makes Djokovic run around the lawn.
Is he Federer crumbling under pressure? as he feeds one on to the net
WATCH: A calm fist pump from Novak Djokovic as he goes up 2 sets to 1 vs Federer. #FederervsDjokovic #Wimbledon http://t.co/KHj8fGwsix

— Wimbledon (@Wimbledon) July 6, 2014
WATCH: Even Stefan Edberg can't believe that ball landed in. #FederervsDjokovic #Wimbledon http://t.co/DyqKf5Rpce

— Wimbledon (@Wimbledon) July 6, 2014
The Serb leads 6-4 at set point
Djoker leads 4-2 at tie-break
The Serbian responds with his aces now as Federer struggled to pick that one up and has scored 12 passing winners against Federer's mere 2.
Fedex has notched up 17 aces till now.
Federer troubling Djoker with his serves as he gains advantage and wins the point; fourth set FED 6- 5 DJO
Djokovic coming strong as he smashes a point-winning forehand across the court; trying to build pressure on the Swiss.
Even though Federer is a set down he continue to be calm and composed ding what he is best at: playing the trademark flamboyant forehand, a speciality.
After winning a set each the players are tied at 3-3 in the third set.
Spot of luck for #Djokovic as #Federer line ball is called out but but overruled. He serves out the game for 6-7 6-4 3-3 #FederervsDjokovic

— Wimbledon (@Wimbledon) July 6, 2014
Djokovic shows intensity and unparalled will to fight back and stay in the fray to win the title
Quickfire play in #FederervsDjokovic & a love service game for #Federer for 7-6 4-6 2-1 #Wimbledon pic.twitter.com/q2rrzhryo7

— Wimbledon (@Wimbledon) July 6, 2014
WATCH: Djokovic speaks to the trainer on the changeover about his left ankle. #FederervsDjokovic #Wimbledon http://t.co/juesjbyKaM

— Wimbledon (@Wimbledon) July 6, 2014
WATCH: Djokovic takes a tumble but gets up and plays on. #FederervsDjokovic #Wimbledon http://t.co/rYwSYSzgVm

— Wimbledon (@Wimbledon) July 6, 2014
WATCH: A fist pump from #Federer as he takes the 1st set vs Djokovic. #Wimbledon #FederervsDjokovic http://t.co/RxC5zAXKki

— Wimbledon (@Wimbledon) July 6, 2014
#Federer saves 2nd #Djokovic SP with ace, then earns his 1st SP with a big serve. Netted #Djokovic backhand and it's set #Federer 7-6(7).

— Wimbledon (@Wimbledon) July 6, 2014
Forehand mis-hit by #Federer at 5-5 hands #Djokovic a set point. Federer saves it with a gutsy down the line forehand 6-6 #FederervsDjokovic

— Wimbledon (@Wimbledon) July 6, 2014
A fantastic display of serving this set with neither player getting a look at a break point. It's 6-6, tie-break time pic.twitter.com/VwNfyEXMXV

— Wimbledon (@Wimbledon) July 6, 2014
No Wimbledon finals are complete without the presence of highly esteemed spectators at the Royal Box
Famous faces in #Wimbledon Royal Box: Rod #Laver, @chrishoy, @victoriabeckham, David #Beckham, Prince William & Kate. pic.twitter.com/QokAzUP9QU

— Wimbledon (@Wimbledon) July 6, 2014
Great display of firm resolve and strength from the Swiss ace to equalize and make the final contest hotter; scores 5-5
Federer has won just two points on return but he's holding his own on serve. It's 4-4 #Wimbledon pic.twitter.com/0D5zSazFV7

— Wimbledon (@Wimbledon) July 6, 2014
The ping-pong in the first set suggests that the match is not going to be easy for either of them. Both players involved in a neck-to-neck scoreline.
#Djokovic's serve a real weapon so far. Has won 100% of points when he gets his first delivery in. 4-3. #Wimbledon pic.twitter.com/RB0H7OYKkL

— Wimbledon (@Wimbledon) July 6, 2014
Another love service game by #Djokovic for 3-2. Yet to make an unforced error in this final. Has struck 7 winners. pic.twitter.com/t71quGsbKl

— Wimbledon (@Wimbledon) July 6, 2014
Roger Federer Federer gained an advantage over Novak Djokovic in the first set in an equalizer. Scores 1-1 at end of first set.
Nine winners between the two players already as Federer holds to make it 1-1 #Wimbledon

— Wimbledon (@Wimbledon) July 6, 2014
QUARTERFINALS
Eugine Bouchard blanked Angelique Kerber in straight sets- 6-3, 6-4 to set up a semifinal clash against Simona Halep
Simona Halep thrashed Sabine Lisicki- 6-4, 6-0.
World No.3 Simona Halep reels off 11 games in a row to beat Sabine Lisicki 6-4, 6-0 and reach her 1st #Wimbledon SF pic.twitter.com/bmZJwL5EEB

— Wimbledon (@Wimbledon) July 2, 2014
Lucie Safarova beat Russian Ekaterina Makarova 6-3, 6-1 set up a semi-final date against in-form Czech Petra Kvitova.
The match played between Krygios and Raonic, scores read:
Nick Krygios- 7 2 4 4
Milos Raonic-6 6 6 4
A close match but a victory for top seed Novak Djokovic who beats Marin Cilic 6-1 3-6 6-7 6-2 6-2 #bbctennis pic.twitter.com/Oi1X1ZHE7g

— BBC Sport (@BBCSport) July 2, 2014
Upset alert: No26 Marin Cilic takes a two set to one lead on No1 seed Novak Djokovic. Anarchy taking over at #Wimbledon.

— Ben Rothenberg (@BenRothenberg) July 2, 2014
Marin Cilic wins third set tiebreak 7-4 against Novak Djokovic: http://t.co/GP72VqriK3 #Wimbledon pic.twitter.com/gElux6zfZg

— Sky Sports Tennis (@SkySportsTennis) July 2, 2014
In a recent surprise loss Murray has been knocked out against the Bulgarian 6-1, 7-6 (7-4), 6-2 in a match that lasted two hours and one minute to reach his first Grand Slam semi-final.
"He was the better player from start to finish" - @andy_murray #Wimbledon pic.twitter.com/BRtOfivYxP

— Wimbledon (@Wimbledon) July 2, 2014
Andy Murray's loss snaps his 17-match win streak at All England Club (includes #Wimbledon and Olympics)

— ESPN Stats & Info (@ESPNStatsInfo) July 2, 2014
In a match played between the two Swiss countrymen Wawrinka got the better of Federer in the first set leading 6-4, Fedex won the second set 6-3. However Wawrinka made it evidently clear that he was feeling the jitters on his face-off against Federer. Federer won, scores reading- 3-6, 7-6, 6-4, 6-4. He will face the winner of the match between Krygios and Milos Raonic in the semi-finals.
.@rogerfederer reaches 35th major SF at @Wimbledon with 36 76(5) 64 64 win over @stanwawrinka. http://t.co/qv1tJEwv1s pic.twitter.com/KZ8jSbnqna

— ATP World Tour (@ATPWorldTour) July 2, 2014
#Wawrinka "When you play #Federer at #Wimbledon it's one of biggest challenges in tennis." http://t.co/kkRph5dPnb pic.twitter.com/Zs4fAmheRG

— Wimbledon (@Wimbledon) July 2, 2014
The Wimbledon Championship is considered as the oldest and the most prestigious tennis tournament in the world. It was conducted at the All England Lawn Tennis Club in London for the first time in 1877 and is continued to be played at the venue since then. Of the four Grand Slam tennis tournaments this one is the biggest(Majors), the others being the Australian Open, the French Open (Roland Garros) and the US Open. This year the Wimbledon will be held from June 23 to July 4.
Since the Australian Open shifted to hard court in 1988 (was contested on grass since its inception in 1905) , Wimbledon continues to remain the only Major still played on grass, the game's original surface, from where the original name of "lawn tennis" is derived.
The tournament is conducted for over two weeks in late June and early July, ending with Ladies' and Gentlemen's Singles Final, scheduled for the first Saturday and Sunday respectively.
Wimbledon traditions also includes a strict white-only dress code for players, the eating of strawberries and cream by the spectators, and a Royal guest box.
Marks & Spencer has sold 20 million strawberries in seven days #Wimbledon #strawberries http://t.co/TDMdWDYGi6 (via @DailyMailUK)

— yvonne erwee (@yvonneerwee) July 2, 2014
In 2009, Wimbledon's Centre Court was fitted with a retractable roof to lessen the loss of playing time due to rain. Last year too rain twice delayed men's final between Rafael Nadal and Roger Federer. The roof has been built to protect the players, spectators and the centre court lawns.
Security at Wimbledon- For years Wimbledon was interrupted by unwanted visitors, the pigeons. Taking care of the security and doing patrolling round for many years is 'Rufus' the Hawk. Rufus is a six-year-old male Harris Hawk and has been employed by Wimbledon to scare away pigeons that may be tempted to interrupt these crucial tennis matches. He forms an integral part of the Wimbledon's security for 14 years, manning the turf. It is believed that pigeon or bird droppings destroy the grass. Meet Rufus!
Good morning to HRH The Duke & HRH The Duchess of Cambridge, enjoying #Wimbledon from the Royal Box today. pic.twitter.com/6Uqo4HFjod

— Wimbledon (@Wimbledon) July 2, 2014
The Royal Box had not only members of the Royal family, but also present were Indian cricketing legend, Sachin Tendulkar with wife Anjali, David Beckham and wife Victoria, Sir Alex Ferguson, Bradley Cooper, Britain PM David Cameroon, American Basketballer Shaquille O'Neal, Musician Sir Cliff Richard, Manchester United star Wayne Rooney and Hugh Jackman of the Woverine fame.
Sachin Tendulkar @sachin_rt & Anjali at the #Wimbledon Royal Box. pic.twitter.com/fOufDUmhZP (@OmgSachin ) #GODOFCRICKET

— AKV (@akv_10) June 28, 2014
#ManUtd's Wayne Rooney in the royal box for today's #Wimbledon #mensfinal pic.twitter.com/0T25r26gyx

— Wimbledon (@Wimbledon) July 7, 2013
Play resumed on all courts at Wimbledon at 1345GMT on Monday after a heavy rain shower sent players scurrying for cover.
Centre Court's retractable roof was closed to allow the women's fourth-round match between Alize Cornet and Eugenie Bouchard to resume sooner than on the rest of the courts.
The schedule had already been muddled by Saturday's rain, meaning several third round matches in the men's and women's singles were held over until Monday, which is traditionally last-16 day at the All England Club.
While the forecast for the next few days is favourable, further rain showers were possible in southwest London on Monday, organisers said.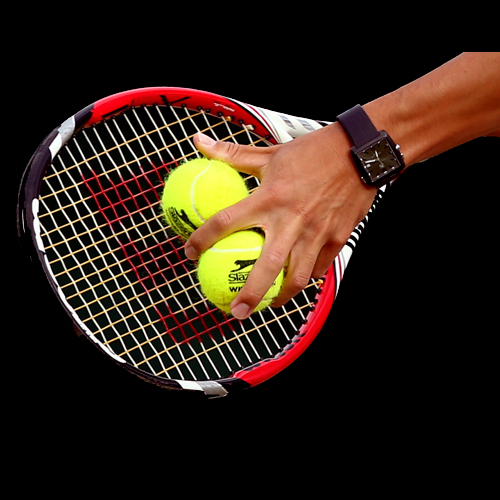 The dominance of Czech women players at the Wimbledon has been prevalent. Not to forget that the country has won the Federations Cup twice in the last three years, making a strong statement. It is encouraging for the Czech Republic to have four players involved in the latter stages and they all play today (June 30). With Lucie Safarova and Tereza Smitkova playing one another on Court 18 they have at least one assured player in the quarter-finals, but if we go by Petra Kvitova's 4-0 record against Peng Shuai then the no of Czech quarterfinalists will rise to two. Barbora Zahlavova Strycova adds more firepower to the fourprong Czech attack, against Caroline Wozniacki while Agnieszka Radwanska's route to the semis is unlikely to be blocked by Ekaterina Makarova.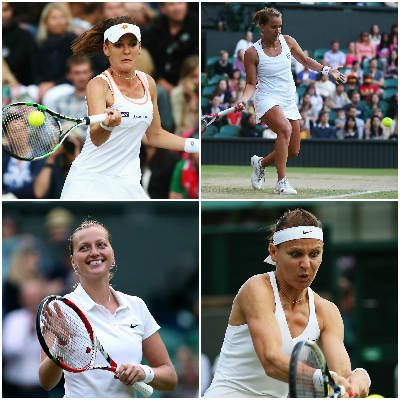 Gentlemen's Singles- The men's singles category receives 128 entries which get reduced by half with every round and stage the champioships proceed into. The clear favourites for the tournament remained last year's winner Andy Murray, Novak Djokovic, Rafael Nadal and Roger Federer.
No 1 seeded Novak Djokovic vs Frenchman Jo-wilfred Tsonga- the Frenchman was no match for the Serbian whose game is synonymous with hard baseline shots. Tsonga bowed out of the round of 16 in straight sets 6-2, 6-4, 7-6.
25-year old emerging Croat Marin Cilic continued his domination with a 7-6(8), 6-4, 6-4 win against American Jeremy Chardy on Monday to storm into the quarterfinals. Cilic's strong point remains his serve where maximum points have been won on serves against Chardy. Cilic is now pitted against Djokovic as he hopes to continue his fine run.
Andy Murray- Grigor Dimitrov broke British hearts, ending Andy Murray's reign as Wimbledon champion with a sublime and serene 6-1 7-6(4) 6-2 victory in the quarter-finals on Wednesday.
Swiss talent Stanislas Wawrinka (fifth seed) will use his backhand and serving strengths to power past Spainiard Feliciano Lopez. Lopez will not prove to be easy to play against. Lopez' third round win against American John Isner was a match of 86 aces and this will surely trouble Wawrinka.
Spanish Tommy Roberdo will have a tough test against Swiss ace and former no 1 (now 4) Roger Federer, who beat Colombian Santiago Giraldo in straight sets. Federer bowed out owing to a shock defeat against Ukrainian Sergiy Stakhovsky last year so he will look to make the most at Wimbledon 2014. The Swiss legend beat his opponent 6-1, 6-4. 6-4 and will now face countryman wawrinka in the quarters.
Milos Raonic (CAN) [8] vs Kei Nishikori (JPN) [10]- The young guns will battle it out at the All England Club where Nishikori is the first Japanese man to reach the fourth round at Wimbledon since Shuzo Matsuoka made the quarter-finals in 1995. The 24-year-old Nishikori is through to the round of 16 at SW19 for the first time in six appearances and is bidding to reach his second Grand Slam quarter-final, having reached the last eight at the 2012 Australian Open (l. to Murray). Raonic emerged the stronger one as he overcame strong resistance from the Japanese.
Australia's teen tennis sensation Nick Kyrgios took on on the world No 2 Rafael Nadal at Wimbledon on Wednesday. The nineteen-year old put up a tough fight against the Spaniard who has 14 grand slam singles titles in his name. Kyrgios won 7-6, 5-7, 7-6, 6-3. He will make his quarterfinals debut. His 37 aces were no match to Nadal's mere 11. He will face Milos Raonic in the quarters.
BREAKING: Rafael Nadal is out of Wimbledon! Kyrgios wins in four sets http://t.co/xyi37Hdseq

— MailOnline Sport (@MailSport) July 1, 2014
The 19-year old produced an entertaining trick shot against Nadal, a shot he did not anticipate.
As every tournament has a few upsets and early crashes this one too had a couple. Second round exits- Mikhail Youzhny, Bernad Tomic, Marcos Baghdatis, Lleyton Hewitt, Richard Gasquet, Gael Monfils.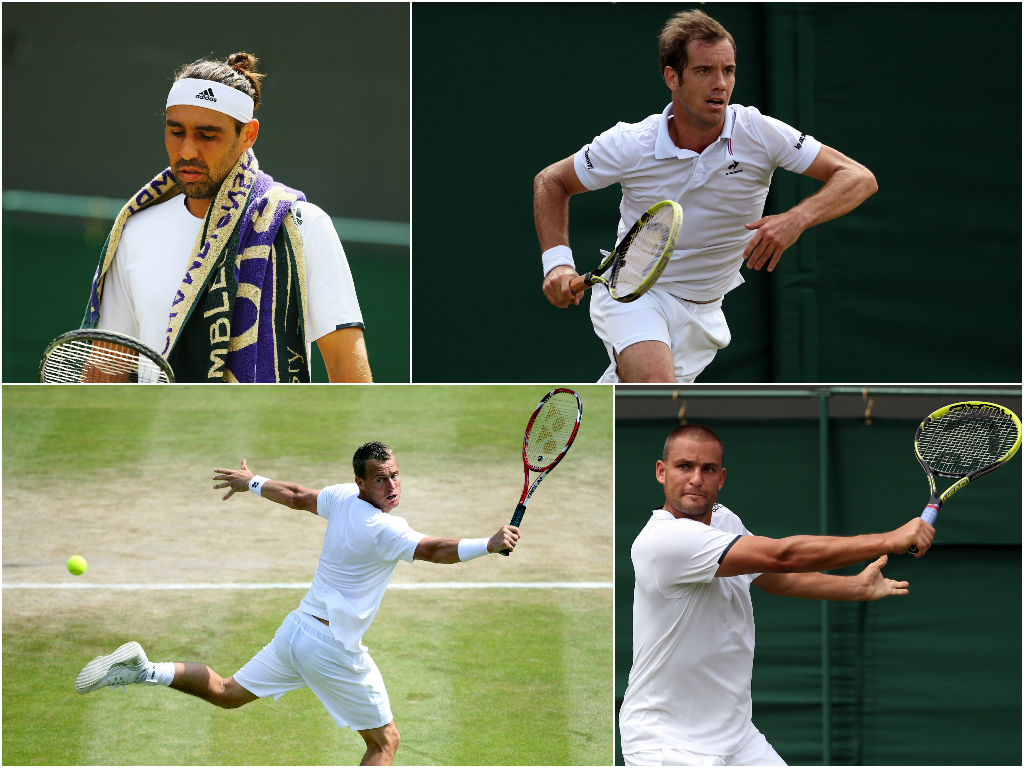 Women's singles-
*first round exits- 28th seeded Russian Svetlana Kuznetsova lost to an unseeded Portugese M. Larcher de Brito (6-3, 3-6, 1-6). Sara Errani, 14th-seeded Italian and winner of four grand slam championships lost to unseeded French Caroline Garcia 6-2, 6-7, 7-5
*second round exits- Russian Elena Vesnina lost to B.Zahlavova Strycova Czech 4-6, 2-6, Victoria Azarenka (8) Belarussian lost to Bojana Jovanovski (SRB)- 3-6, 6-3, 5-7
*third round exits- No 1 seed Serena Willaims was swept aside by Alize Cornet (French- 25th seed)- 6-1 3-6, 4-6, 11th seeded Serbian beauty Ana Ivanovic lost to 19th-seeded German 4-6 6-3 1-6, Petra Kvitova beat Venus Williams5-7, 7-6, 7-5
Ivanovic loses to Lisicki: Serbia's Ana Ivanovic failed to reach the fourth round at Wimbledon by losing to Sa... http://t.co/HWuwtNKbUQ

— Luc Paulussen (@PLucien1) June 30, 2014
*Round of 16/ fourth round- Alize Cornet's domination was halted by Eugine Bouchard as the former lost 6-7, 5-7. 26 year-old ninth seeded German, Angelique Kerber sent Maria Sharapova packing yesterday 7-6, 4-6, 6-4. Kerber will now face Bouchard in the quarterfinals.
Third seed Romanian Simona Halep beat Kazkhstan's Zarina Diyas in straight sets 6-3, 6-0 to cruise into the quarterfinals to meet Sabine Lisicki in a first time encounter in quarterfinals.
Petra Kvitova beat China's Shuai Peng 6-3, 6-2 to advance to the next round.
In yet another upset former world no 1 Caroline Wozniacki lost 2-6, 5-7 to unseeded Zahlavova Strycova. Wozniacki was the first Scandinavian woman to hold the top ranking position and 20th overall.
Among other quarterfinal results 23rd seed Lucie Safarova blanked Ekaterina Makarova 6-3, 6-1
Men's Doubles
It was a day of mixed fortunes for Indians at the current edition edition of Wibledon.
The Indo-Pak duo of Rohan Bopanna and Aisam Qureshi, ranked eighth in the men's doubles category suffered a defeat to the Canadian-American pair of Vasek Pospisil and Jack Sock. After taking lead in the first set, the former pair were not able to contain their opponents in the second and third set but bounced back in the fourth set to take control. The indo-pak duo eventually succumbed, ending their campaign at Wimbledon. 7-6, 6-7, 3-6, 6-4, 5-7. However after Bopanna and his French partner, Edouard Roger-Vasselin lost in the Men's Doubles semi-final match last year at this tournament more was expected of him as he made an attempt to surpass his previous record.
Tough loss yesterday,but credit to Aisam who fought very hard inspite of getting hurt in the 2nd set and could barely move. #IndoPakExpress

— Rohan Bopanna (@rohanbopanna) July 2, 2014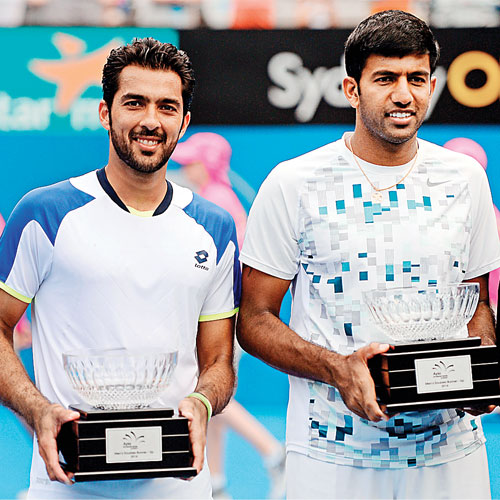 This year there was one Indian less on the Wimbledon circuit after Mahesh Bhupathi ended his tryst with Wimbledon, retiring after a quarter-final defeat in the men's doubles category.
Indian fans still have a reason to be happy as the fifth seeded Indo-Czech pair of Leander Paes and Radek Stepanek are through to the third round and will have to face Jean-Julien Rojer and Horia Tecau if they aspire to reach the quarterfinals. This match will not prove to be a cakewalk for Indo-Czech pair as they are likely to face stiff resistance. Paes and Stepanek lost the five-set match last year to Ivan Dodig [CRO] and Marcelo Melo [BRZ], in the semi-finals.
Last year's winners, Mike and Bob of the Bryan brothers fame continued their domination yet again marching into the quarterfinals to set up a clash against Julian Knowle and Marcelo Melo. The brothers will look to replicate their last year's winning performance to defend their trophy. They face the French pair of Micheal Llodra and Nicholas Mahut after beating Julian Knowle and Marcelo Melo 3-6, 7-6, 6-4, 6-4.
The Bryan Brothers get underway as they continue their campaign for a 4th @Wimbledon title - http://t.co/cZyJjLpdiO pic.twitter.com/dGZlOUe00l

— ESPNTennis (@ESPNTennis) July 1, 2014
Women's doubles
Willams sisters, Serena and Venus retired not even before completing the first set as Serena suffered from viral illness in their match against Kristina Barrois and Stefanie Voegle. In an official statement published on USAtoday.com she said "I am heartbroken I'm not able to continue in the tournament. I thought I could rally this morning, because I really wanted to compete, but this bug just got the best of me. I want to thank my sister, Kristina, Stefanie and our teams for their support. We were all looking forward to a great match. From the bottom of my heart, I thank all of the fans for their cheers and understanding. I look forward to returning to Wimbledon next year." She could barely even grip the tennis ball.
VIDEO: #Serena Williams loses her coordination and quits match because of viral illness #wimbledon https://t.co/kvkdVNen6L

— The Age (@theage) July 2, 2014
Indian-Zimbabwean tennis pair of Sania Mirza and Cara Black were unable to clear a second round round hurdle as they lost to an unseeded Russian-Czech pair of A.Pavlyuchenkova and Lucie Safarova going down 6-2, 6-7, 4-6. The Russian-Czech pair have shrugged off a challenge in the third round too to enter the quarterfinals.
Sania Mirza and Cara Black have made an early exit. @Wimbledon pic.twitter.com/93xe2AN55c

— WorldCupNews (@SportASmile) June 28, 2014
Mixed doubles- There continued to be Indian particpation in the mixed doubles event. Leander Paes and Cara Black were awarded a bye in the first round resulting in automatic qualification for the pair into the next round.They however lost 6-1, 2-6, 3-6 in the second round to Eric Butorac and Timea Babos. Paes and Black could not extend their run as they lost 6-1, 2-6, 3-6 to Eric Butorac and Timea Babos
Rohan Bopanna and his Czech partner Andrea Hlavackov reached the third round beating the British pair of Colin Fleming and Jocelyn Rae 6-4, 7-5. The winning pair will face Mikhail Elgin and Anastasia Rodionova to book a spot in the quarterfinals.