Rameez Raja narrates Pakistan PM's cricketer's exploits on an evening replete with anecdotes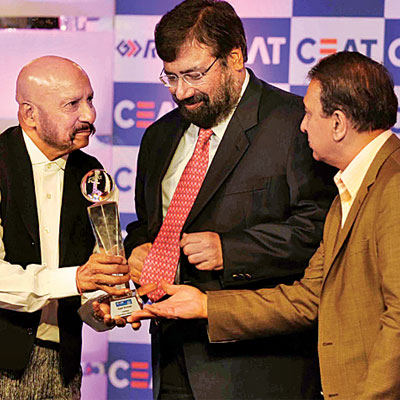 Pakistan prime minister Nawaz Sharif's recent visit to the Capital has rekindled interest in Indo-Pak cricket ties.
Did you know that Sharif, also the patron-in-chief of the Pakistan Cricket Board, played a first-class match? He opened the innings for Pakistan Railways in the 1973-74 season but did not open his account.
Sharif, who was in New Delhi to attend prime minister Narendra Modi's swearing-in ceremony last month, also represented a Pakistan side against the visiting West Indians before the 1987 World Cup. In fact, he was clean-bowled by a Caribbean pacer, who sent the stumps cartwheeling.
Former Pakistan captain Rameez Raja recalled the days when he and Sharif played for the same club. Even the legendary Imran Khan represented the said club. But today, Sharif and Khan "don't see eye to eye". Ah, politics!
At the CEAT Cricket Rating International awards here on Monday night, Raja recalled the match in which Sharif went out to face the mighty West Indian pace battery in a friendly match. "He played for the same club as I did. I have played a couple of matches with him. He was a fierce cutter of the ball and also played with a straight bat. He really enjoyed his cricket," Raja revealed.
"Sharif, then the chief minister of Pakistan's Punjab province, played a practice game against the West Indies. He wanted to test his skills against the West Indies. Imran Khan went up to the West Indies bowlers and asked them to take it easy against the 'amateur'. It was Patrick Patterson or Courtney Walsh who said, 'Don't worry'. The first five balls to Sharif were bouncers. His middle stump went cartwheeling off the sixth."
Syed Kirmani, who was honoured with the 'Lifetime Achievement Award', recalled his moments with Pakistan. He toured Pakistan in 1978-79 when the bilateral ties were revived after 17 years under Bishan Bedi's captaincy, and also in 1982-83, under Sunil Gavaskar.
Recalling incidents from those tours, Kirmani said, "On the first trip, we lined up to meet the Pakistan President Zia-ul-Haq. At that time, I had hair, not bald like I am now. Our manager, Maharajah Fatehsinhrao Gaekwad introduced the team to the president. When my turn came, the Maharajah in his royal accent, introduced me, elaborating my initials, SYED MUJTABA HUSSEIN KIR-MA-NI. The President also shook hands by saying my full name SYED MUJTABA HUSSEIN KIR-MA-NI and went ahead," Kirmani said.
"On the next trip, I was completely bald. Sunil introduced me to the same president, saying SYED KIRMANI. The president went past me, stopped and came back to check, 'Last time, you had a 'keeper by the name Syed Kirmani. Where is he?' He looked at my head and before he could say anything, I said, 'This is my new hair style!', to which he laughed."
There were battles within the war. Raja recalled: "When Imran was the captain, you could not afford to get out to Kapil Dev. They had the all-rounder's battle going on at that time. In the 1986-87 Jaipur Test where I scored 114, I was out to Kapil off the second new ball. As I returned to the dressing room, pleased after scoring a Test hundred in India, Imran was waiting for me. 'When will your club mentality change? It was a medium-pace bouncer that you pulled and got out'. There was no word of appreciation during that 15-minute lecture from Imran. At that time, Imran tried hard to get Sunil Gavaskar out. He told me, 'see how he (Gavaskar) is playing'."