In their do or die match against RR at home, Rohit Sharma-led team will need to win it big as net run rate will be crucial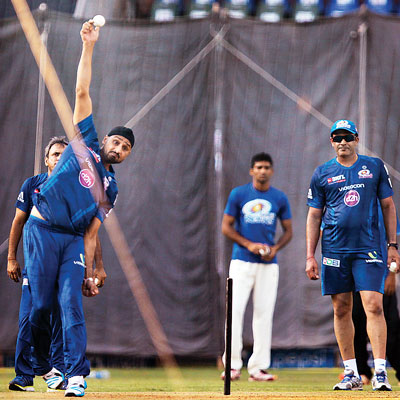 Coming into the Indian Premier League 7, defending champions Mumbai Indians were one of the favourites. But a month and a half later, the Rohit Sharma-led outfit are fighting for a fourth place finish in the playoffs.
It's yet another do-or-die for Mumbai Indians as they take on Rajasthan Royals at the Wankhede Stadium on Sunday. Its their last league game and must-win match but that alone is not enough for them to advance. To qualify for the qualifiers, they will need a a better net run rate, so they have to win it comprehensively.
Rajasthan Royals are placed fourth with 14 points while Mumbai Indians have 12 points.
The Blue-and Gold boys know how crucial their last league match is. After they thrashed Delhi Daredevils on Friday at the Wankhede, they were all glued to their TV sets praying for Rajasthan's defeat at the hands of Kings XI Punjab. And the Royals lost by 16 runs.
"Obviously we were all happy and excited. We were all watching that match in the rooms or wherever we were, glued to the game. We knew from the moment Rajasthan lost that we are in with another chance," said Kieron Pollard on Saturday.
"We would have liked Rajasthan to have lost a little more worse, by 30-40 runs, but it did not happen. So there is a game on tomorrow (Sunday)," he added.
However, for Mumbai Indians winning is their only motive. "We have to think about so many mathematical equations, but the first priority is winning. Once we put ourselves in a position to win, then we can try to achieve whatever target we need to. We are looking forward to that," he said.
Despite five straight defeats in the UAE leg, Mumbai Indians had not given up on their hopes. They returned to their home ground – Wankhede – and did the turnaround notching up some crucial wins to make keep themselves in the hunt.
"After we returned to India things have turned around for us. We all know we did not do too well in the UAE. The key was coming to Wankhede. We are accustomed to playing here and we like it. Players, who have been with Mumbai for a long period, love it here. That was one key thing," Pollard said.
Coming back to the game, Mumbai's batting looks stronger compared to Rajasthan Royals. With the current form of Lendl Simmons and Michael Hussey regaining the golden touch, the top order looks stable while the classical Rohit Sharma, entertaining Kieron Pollard and the reliable Ambati Rayudu strengthen the middle order.
The only problem that remains for Mumbai is their bowling sans their unconventional seamer Lasith Malinga, currently serving Sri Lanka in England. Barring Harbhajan Singh and Pragyan Ojha rest lack experience. The responsibility of the new ball will be on the young shoulders of Jasprit Bumrah.
As far as Rajasthan is concerned, their biggest positives will be Mumbai boys Ajinkya Rahane and Pravin Tambe, a leg spinner, who knows the Wankhede wicket inside out. But skipper Shane Watson will have to shoulder bulk of the responsibility.
Equation
Mumbai Indians (12 points) are fifth in the points table behind Rajasthan Royals (14). The latter, however, have a better net run rate. Mumbai Indians won't have to win but win comprehensively. If Mumbai bat first they will have to win by at least 42 runs or if chasing they will have to do it in 15 overs to get the better run rate. For Rajasthan it's easier. Even a narrow win would help them go through to the playoffs.