Kibura might be the lone participant from African country in Pro Kabaddi League, but he says there could be more next year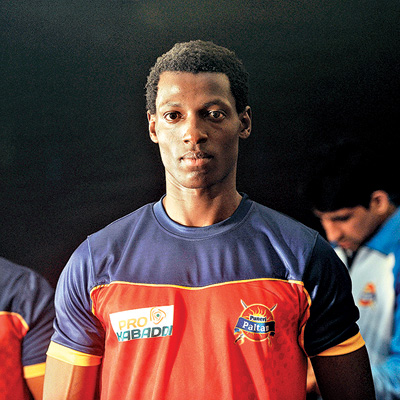 You can take a Kenyan out of athletics, but you can't take athletics out of a Kenyan. Simon Maina Kibura is one of these 'athletes' but he's not here to run. The 25-year-old has become a household name back home in Nairobi as the first from the country to participate in the Pro Kabaddi League.
''It's very tough to be a track and field athlete back home. There is so much competition with only the best going all the way to the top. It's like cricket in India, where every kid wants to go all the way to the top,'' says Kibura, who was signed up by Pune outfit, Puneri Paltan.
One look at the 25-year-old and it is easy to understand why Puneri Paltan were eager to sign him. Kibura's week revolves around the boxing ring, in the 400m of the track and field with acrobatics and karate adding the element of agility to his game.
He also uses his height to a great advantage. Standing 6 feet 2 inches tall, he dwarves the rest of his teammates.
''I'm tall, fast and don't forget, I have long legs. I can easily tag the opposition and return back to my own half in time,'' says the business management student.
It started in the month of August last year for Kibura when he was introduced to the game by his friend, who practises Taekwondo, in Nairobi. ''Is it Kabaddo, Kabadda? It took me a while to realise what the name was. There were few people who knew, let alone played the game. Also, the format that we played involved a circular court not the rectangular one.''
Kibura not wasting any time looked up videos of the sport on YouTube, read up all the rules that he needed to get the game started. Today, Kenya has a 20-member team and a Kenya Kabaddi
Association.
He's watched both of Pune's first two games from the bench, both ending in defeats as Puneri Paltans went down 35-31 to Dabang Delhi at NSCI, Worli on Sunday but Kibura has already learnt more in the space of a month than he has since he took to the game.
He says he did feel like a small fish in a big pond in the first few days of Pune's training camp at Balewadi Sports Complex a week ago but only to learn a lesson in Indian hospitality and a bit of Hindi.
''For the first few days, my morale was at an all time low. It did bother me initially as I was the only 'black' player in the side. They kept saying 'bhai-bhai' to me. I asked someone and realised that it means brother in Hindi,'' says Kibura, who is turning out to be the best dancer in the side impressing everyone with his Kenyan dance moves.
With his friends and family watching every Pune game over the internet, Kibura is sure that Kabaddi in Kenya may have taken a small step, but one in the right direction.
''It was me this year and I'm pretty sure there will be more on the flight from Nairobi next year. My younger brother has also taken a liking to the sport. So, who knows,'' says Kibura with a chuckle.