Not a single 'demigod' of Subcontinent has quit the game despite facing extreme pressure and expectations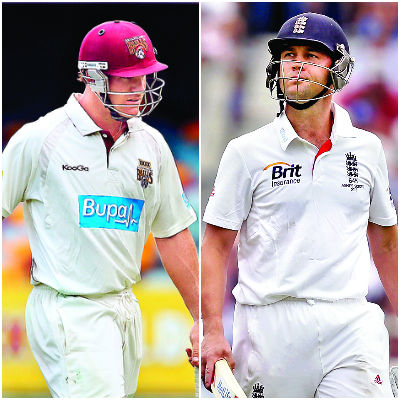 Australian Luke Pomersbach joined the list of foreign cricketers who quit the game due to mental stress or depression.
What is it that the cricketers go through that brings a premature end to their careers? Spare a thought for the Indian 'demigods' on whom expectations are huge every single time they step onto the field. The pressure on the Indian cricketers are manifold compared to the Luke Pomersbachs, Jonathan Trotts, Marcus Trescothicks and Michael Yardys.
Either the Indian cricketers are mentally strong enough to fight depression or they don't go through this stress at all.
Former India pacer Javagal Srinath said that it is unfair to compare. "You cannot say Indian players do go through depression but handle it better. It is a very personal issue. For any cricketer, some of the basic fundamentals are the education, the family and proper assessment of his own talent. You are your best counsellor in many ways. What gives you that kick to play cricket is very important.
"Not necessary that everybody will become a Sachin Tendulkar or a superstar. It is your talent and that has to align to the professional career of yours. There is some limitation to it. There is always somebody better than you and vice-versa. If you have these strong fundamentals intact, you will be able to understand yourself better and make good decisions. If any of these things fail, then your own reputation and your own game can take a beating. Depression can be a by-product of such thoughts."
Srinath, 44 and the third highest Test wicket-taker among Indian fast bowlers, said that words like depression and mental stress "are not really heard in the Indian cricketing circles".
"There is something or the other to keep an Indian cricketer engaged. It is important to counsel oneself and be philosophical at stages. We are always amongst people. We are an interactive society and there will be something or the other to speak through it and get over."
Legendary Martin Crowe, who has been through depression early in his career but found a way to tackle it to become one of the best batsmen in the world during his time, told dna that cricketers have always gone through depression.
He said: "It is mainly the batsmen that suffer. Failure is more acute. If you have a precondition, then batting will only bring it out and expose it. It's becoming acceptable to admit it now. I would imagine it has always been there, now it is out in the open more."
Dilip Vengsarkar, India batsman of yesteryear with 116 Test appearances, said that cricket is not for the weak-hearted. "It's up to the individual. It's how tough one is mentally. Cricket is a tough game mentally and physically. It's how one adjusts and adapts. This is not a game for the faint-hearted."
Railways left-arm spinner Murali Kartik, who has played in English county circuit for various teams from 2005 to 2012, felt that it has got more to do with the English weather.
"There are more Englishmen than those from other countries who go through depression. I just get the feeling that it has got more to do with the English weather. There is no sunshine predominantly for six to seven months of the year. The weather is quite gloomy there even in summer. I cannot think of any other reason."
Twenty-five-year-old leg-spinner Piyush Chawla, who has mingled with the English cricketers during his two stints in county cricket, Sussex in 2009 and Somerset in 2013, said that he tended to go through depression when away from home playing in England but said he has quickly come out of it.
"I had a really good time when I played county cricket in England. Sometimes, I've felt depressed being all alone, away from home. But I soon realised that this was something I have always wanted to do, coming all the way from India to play county cricket and improve my game."
Three-Test old Chawla added, "Everyone (Indian cricketer) gets under pressure and sometimes there are situations when you feel very low. But somehow we cope up with that. The love for cricket and the passion for the game keep you going."
Sports psychologist BP Bam seconded Chawla. "Their love for the game is the root cause for motivation. If the love for the game is not strong enough and other distractions creep in, they tend to go into depression. Our Indian players seem to have a found a way to handle this. That is why they are not going into depression. Top players do feel depressed but not so much to leave the game."
Bam recommended yoga as a way to fight depression. "Most of the Indian cricketers have been doing yoga. Yoga keeps the mind away from depression as it helps you focus on one element. Foreigners may not understand this easily. If your subconscious has strong support from within, you can overcome depression."