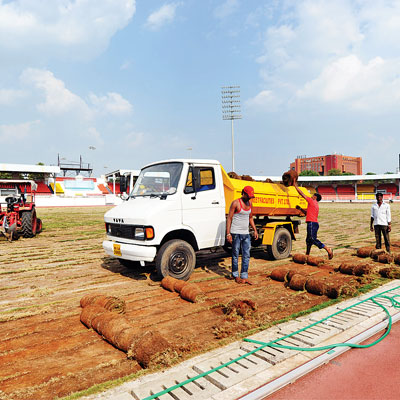 Greg Gillin, Wembley Stadium Facilities Director, has been roped in as consultant to review and advice on pitch refurbishment ahead of the multi-million dollar football league, the India Super League (ISL), which will see some of the top names in world football.
"Gillin will oversee all the facilities from drainage to the main pitch for the much-awaited ISL, which is likely to kick off in October this year," said Leeladhar Singh of the IMG Reliance.
"Gillin has already visited the various stadiums identified for ISL matches and the work should be completed by earlÿ August," said Singh.
The venues will be a state-of-the-art on par with the international standards and is likely to cost IMG Reliance over Rs20 crore for all the eight stadiums that will host the ISL leagues, said one official.
The work at the Balewadi Sports Complex main stadium here in Pune has begun. This will see six parameters of venue refurbishment work undertaken. Relaying of main pitch wherever required, practice pitch, drainage system, stadium floodlights for HD quality broadcast, dressing room and creating or overhauling certain improvements in stadium for fans will be looked into.
This will also witness a new look international standard stadiums across the country and it would make things befitting, what with India getting the right to host the FIFA Under-17 World Cup in 2017.
The work at the Balewadi Sports Complex will take another 45 days to complete, according to sources.
Bermuda grass, the turf used at international venues, will be used for both the main and the practice pitches, besides the other combinations. The Balewadi stadium alone will cost over Rs3 crore. The practice ground will also be of international standards.