The skipper said his team was needs to "work harder and improve a fair bit" to tame the hosts in the second match.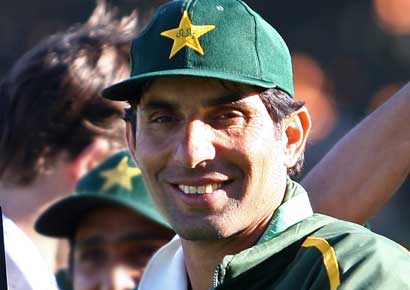 Pakistan might have notched up a comfortable six-wicket win over India in the first one-dayer but skipper Misbah-ul-Haq said his team was "lucky" on Sunday and they need to "work harder and improve a fair bit" to tame the hosts in the second match on Thursday.
"Today we were lucky, India gave us a tough time in this situation. They lost five wickets early, but still went on to make 227 and we couldn't chase it down easily. So I think we have to improve a lot of things. To win the next match, we will have to work hard and improve a fair bit," Misbah said in the post-match press conference.
"We have to really improve our fielding, our death over and Power Play bowling. After these ODI rules specially, we have to improve the bowling in the last 10 overs and Power Play.
"When two batsmen are set, it is difficult to bowl to them like it was to Dhoni. So we will have to come up with plans with four fielders, how to block the batsmen. Also we have to improve our batting performances," he added.
Pakistan on Sunday chased down India's 227-run target, losing four wickets and with 11 balls to spare at the MA Chidambaram Stadium in Chennai and Misbah said it would be a confidence booster for his side.
"It was really good to win the match because first game is always important and it's a three-match series. So whenever you win the first game, it really boosts your confidence and you are ahead of the other team," he said.
Nasir Jamshed was one of the engineers of the victory as he cracked an unbeaten 101 but he lost the man of the match award to India captain Mahendra Singh Dhoni, who scored an unfinished 113 under difficult conditions.
Asked about the man of the match award, Misbah said: "Man of the match is decided by the jury. At one stage, it looked as if India would be getting out for 125 but Dhoni's was a brilliant innings."