Twenty nine of the 31 wickets to fall in the first three days of the Ranji Trophy quarterfinal at the lively Wankhede pitch have gone to seamers. With live grass on the pitch, it tested the batsmen no end.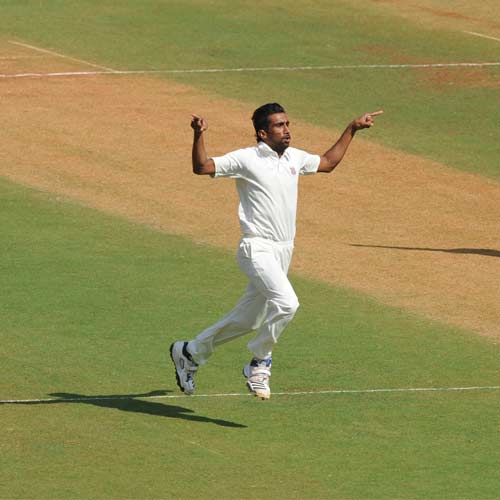 It was a pity that such seamer-friendly pitches are very rare in India. Most often do you find flat tracks where batsmen score runs aplenty but are found wanting when they go abroad to South Africa, England or Australia. What was pleasing to see was also the bounce that Wankhede strip offered, consistent with the ball carrying nicely on to the wicket keeper's gloves and the slip fielders waiting eagerly to hold on to the edges.
There have been plenty of catches in the slip cordon this match, some of them of the highest quality. Maharashtra, from Group C, have given Mumbai a tough fight and their medium-pace trio of Samad Fallah, Anupam Sanklecha and Shrikant Mundhe have been highly impressive, bowling in the right areas and using the pitch to their advantage. Sanklecha, 31, was the best of the lot in both the innings, taking seven wickets in the match.
Sanklecha was a member of the Maharashtra side that defeated Mumbai by 65 runs in the Elite Group A match in January 2006 at the same venue here. He was hopeful of an encore on Saturday.
Sanklecha said on Friday: "The target looked out of reach, but steadily we are getting closer to it. We have to bat well to win this match. The team is positive and we know that our batsmen have the potential to achieve this total. This wicket is responding well to cricketers who are working hard, be it batsmen or bowlers.
"The wicket helped us, we just needed to bowl in the right areas. That's what we did. After conceding 122-run lead, we were in nothing-to-lose situation. We thought if we approached the game with a negative attitude, then we would be going straight home from here. We have to carry this positive approach over to Saturday. The fielding in the slips was tremendous, they took some spectacular catches and it was great fielding that kept us charged up."
Mumbai coach Sulakshan Kulkarni was not surprised by the pitch behaviour. "This is a typical Wankhede pitch in the month of January. In October, you have a different wicket because of monsoon. November pitch is different. In January, you will have fresh grass. This is a typical January Wankhede pitch that helps seamers."
Kulkarni was unhappy with Mumbai's collapse in the second innings for a paltry 129. "Who would not be disappointed with a score of 129? Maharashtra bowlers did well on seaming-friendly wicket. Most of our batsmen got good deliveries and their catching was outstanding. They bowled to their strengths."
Kulkarni was confident of finishing on the right side of the result, which should be expected on Saturday as Maharashtra still need 224 to win with nine second wickets in hand. "I am positive, my team is positive. You will see the best of Zaheer Khan on Saturday. Let's hope for the best," he said.