With renovation work almost complete, big-time action could return to city's major football venue this month end.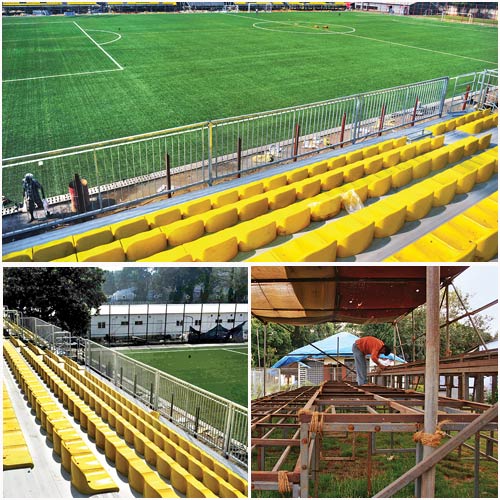 Footballers and lovers of the sport here finally have something to be happy about. After almost three years of renovation work and bureaucratic issues, the Cooperage football ground should be completed and Occupation Certificate (OC) obtained by the end of this month.
Cooperage is the only major venue for football in the city. Thousands thronged the venue to cheer their favourite teams. Mohan Bagan vs East Bengal matches were packed to capacity, so much so that people used to climb on the boundary walls to watch the games. The stands, however, were rickety and dilapidated. They shook each time the supporters jumped when their team scored.
Seeing it's pathetic state, FIFA stepped in and granted them $2.5 million to refurbish the stadium. Of course, the falling of the rupee saw the cost go up by half a million. The result of FIFA's stepping in- the old wooden stands are replaced with a sturdy steel structure imported from China.
Cooperage now has a seating capacity of 5,000. The wooden planks that were called seats are now replaced with colourful bucket seats. The turf that used to be dangerous has been replaced with an artificial turf. Proper changing rooms and drainage facilities are among the many changes that give Cooperage a new identity.
Work at Cooperage being completed also means that the Mumbai District Football Association (MDFA) can host the Elite Divison this year. Last year, professional footballers had a tough time as the MDFA scrapped it citing unavailability of grounds.
On Friday, MDFA president Digambar Kandarkar and secretary U Banerjee met with Souter Vaz, the general secretary of the Western-India Football Association (WIFA) and decided that the Elite division could be held by the end of this month.
U Banerjee told this paper, "We were just waiting for a positive response from WIFA, under whose control Cooperage is. They've told us that the grounds could be ready by January 26-27. So we will call a meeting of all the Elite teams to decide a suitable date the division could be started."