Kohli wins CEAT international cricketer of the year award; Mitchell Johnson named best in Tests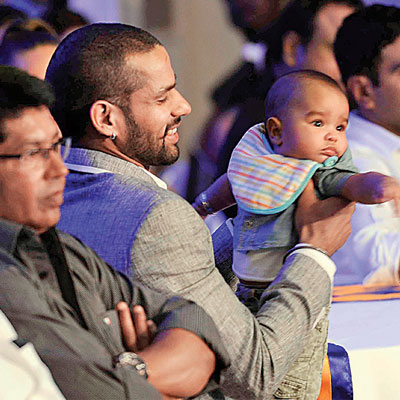 Former India batsman VVS Laxman called for the revival of Indo-Pakistan cricket series saying that he did not see any problem in India hosting the traditional rivals from across the border.
The stylish batsman who retired from Tests in 2012 said at the CEAT Cricket Rating International awards 2014 here on Monday evening, "The last time Pakistan came to India for three ODIs and two T20s in 2012-13, the crowd loved it. I don't see any problem in India hosting Pakistan though I don't know much about the security in Pakistan."
Former India wicket-keeper Syed Kirmani, who was honoured with the International Lifetime Achievement Award, said, "the best thing would be to start a bilateral series at neutral place, preferable in Asia so that the region gets to see two of the best cricketing nations in action."
Former Pakistan captain Rameez Raja, who compered the programme, said that "Pakistan-India series should happen if we can keep aside the politics of it."
Star India batsman Virat Kohli won the International Cricketer of the Year for the second straight year while Shikhar Dhawan won the ODI player of the year award. After accepting the award, Dhawan dedicated the award to his new-born son and said that he took the ups and downs in his career positively. "Playing for India is big. But there are ups and downs in one's career. It has happened with me in U-16s and Ranji Trophy. I take it positively and learn new things always."
Sunil Gavaskar, the brain behind the awards since its inception 19 year ago, praised Dhawan's style of batting. "He gets into the line of the ball early, gets into position very early to play his shots. He is not afraid to play his shots," Gavaskar said.
A new category of award introduced this year was the T20 player of the year, which went to Bangladesh all-rounder Shakib Al Hasan. Terming this award as thrilling, Hasan said: "This award will inspire me to play well in the future."
Hasan, who played a key role in Kolkata Knight Riders winning the IPL title on Sunday night, said he was looking forward to Tuesday's felicitations at Eden Gardens in Kolkata. "We had a terrific run this IPL, especially Robin Uthappa. Sunil Narine was also a key performer. Even support staff contributed to the team."
Uthappa, who capped a fantastic domestic season with the IPL triumph, was presented with the Domestic Cricketer of the Year award. "This award is a sign that I am in the right direction. But this is just a beginning," Uthappa said.
Award winners:
Virat Kohli (India): International Cricketer of the year
Shikhar Dhawan (India): International ODI player of the year
Shakib Al Hasan (Bangladesh): International T20 player of the year
Mitchell Johnson (Australia): International Test player of the year
Robin Uthappa (India): International Domestic player of the year
Glenn Maxwell (Australia): International Popular Choice Award
Ravichandran Ashwin (India): International Special Award for Indian Player of the year
Vijay Zol (India): International Young Player of the Year