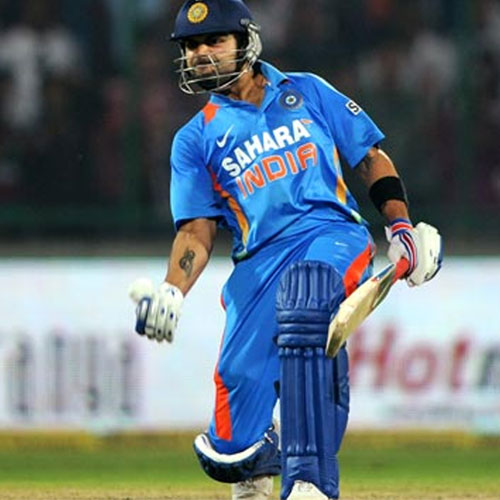 Eddie Sutton, one of the finest American college coaches, was asked by a leading website to name one sports personality he would pay to watch. "Muhammad Ali," declared Sutton emphatically. Asked why, he said, "To me, he epitomised what a champion should be. He developed his talent to the fullest."
It's a well-known fact then, that talent attracts spotlight, but, it's what one repeatedly does with talent that decides how long the focus remains on him or her. Abiding by integrity and avoiding conspicuous pitfalls, it eventually propels one into the realm of greatness. Knowing that such an individual is likely to deliver more often than not is what draws people to arenas, irrespective of the sport.
In cricket, too, there are a number of players who are capable of putting bums on seats; players who people would pay to watch, regardless of the stakes involved in a match. The current era can unveil a bag full of names, at least one from each country if not more, but the most dazzling of the lot has to be Virat Kohli, at least in limited-overs cricket. Whether you're a pundit, purist or just a fan of the sport, his artistry at the crease is certain to captivate, and he mesmerises like a few of his revered predecessors so relentlessly did.
Kohli's journey to the top was beset with difficulties. His demeanour, on and off the field, was expected to thwart his progress, but the way he circumvented those quandaries and suppressed his instinctive self to evolve as India's finest One-Day batsman is praiseworthy.
The difference is glaring in his approach. In the first two One-Day Internationals (ODIs) of the ongoing series, the New Zealand bowlers, not surprisingly, greeted most of the Indian batsmen with a barrage of short-pitched balls. In fact, they got them to hook, but only a few such shots looked graceful. On the other hand, Kohli took to the short delivery like it was his morning cup of tea. He savoured not just the mellifluous sound of the bat striking the ball, like the leather was destined to meet the middle of the willow, but also the bemusement on the face of the bowler who was yet to complete his follow-through. Balls pitched up were dispatched elegantly, and while nodding in admiration, the Kiwis perhaps saw an ounce of arrogance in it, too. Who could blame them?
The aforesaid scenario has been a regular occurrence during the last few years away from the Indian shores. There's no turf Kohli hasn't looked at ease on. Despite the recent spate of results, this Indian outfit is certainly not mediocre, yet Kohli's effulgence has overshadowed them all, for his innings have been etched in a nonchalance that very few of his fellow team-mates currently seem to possess. No doubt, they're all skilled, but none have maximised their potential away from the confines of home like Kohli has in limited-overs cricket. He's got ODI centuries in eight countries now; except South Africa, where he's got a Test century, which should quell any apprehensions of his ability to handle frisky turfs and menacing bowlers, and menacing bowlers on frisky turfs.
Considering the fact that he's just 25 underscores his brilliance aptly. With 18 ODI tons and 29 half-centuries, he's second only to Sachin Tendulkar, who bagged 21 hundreds and 43 fifties at that age. Next in that distinguished list is Chris Gayle — 11 centuries, 23 fifties. A notable facet here is that while the averages of Tendulkar and Gayle were 42 and 39 respectively, Kohli's is over 52. Further break this down and his dexterity comes to fore: while he averages 51.97 at home, he cuts close away from it (49.13), and the number rises perceptibly (61.88) on neutral pitches.
While there is no dearth of flair in most of the other Indian batsmen, very few have been able to emulate the consistency that has been a hallmark of Kohli's. Float him in the batting line-up and he's sure to dish out impressive scores. Whether it's the security or the extra responsibility that's bolstered his form remains unknown, but looking at him dismantling a bowling attack, time and again, instills belief that his technique and temperament [if it lasts] will inevitably steer him into a path trekked by only a handful. It'd be too early [and some would say naïve] to state that he's taken over the mantle from Tendulkar, but only he seems likely to fill that void. Moreover, like Tendulkar, he's expected to, and has started to, bat through the innings with the rest of the order batting around him. Why then, can he not be a stalwart in the making?
Very few can be mentioned in the same bracket as Ali, or even Tendulkar, but there are certain individuals who give a sneak peek of what's likely to transpire and it's hard to dispute that from the current juncture. If Kohli keeps going at the same rate, there's little doubt he's going to usurp all records. "Float like a butterfly, sting like a bee," Ali famously said. And Kohli at the crease does just that. It's perhaps for this one doesn't mind paying twice the amount to watch him bat.
(Karthik Parimal, a Correspondent with CricketCountry, is a cricket aficionado and a worshipper of the game. He idolises Steve Waugh and can give up anything, absolutely anything, just to watch a Kumar Sangakkara cover drive. He can be followed on Twitter at https://twitter.com/karthik_parimal)