The Indian vice-captain has been the only silver-lining in this New Zealand series where the visitors have been terrible with both bat and ball.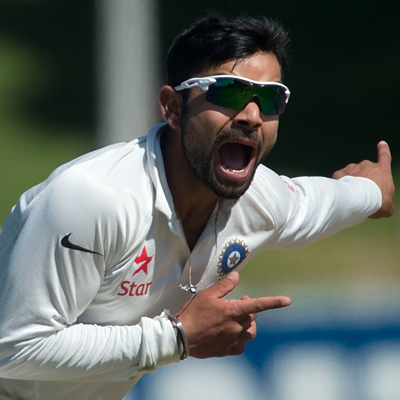 The India-New Zealand series has ended in a draw but India has lost the series 1-0 after they lost the first Test last week. The match was headed towards a win for the visitors in three days who last won away from home in the West Indies by Brendon McCullum changed the course of the match.
The New Zealand skipper scored a brilliant 300 becoming the first Kiwi player to achieve the feat as he played a captain's knock.
The Indian bowlers who had been brilliant on an overcast Day 1 struggled to contain the 32-year-old who played a controlled and well paced game.
Set a target of 400 plus to win with two sessions left in the day, the plan was clear New Zealand needed 10 wickets to win or a draw, as making a huge score in such a short period was next to impossible.
The Indian top order started to fall offering the Black Caps a huge chance, but it was the visitor's best batsman Virat Kohli who rose to the occasion.
The 25-year-old played maturely as he helped his team save the second Test slamming a well-earned Test century along the way.
Kohli is slowly and steadily maturing with each innings he plays and is the best player in his team in all three formats of the game. This fact is proved by his form in the T20, ODI and Test arena.
The Delhi lad's ton today was his third away from home and if McCullum was New Zealand's man. Kohli was India's man as he single-handedly saved the Indian team from losing the Test series 2-0.
India has now lost four consecutive Test series away from home and will need to do a lot of internal analysis of their batsmen, bowlers and fielders.
Here are some Twitter reactions to Kohli's sparkling century:
Virat kohli is a 2-Dimensional statue where I can see SACHIN in one dimension and Laxman In another dimension #Genius #Saviour

— Sa??l Y?v? ? (@YuviSRKDevotee) February 18, 2014
It maybe an inconsequential ton but at least Virat Kohli doesn't pay lip service to his team. #IndvsNZ

— Stereotypewriter (@babumoshoy) February 18, 2014
Virat Kohli performance today has been like that edible dessert which is served along with horrific mess food. #NZvInd

— cricBC (@cricBC) February 18, 2014
Virat Kohli pulls it off again. Another magnificent hundred by the master. This young lad can be very proud of himself!!

— YoYo...But Pavri :p (@yohanpavri) February 18, 2014
Virat Kohli _/\_ McCullum _/\_ _/\_

— Sai Krishna Vemuri (@uniquekrishna) February 18, 2014