Fiorella Castillo's video playing football on the streets wearing high heels has gone viral on YouTube.
Football stars beware! The stuff you guys do on the field in soccer shoes, Argentina's Fiorella Castillo does with high heels on.
Lionel Messi & Co better take note of this sexy 24-year-old model who has already become a YouTube sensation as videos of her showing off her football skills in high heels has gone viral on the social sharing space.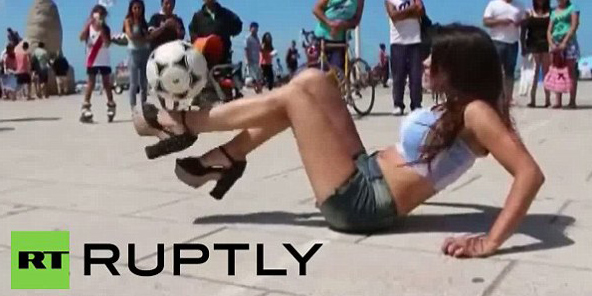 Uploaded on January 20, the video sees Castillo on the streets of Mar del Plata, showing off her impressive football freestyle skills as crowds gather to watch in awe.
Wearing the Argentina team blue and white jersey, the model is seen spinning a football on her finger as she does various football tricks in the one-and-a-half minute video.
Watch the video: