Van Persie's fine goal was a fitting tribute to a close friend who passed away on Friday evening.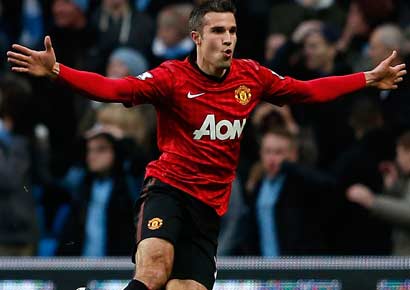 When Robin van Persie wheeled away, after sumptuously beating Ben Foster to finally end this contest, he pulled up his jersey to reveal a tribute. "RIP Tchuna. We will never forget," the words read on his T-shirt.
The message related to the death of a close friend, who passed away on Friday evening. Van Persie's fine goal was a fitting tribute, a wonderfully executed trademark shot as he wrapped his left-foot around the ball to arc it beyond the West Bromwich Albion goalkeeper and end any flickering resistance.
What a profound effect Van Persie has had since his pounds 24?million move from Arsenal in the summer. He has now scored 17 goals and made eight assists in 24 appearances for United.
Fourteen of those goals have come in the Premier League. He has amassed 32 club goals in all in 2012 - 17 for United, 15 for Arsenal. How Arsenal miss him. How United cherish his signing.
Van Persie was only a substitute here - coming on in the 66th minute, replacing Shinji Kagawa, who was making his first appearance for three months having recovered from a knee injury - and he made a difference. A big difference. "He's fantastic," purred United manager Sir Alex Ferguson. "He's just a fantastic player. He came on and he changed the game for us."
On a pudding of a pitch, everything stuck to Van Persie. As impressive as the statistics are there is one that stands out above all for United which highlights the Van Persie effect. They head to Wigan Athletic on New Year's Day seven points clear at the top of the table.
Ferguson shuffled his pack here and later revealed that for the next fixture he expects to be able to bring back Phil Jones and Rafael da Silva - and will probably start with Van Persie. He cannot do without him. Wayne Rooney may be injured at present but for all his powers when fit he is no longer the main man at United. That mantle has seemlessly passed to Van Persie and not just for that goal-scoring ability.
His link-up, his demeanour, his presence - it all speaks of a player at the top of his game and reveling in his new environment.
Saturday's environment was not so easy. West Brom head coach Steve Clarke labeled the Old Trafford pitch "dreadful", given the constant rain, and there was a pitch inspection 90 minutes before kick-off. Ferguson lamented the surface and for much of this match the football was also lumpen and lacking in any flow.
Yet Manchester United were happy to register a routine win and a clean sheet, only their second in 18 matches. Too often this season it has been a roller-coaster ride for them, not least during their last outing, the Boxing Day goalfest against Newcastle United.
United quickly established a lead. It came within the first 10 minutes as Ashley Young combined with Kagawa down the left. The latter, acting as a makeshift striker, flicked the ball on, Graham Dorrans mis-judged it and Young drove in a low cross that struck Gareth McAuley's outstretched right leg and the ball flew into the net.
"We were maybe too timid," was Clarke's summary of his team's performance in that opening 45 minutes. But without Van Persie, Rooney and Javier Hernandez on the pitch United lacked a cutting edge to capitalize on their dominance. Ferguson later revealed he has no intention of selling another of his attacking options, Nani, despite Arsenal's interest. Instead, Ferguson said, United were going to offer the Portuguese, who has 18 months left on his current deal and is out injured, a new contract.
"Why would I want him to go?" Ferguson said. "His people are negotiating with chief executive David Gill about a new contract. I don't know what stage they're at but we won't be letting him go."
On Saturday, United could have benefited from Nani's nimble trickery. Half chances pinged around the West Brom penalty area - a shot by Michael Carrick, a header from Young - before Kagawa linked with Antonio Valencia, who scampered down the right and cut the ball back. It fell to Young, whose fierce shot was superbly tipped onto the crossbar by Foster. From the corner, Carrick's goal-bound drive was blocked by Gabriel Tamas.
That was it from United until Van Persie's introduction and even after he came on, West Brom were exerting the pressure. Shots from Peter Odemwingie either sailed wide or were deflected while Patrice Evra blocked Dorrans's effort. For a period Albion were camped deep in United's half and Van Persie was eventually joined by Paul Scholes. "The fact they had to bring on the big guns showed how worried they were," Clarke declared.
There was also an air-shot from Young and Foster had to push over Valencia's angled shot before the goalkeeper blocked a low effort by Van Persie. But the striker would not be denied.
In injury-time Foster palmed away Danny Welbeck's first-time shot and after Scholes's drive from the corner was blocked he picked out Valencia, who found the over-lapping Van Persie. He came back across goal, on to his left foot. And Foster had no chance.