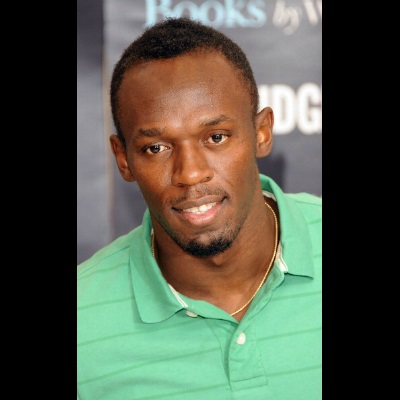 Jamaican sprint superstar Usain Bolt is in India on his first ever visit to the country. He is not here for a race, however, but instead will battle it out with Yuvraj Singh on the cricket pitch.
Bolt will be a part of seven-a-side exhibition match against a team which will have some of the top cricketers of the country. The four-over match will be played with Team Bolt consisting of his best friend Nugent Walker Junior and Indian spinning great Harbhajan Singh. Team Yuvraj will have his long-time friend and renowned Indian bowler Zaheer Khan on his side. Both teams will have a specialist wicket-keeper.
The face-off titled 'Bolt and Yuvi – Battle of the Legends' will take place on Tuesday at the Chinnaswamy Stadium in Bangalore.
Bolt and Singh are both Puma ambassadors. A media release stated, "Puma brings Usain Bolt down for a one-of-a-kind cricket face-off between two sporting legends. For the first time ever, watch the Fastest Man on Earth – ​Usain Bolt, challenge Yuvraj Singh to an exclusive cricket showdown at Chinnaswamy Stadium on September 2."
However, event organisers - Puma - did not share details about size of the spectators watching the much-hyped match. Nasreen Patel, a representative of event management, told PTI that the match would certainly provide an electrifying atmosphere with Bolt showcasing his cricketing talent.
The match is being hosted by former India player Ajay Jadeja. In a unique format, Bolt and Yuvraj will be present on the pitch to bat throughout their respective overs. Four runs will be deducted every time a player gets out.
A six-time Olympic gold medallist, Bolt is a huge fan of cricket and has previously expressed his desire to play in the Indian Premier League (IPL). Since arriving in the country on Tuesday morning, he has been tweeting his excitement of the match.
India I'm here!!!!!! #Bangalore

— Usain St. Leo Bolt (@usainbolt) September 1, 2014
Namaste from India pic.twitter.com/2PK9QnEH9i

— Usain St. Leo Bolt (@usainbolt) September 1, 2014
Hey @yuvstrong12, I'm in your neighborhood. Up for a little cricket face off? #CatchBolt

— Usain St. Leo Bolt (@usainbolt) September 2, 2014
Cricket Lovely Cricket.. India I'm ready!!! Are you Ready??? #CricketinIndia pic.twitter.com/otUpOn5QjR

— Usain St. Leo Bolt (@usainbolt) September 2, 2014
Bolt has exhibited his talent in a similar face-off against his fellow countryman Chris Gayle, when he had him clean bowled immediately after he was dispatched for a massive six in a T20 match in the West Indies.
"Something of that sort happens with Bolt against Yuvraj, then it will be a great sight and joy for spectators, which they will certainly enjoy seeing a sportsman of different genre doing it," Nasreen said.
In an interview, the champion athlete, whose favourite cricketer has been the inimitable Pakistan fast bowler Waqar Younis, had said that his first love was cricket and wanted to be a fast bowler.
With inputs from PTI.