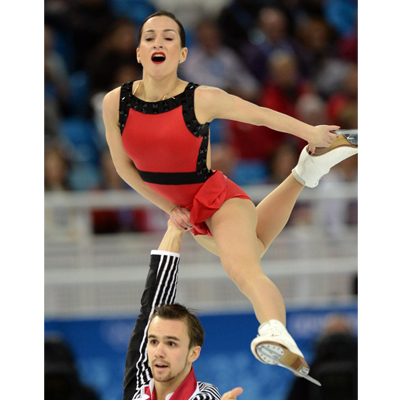 The US Figure Skating has strongly denied reports suggesting the United States and Russia are conspiring to help each other win gold medals at the 2014 Winter Olympics in Sochi.
A French magazine has alleged that US and Russia are conspiring to help one another in the pairs and ice dance events, with Canada's reigning Olympic dance champions Tessa Virtue and Scott Moir paying the price.
However, the Huffington Post reports that the American figure skating governing body said the comments are 'false' and that there is no 'help' between countries.
Reports had also claimed that the arrangement would help Meryl Davis and Charlie White to become the first Americans to win the Olympic ice dance gold, while Russia in return would benefit in the team and pairs competitions.
The original report also alluded to the fact that the arrangement was made so Davis and White were guaranteed to beat Canadian rivals and 2010 Olympic champions Tessa Virtue and Scott Moir, with whom they share a coach.
Davis and White, who topped the standings in the ice dance segment of the team competition, are favourites for the ice dance gold, given they have not been beaten for almost two years.
Judging scandals have often blighted figure skating, with the most famous being at the 2002 Salt Lake City Olympics when allegations of vote-rigging led to Canadians Jamie Sale and David Pelletier being awarded duplicate gold medals in the pairs competition with Russians Elena Berezhnaya and Anton Sikharulidze, the report added.